The Racing Engine Builder's Handbook: Build Drag, Circle Track, Marine, Road Racing Engines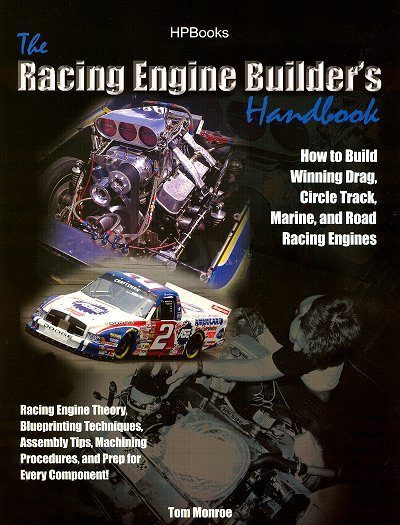 Why Buy From Us?
Free Shipping
Veteran Owned
Secure Shopping
Satisfaction Guaranteed
Item Description
If you want to build a powerful motor for competition purposes, you need the right information as well as a road map that will get you to your desired destination.
Tom Monroe's The Racing Engine Builder's Handbook is that roadmap, covering every aspect of the process, from engine theory to final assembly of the race engine.
You will learn how to choose or recondition parts, inspect the motor for stress damage, how to get the right machine work, then assembly of all components and systems. All of the info is accompanied by hundreds of detailed photos, drawings and diagrams.
Building an engine is not difficult. Building a reliable and powerful one is another story. Avoid expensive mistakes by doing the job right from the get-go, and build a racing engine that will be powerful, efficient and durable.

Subject: A DIY how-to book on building competition engines for multiple applications. ISBN-10: 1557884927 | ISBN-13: 9781557884923 | HPBooks 1492
Specifications
Publisher: HP Books
Author: Tom Monroe
Pages: 202 - Hundreds of b&w photos and illustrations
Binding: Paperback - 8.5 x 11 inches
ISBN: 978-1-55788-492-3
Table of Contents
TABLE of CONTENTS:
Ackowledgments
Introduction
Let's Get Technical
The Cylinder Block
Crankshafts, Balancing, Damper, and Bearings
Pistons, Pins, Rings and Rods
Cylinder Heads
Camshaft and Valvetrain
The Lubrication System
Preassembly
Final Assembly
Metric Conversions
Questions & Answers about The Racing Engine Builder's Handbook
Questions & Answers about The Racing Engine Builder's Handbook
Ask a question about The Racing Engine Builder's Handbook.
The Racing Engine Builder's Handbook: Build Drag, Circle Track, Marine, Road Racing Engines
Description

Specifications

Table of Contents

Questions & Answers

Customer Reviews