How To Build Horsepower 2nd Edition: Proven Methods for Increasing Horsepower in Any Engine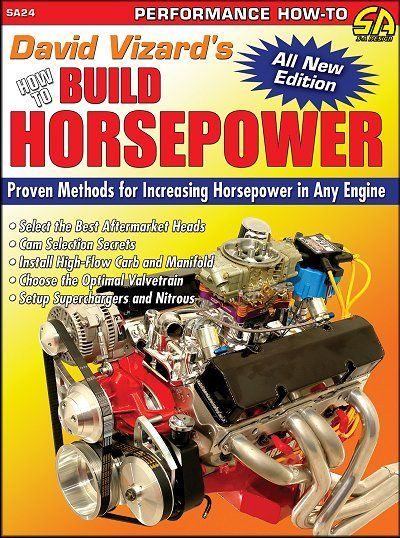 Why Buy From Us?
Free Shipping
Veteran Owned
Secure Shopping
Satisfaction Guaranteed
Item Description
In this book, David Vizard explains the art and science on extracting the maximum horsepower from engines, as well as all the aspects of engine power output and building high-performance powerplants.
Learn how to optimize engine components, such as aftermarket cylinder heads for superior power flow, determine the best valvetrain components, learn how to select the best camshaft and get insights into all aspects of cam performance.
But Vizard dows not stop there. He also covers superchargers, nitrous oxide systems, ignition, how to install a high-flow carburetor and manifold, and many other aspects of building a reliable high-performance engine.

Book Excerpt: How To Build Horsepower 2nd Edition: Proven Methods for Increasing Horsepower in Any Engine
IGNITION SYSTEMS
The greater our success in terms of porting and increasing compression ratio and engine RPM, the harder it becomes to effectively light-off the compressed charge. Fortunately, improving the ignition is not a great challenge these days and, for the most part, not that costly either. But the situation has not always been so.

Until the 1970s, the contact breaker (or, as they were often called, points) system dominated. In such a system, the spark was triggered when the contacts were opened by the cam in the distributor. This system was prone to many mechanical and electrical problems. From the mechanical aspect, the points were prone to bouncing near the top of even a stock engine's RPM range. They also needed continual adjusting to maintain the correct gap. This was important; it controlled not only the coil charging time but also how cleanly the points separated on opening. These factors affected spark intensity and RPM capability.

Also the contact breaker faces would electrically erode, which in turn prevented a sharp break at the moment of opening. This cut spark capability. In all, the contact breaker system was a small performance nightmare.

NUMBER-ONE IGNITION GOAL

Generating a big fat high-temperature spark at the spark plug, at the appropriate moment, is the number-one objective here. As hot rodders, we may have been less than enthusiastic about cars having to meet power-robbing emission standards, but the reality here is that it forced manufacturers to drastically improve the ignition system's performance, and that was good for us all.

Modern systems are generally good to excellent, but that does not mean they cannot be improved upon. Starting at the spark plug, let's see what we need to do to maximize performance.
10 RULES FOR A SUCCESSFUL STROKER BUILD
Use the longest rod possible to minimize frictional losses and mechanical noise
Use the lightest reciprocating components consistent with sufficient strength for the RPM
Use an effective crank damper
Use an oil pan that keeps the oil away from the rotating assembly
Use as high a CR as possible to offset the effect of increased piston-to-bore friction
Use cylinder heads with the largest valves possible
Tighten up the LCA from whatever was optimum before was optimum before the stroke increase
Increase valve lift proportional to the stroke increase
Check that the induction system has adequate flow to service the extra displacement
Keep the induction system as cool as possible; this makes more difference with a stretched engine
Subject: How To Build Horsepower: Increasing Horsepower in Any Engine. ISBN-10: 1934709174 | ISBN-13: 9781934709177 | CarTech SA24
Specifications
Publisher: CarTech Books
Author: David Vizard
Pages: 144 - Over 300 color photos
Binding: Paperback - 8.5 x 11 inches
ISBN: 978-1-934709-17-7
Table of Contents
TABLE of CONTENTS:
Introduction CHAPTER 1: THE BASICS OF EVERY KNOWN SPEED SECRET
The Dynamometer | When Isn't Bigger Better? CHAPTER 2: PRIMARY POINT INDUCTION
Air Temperature | Ram Air: the Basics | Practical Density Issues | Significant Pressures and Flow | Element Clogging CHAPTER 3: FUEL DELIVERY SYSTEMS
Mixture Ratio | Exhaust Pollutants | Mixture Quality | Carb Function Basics | WOT Calibrations | The Boosters | Idle and Transition Circuits | Acceleration Enrichment | Carbs?How Big? | Carbs Versus Fuel Injection CHAPTER 4: INTAKE MANIFOLDS
Length and Volume | V-8 Intake Manifolds | Tunnel Ram Intakes CHAPTER 5: SUPERCHARGING
Supercharger Types | Turbos and Centrifugal Turbine Superchargers | Boost Curve Shapes | Supercharger Selection | Superchargers and Built Motors | Getting the Cam Right | Turbo Cams | Fueling System CHAPTER 6: CYLINDER HEADS
Optimizing Cylinder Head Airflow | Valve Shrouding | Practical De-shrouding | Ports | Port Evolution | Cross-Sectional Area | Applied Basic Porting | Wet-Flow Testing | Compression Ratio CHAPTER 7: PORTING AND FLOW TESTING
Building a Really Trick Low-Cost Bench | Flowing the Exhaust | Porting | Results CHAPTER 8: IGNITION SYSTEMS
Number-One Ignition Goal | The First Step | Plug Cables | Coils | Ignition Timing and Curves | Modified Motor Timing Requirements | Modified Ignition Systems | Expected Results CHAPTER 9: REAL CAMSHAFT SCIENCE
Mechanical Attributes Simplified | Our Hi-Perf Four-Cycle Engine | Airflow Dynamics | Choosing a Cam CHAPTER 10: CAM EVENT CRITERIA
Overlap | Optimal LCA | Duration | Valve Lift: How Much? CHAPTER 11: VALVETRAIN: THE PHYSICAL BUILD
Reading Cam Spec Data | Valvesprings | Tappets | Timing Gears | Cam Timing | Rockers CHAPTER 12: THE SHORT-BLOCK ENGINE
The Block | The Rotating Assembly | Connecting Rods | Pistons | Rings | Lubrication System CHAPTER 13: EXHAUST MANIFOLDS
Pipe Diameter | Alternative Configurations | Using This Header Tech CHAPTER 14: MUFFLERS TO TAIL PIPES
Simple Steps to Success | Cats and Mufflers | Muffler Flow: How Much is Needed? | Pressure Waves | Crossover and Balance Pipes | The Ultimate System
Questions & Answers about How To Build Horsepower 2nd Edition: Proven Methods for Increasing Horsepower in Any Engine
Questions & Answers about How To Build Horsepower 2nd Edition: Proven Methods for Increasing Horsepower in Any Engine
Ask a question about How To Build Horsepower 2nd Edition: Proven Methods for Increasing Horsepower in Any Engine.
How To Build Horsepower 2nd Edition: Proven Methods for Increasing Horsepower in Any Engine
Description

Specifications

Table of Contents

Questions & Answers

Customer Reviews