Auto Math Handbook: Easy Calculations for Engine Builders, Racers, Students, and more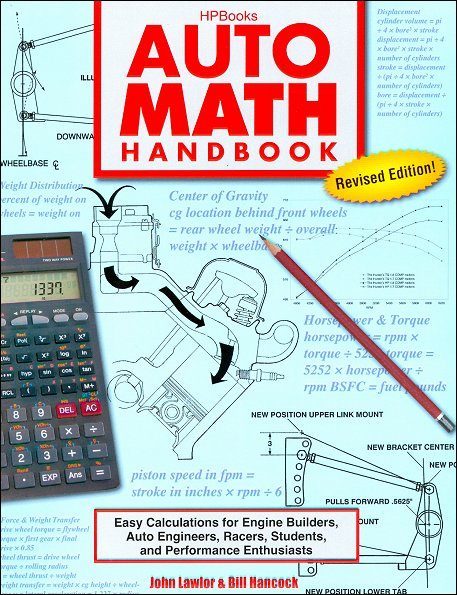 Why Buy From Us?
Free Shipping
Veteran Owned
Secure Shopping
Satisfaction Guaranteed
Item Description
In this new, revised edition of the Auto Math Handbook, authors John Lawlor and John Hancock, update what's been the standard reference for automotive engineers, auto racers, students and high-performance enthusiasts, since 1991.
The information, formulas, calculations and equations in this guide, will give you a solid foundation for any car or engine building project.
Updated and revised sections covering:
Displacement
Bore
Stroke
Air Capacity
Volumetric Efficiency
Center of Gravity
Weight Distribution
g Force
... and much more!
You will also find new sections covering instrument error and calibration, rolling resistance, aerodynamics, computer programs and more. All presented in an easy-to-understand format using real-world applications.
Subject:
Transportation: Automotive: Engineering: Auto math and calculations for car engine builders, auto engineers, racers, students and performance mechanics.
ISBN-10: 1557885540 | ISBN-13: 9781557885548 | HPBooks 1554
Specifications
Publisher: HP Books
Author: John Lawlor, Bill Hancock
Pages: 122 - Over 100 b&w photos and illustrations
Binding: Paperback - 8.5 x 11 inches
ISBN: 978-1-55788-554-8
Table of Contents
TABLE of CONTENTS:
Displacement, Stroke and Bore
Compression Ratio
Piston Speed
Brake Horsepower and Torque
Indicated Horsepower and Torque
Air Capacity and Volumetric Efficiency
Weight Distribution
Center of Gravity
g Force and Weight Transfer
Moment of Inertia
Aerodynamics
Rolling Resistance
Shift Points
Quarter-Mile E.T. and MPH
Computer Programs
Instrument Error and Calibration
MPH, RPM, Gear and Tires
Tire Sizes and Their Effects
Average MPH and MPG
Fuel Economy and Cost of Ownership
Crankshaft Balancing
Conversion Factors
Bibliography
Questions & Answers about Auto Math Handbook Revised Edition
Questions & Answers about Auto Math Handbook Revised Edition
Ask a question about Auto Math Handbook Revised Edition.
Auto Math Handbook: Easy Calculations for Engine Builders, Racers, Students, and more
Description

Specifications

Table of Contents

Questions & Answers

Customer Reviews