How to Rebuild Any Automotive Engine: Teardown to Step-by-Step Reassembly, Start-Up and Break-In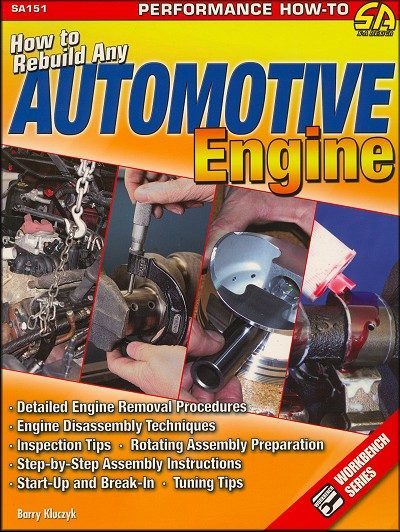 Why Buy From Us?
Free Shipping
Veteran Owned
Secure Shopping
Satisfaction Guaranteed
Item Description
The How to Rebuild Any Automotive Engine written by Barry Kluczyk is a how-to book that explain the intricate details of an engine teardown, step-by-step reassembly, startup and break-in.
Although it may sound daunting, rebuilding an engine—any automotive engine—is not out of your reach, even though you may only consider yourself an enthusiast or weekend mechanic.
With the proper tools, a suitable work area and—most important—the right information, you can do it, and How to Rebuild Any Automotive Engine, by Barry Kluczyk will guide you through each step of the process, from start to finish. This book, or engine rebuild guide, delves into each job with clear details and hundreds of photos that provide vital information so you, the do-it-yourselfer, can rebuild your own engine. One that will run reliably and strong for many years.
This manual, packed with over 400 photos and detailed text and captions, can turn you into an engine builder. One who can rebuild almost any engine, whether a foreign or domestic powerplant, a cam-in-block V8 or an OHC (overhead cam) motor.
Rebuilding Any Automotive Engine by Barry Kluczyk, is your ticket to properly and successfully rebuilding your vehicle's engine in the comfort of your home workshop.
For first-time engine builders and veterans alike, this must-have how-to manual will save you time and money, while helping prevent expensive mistakes.
Subject: Transportation: Automotive: Engines:
DIY: How to rebuild any car engine instructions. ISBN-10: 1613250258 | ISBN-13: 9781613250259
| CarTech SA151P
Specifications
Publisher: CarTech Books
Author: Barry Kluczyk
Pages: 144 - Hundreds of b&w photos and illustrations
Binding: Paperback - 8.5 x 11 inches
ISBN: 978-1-61325-025-9
Table of Contents
TABLE of CONTENTS: PREFACE PREPARATION and TOOLS
Factory Service and Repair Manuals | Top-Out or Bottom-Out Removal | Workspace | Lighting | Digital Camera | Gloves and Hand Cleaner | Oil Dry | Engine Lift/Shop Crane | Jacks and Jack Stands | Vehicle Lifts | Engine Stand | Engine Stand Bolt Hardware | Hand Tools and Impact Tools | Torque Wrenches and Angle Meters | Engine-Building Tools and Materials | The Engine Shown throughout this Book | Common Terms ENGINE REMOVAL
Tools and Materials Required | Transmission Decision | Should the Hood Stay? | Bottoms Up | General Removal Procedure ENGINE DISASSEMBLY and INSPECTION
Tools and Materials Required | Removing Stubborn or Broken Bolts | Keeping Organized | A Quick Blast | Check for Damage | Transmission Removal | Engine Disassembly MACHINE WORK and CLEAN UP
At the Machine Shop | Cylinder Block Reciprocating Component | Inspection and Machine Work | Cylinder Head Inspection and Machining | Valveseat, Valveguide and Valvestem Seal Repair and Replacement | Balancing and Blueprinting: What is it?and is it necessary? | Replacement and Reusable Engine Parts | Carburetors: Renew, Rebuild or Replace? | At-Home Clean Up | Painting SHORT BLOCK ASSEMBLY
Tools and Materials Required | General Information | Preparing the Cylinder Block | Checking Bearing Clearances | A Note About Mechanical Fuel Pump Installation FINAL ENGINE ASSEMBLY
Tools and Materials Required | Cylinder Head Bolt Considerations | Pushrods, Rocker Arms, and Other Valvetrain Checks | Crankshaft Damper/Pulley Installation | Setup for Accurate Timing ENGINE INSTALLATION
Tools and Materials Required | Component Hook-Up | Transmission Connections and Clutch Adjustment START-UP, TUNING and BREAK-IN
Tools and Materials Required | Oil System Priming | Engine Start-Up | Adjusting Valve Lash after Start-Up | Ignition Timing Adjustment | Trouble-Shooting Guide | Road Test and Break-In Period REMANUFACTURED ENGINES, CRATE ENGINES and PERFORMANCE UPGRADES
Remanufactured Engines | Crate Engines | Installing a Crate Engine: A Case Study | High-Performance Parts Considerations | Appendix: Work-A-Long Sheet
Questions & Answers about How to Rebuild Any Automotive Engine
Questions & Answers about How to Rebuild Any Automotive Engine
Ask a question about How to Rebuild Any Automotive Engine.
How to Rebuild Any Automotive Engine: Teardown to Step-by-Step Reassembly, Start-Up and Break-In
Description

Specifications

Table of Contents

Questions & Answers

Customer Reviews