Tim Odell Art Wall Clocks, LED Lighted: Garlits, Gasser, Tank, Blast Off, Paired Up, Rail, Mean Mutha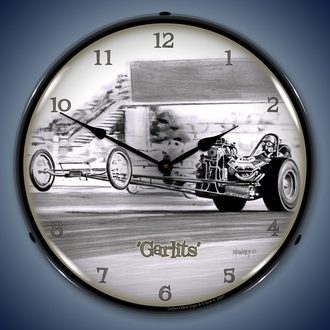 Why Buy From Us?
Free Shipping
Veteran Owned
Secure Shopping
Satisfaction Guaranteed
Item Description
Tim Odell Art LED Wall Clocks, Vintage Auto Racing Themes
If youíre into vintage vehicles, vintage art and extremely cool backlit time pieces, you are going to love our Tim Odell art clocks.
Odell is a renowned painter who created a series of artworks that captured a period where big, muscular cars, hot rods and hogs were the norm. His style was minimalist, many of his works being merely a vehicle with no background. But you didnít need one. Even with their simplicity, exploring the detail in these works is great fun. Blast Off depicts a racer with an open engine and a driver ready to burn rubber. Gasser features a souped-up model that could almost be grinning with glee. Tank is a concept vehicle that still resonates retro. Paired Up has a pair of riders ready to tear up the tarmac with the wave of a flag.
The Tim Odell art clocks are perfect for your auto shop, man cave, diner, or in the kidsí bed or play room. They would make excellent gifts for the car enthusiast, mechanic or vintage art lover. From Mean Mutha to Rail, enhance any environment with its beautiful printing. Every image was meticulously reproduced via a cut out that utilized a CNC router with care to not lose detail or distort the image to fit in a circular clock face. After, a special UV dried computer controlled printer was employed to recreate a high quality product that was as detailed as the original and promised to hold up for years.
These time pieces measure 14 inches across with an outer lens engineered from a high end Lexan optical lens. It wonít yellow and is guaranteed scratch resistant. Itís held in place with three easily removable rivets that will make cleaning the lens a simple task.
The Tim Odell art clocks are a must have. A low maintenance time piece that will brighten any wall.
No Expedited Shipping option for these Products! Free shipping in US48.
Clocks will be shipped via UPS directly to you by the manufacturer within 1-3 business days
Subject:
Tim Odell Art LED Wall Clocks: Blast Off, Garlits, Gasser, Grills, Mean Mutha, Paired Up, Rail, Single Seater, Tank, TV8, Wired
Specifications
Tim Odell Art Racing Clock Feature Specifications:
14 inch diameter
One year warranty
Bright circular LED light source
Scratch resistant clear lexan outer lens material - won't yellow
Quartz clock uses one AA battery
Quality printing and artwork
Durable ABS plastic material for back of clock
110 AC cord to turn on/off the backlit LED lights
Made in the USA