Hunting, Fishing & Wildlife Wall Clocks, LED Lighted: Dogs, Fish, Deer, Elk, Bear, Ducks, Birds, Moose and More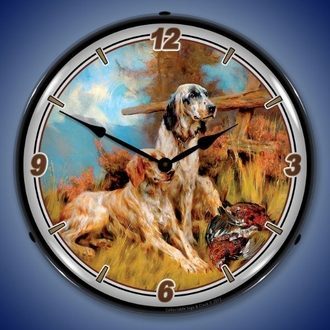 Why Buy From Us?
Free Shipping
Veteran Owned
Secure Shopping
Satisfaction Guaranteed
Item Description
Hunting, Fishing and Wildlife LED Lighted Clocks - including Dogs, Bass, Trout, Muskie, Deer, Geese, Elk, Bear, Ducks, Moose, Birds and More...
Our inventory of quality wildlife wall clocks are a celebration of nature and innocence. Whether you love the outdoors or animals, these LED lighted clocks are guaranteed to bring a smile. The detailed craftsmanship is evident even in our images. You won't believe how delicate and beautiful they'll be on your wall. They were crafted to look and feel like the type of vintage time pieces you'd find hanging on the wall in the 1950s at the malt shop. But every design takes advantage of the most advanced 21st century technology.
There's the Let Freedom Ring Eagle featuring the proud bird in a strong pose against a section of the old red, white and blue in a new variation of a classic image. In the Thick of It Muskie is for everyone that wants to light up this hard to catch fish on their walls while they await their next opportunity to reel in their next Muskie Pike. Dog lovers will love their options here. We have quality wildlife wall clocks that celebrate the Labrador retriever and English setters. We also have bears, mallards, moose, fish and more.
Each clock is a brilliant reproduction of a hand painted image. All these clocks were all carefully designed using a CNC router to ensure the image retained its quality. The image was then positioned on the clock face so as not to lose any of its potency. (These images were designed on typical square canvases of course.) They were placed using a UV dried computer controlled printing process for accuracy and assurance that the color and detail will last for a very long time.
These clocks will be a wonderful accent to any environment. They are a must-have for animal lovers, collectors and admirers of fine art. The LED light source promises to last for years, meaning these high quality wildlife wall clocks offer a long lasting performance.
Each clock comes with a one year manufacturer's warranty.
No Expedited Shipping option for these Products! Free shipping in US48.
Clocks will be shipped via UPS directly to you by the manufacturer within 1-3 business days
Subject:
Huge Sale on Hunting Dog Clocks, Fishing Clocks, Bass Clock, Muskie Clock, Elk Clock, Deer Clocks, Bear Clocks, Duck Clocks, Nature Clocks, and Geese Clocks
Specifications
Hunting, Fishing & Wildlife Wall Clock Feature Specifications:
One year warranty
Made in the USA
14 inch diameter
Quality printing and artwork
Bright circular LED light source
Quartz clock uses one AA battery
Scratch resistant clear lexan outer lens material - won't yellow
Durable ABS plastic material for back of clock
110 AC cord to turn on/off the backlit LED lights