Gulf Oil Wall Clocks, LED Lighted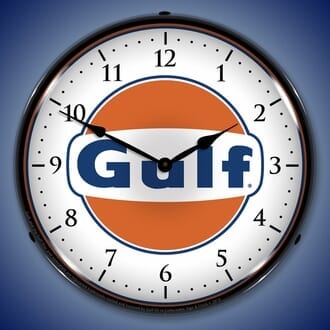 Why Buy From Us?
Free Shipping
Veteran Owned
Secure Shopping
Satisfaction Guaranteed
Item Description
Gulf Oil Clocks
You want Gulf Oil LED backlit clocks? We got 'em!
Gulf Oil was born in 1909 in Texas, the land of all things big. Cars were taking their place alongside carriages and the petroleum industry was becoming a necessity. By the early 1930s, Gulf was a major U.S. corporation and a valuable component in the fast paced age of mechanization. Gulf would eventually score with the first drive-in service station, water drilling and providing customers with complimentary road maps. Gulf went on to establish exploration, production and marketing designs that continue to influence refineries, petrochemical and polyethylene production, and industry standards.
Headquartered today in Massachusetts, Gulf Oil Limited Partnership has over 2,000 service and gas stations, as well as a strong hand in the diesel fuel, heating oil and kerosene industries. Their brand is more recognizable than the world's most famous sports cars and NASCAR drivers. While most of the time pieces feature the current and most well-known company logo, there are models that highlight unique periods in the company's past, including different colors and designs. We have LED lighted clocks that promote the company's contributions to the field of aircraft and professional racing. There's also a clock that celebrates the Gulf gas station with a brilliant blue sky, trees and one of their unmistakable service facilities.
Our Gulf Oil clocks celebrates a century of history. Each LED lighted face is operated via electrical outlet and power switch. The Gulf Oil clocks have smooth quartz movement operation that's run with a single double-A battery. Measured at 14 inches across, the outer lens is scratch resistant and will stand the test of time, never yellowing. The clock body is engineered from sturdy ABS plastic that holds a circular LED light source that promises to last for years. These unique clocks make great gifts or business giveaways.
No Expedited Shipping option for these Products! Free shipping in US48.
Clocks will be shipped via UPS directly to you by the manufacturer within 1-3 business days
Subject:
LED Lighted Gulf Oil Wall Clocks: Gulfpride Motor Oil, Good Gulf Clock, Gulf Wall Clock, Gulf 1920 Clock, Gulf 1960 Clock, Gulf Aircraft Engine Oil Clock, Gulf Aviation Clock, Gulf Marine Clock, Gulf Racing Clock, Gulf Racing GT40 Clock, Gulf Station Clock
Specifications
Gulf Oil Wall Clock Feature Specifications:
14 inch diameter
Quality printing and artwork
Bright circular LED light source
Quartz clock uses one AA battery
Scratch resistant clear lexan outer lens material - won't yellow
Durable ABS plastic material for back of clock
110 AC cord to turn on/off the backlit LED lights
One year warranty
Made in the USA