Racing Wall Clocks, LED Lighted: Drag Racing, Funny Cars, Super Comp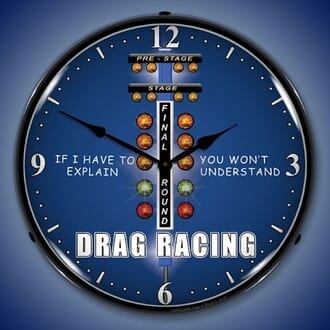 Why Buy From Us?
Free Shipping
Veteran Owned
Secure Shopping
Satisfaction Guaranteed
Item Description
Racing Clocks For Dragster, Torino, Funny Car, Bonneville, Salts Flat, & Super Comp Fans
Who among us hasn't dreamt of sitting behind the wheel of a compact, taunt machine that could bolt across the track, leaving a stream of dust and dirt for the stunned pedestrians to choke on?
Well, maybe most of us won't get the chance. Maybe more of us are too darned sensible to try even if we did. But we can live vicariously through venues like the Indy 500 and NASCAR. And, while it may not have the cachet of being behind the wheel or watching an actual race, we can hang one of these beautiful racing themed clocks on the wall.
These racing wall clocks will be a keepsake that gets everyone's attention. And trust that we've got it all covered. There's something for lovers of drag racing, enthusiasts that appreciate classics like the '69 Torino Talladega or an '08 sporting Mercedes, and tributes to the likes of the Salt Flats Racers.
All our clocks are designed to have a nostalgic feel, but trust they are engineered utilizing the latest technology. Each has a face that measures 14 inches with an outer lens manufactured from a quality optical lexan that's easily removed. The material is scratch resistant and promises not to yellow over time. A computer controlled UV dried printer is used to create the image and a CNC router cuts out and places it. The body is ABS plastic, an opaque thermoplastic characterized for its resistance to impact, chemicals and heat.
Our line of racing themed clocks are LED backlit lighted and run on a single AA battery and come with a cord for switching the LED light source on and off. Whether you're an enthusiast, racer or mechanic, whether you have a shop or a man cave, these clocks will give your walls and environments a fresh perspective. Hang 'em up, gift 'em and collect 'em.
No Expedited Shipping option for these Products! Free shipping in US48.
Clocks will be shipped via UPS directly to you by the manufacturer within 1-3 business days
Subject:
Bonneville Speed Week, Bracket Racer Parking, Drag Racing, Dragster Parking, Funny Car Parking, Grand Prix Mercedes, Holman Moody Torino, Jenkins Competition, Jr Dragster Parking, Salt Flats Racer, Shell Vintage Race Car, Super Comp Parking, Super Gas Parking and Super Street Parking Clocks
Specifications
Racing Theme Wall Clock Feature Specifications:
Made in the USA
14 inch diameter
Bright circular LED light source
Quartz clock uses one AA battery
Quality printing and artwork
Scratch resistant clear lexan outer lens material - won't yellow
Durable ABS plastic material for back of clock
110 AC cord to turn on/off the backlit LED lights
One year warranty