Parts and Service Wall Clocks, LED Lighted: Fram, Champion, Autolite, Chevrolet, Buick and more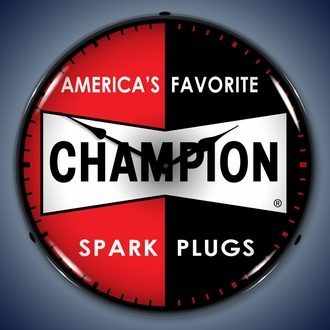 Why Buy From Us?
Free Shipping
Veteran Owned
Secure Shopping
Satisfaction Guaranteed
Item Description
Vintage Parts and Service Wall Clocks, LED Lighted
Powered by Holman Moody. Words to drool by.
Fram Filters. Well known to the true vehicle aficionado.
The Stromberg Carburetor. The go-to for the most successful hot rodders.
Now you know why we're all enthusiastic about this collection of parts and service wall clocks. Each one reminds us of the love and detail we've gladly put into our cars and the old fashioned service you got when you pulled into a roadside garage and grabbed a bottle of soda/pop from the ice machine.
Well, we're not going to say we lived it. But we can certainly feel it looking at these great images that highlight simpler times. Out of all these clocks, we can say we have particular love for the Autolite Aviation piece. We have an affinity for this type of classic girl-in-shorts-on-oversized-parts that were prevalent once upon a day. But our affections don't end there. We're big fans of the Chevrolet Parts and Fram Filters clocks. They remind us of many an afternoon in the garage pounding away at our engines while enjoying a cold one.
Each of the parts and service clocks were designed by one of the most respected clock makers in the business that specialize in collectible vintage art faces that evoke a simpler time. They reproduce the art using a controlled computer printing process that will last for years without fading or yellowing. The parts and service clocks come with a circular LED light source that promises to subtly accent the colors.
Whether you put this puppy on the wall of your entertainment center, hang it in the office or in your body shop, these clocks will fast become a fixture, reminding you as much about your love for cars as the time of day. We know you're going to love these LED lighted parts and service clocks as much as we do.
No Expedited Shipping option for these Products! Free shipping in US48.
Clocks will be shipped via UPS directly to you by the manufacturer within 1-3 business days
Subject:
Vintage Parts and Service Wall Clocks, LED Lighted: Armstrong Tire, Autolite Spark Plugs, Buick Service, Carter Carburetor, Champion Plugs Vintage, Champion Spark Plug, Chevrolet Genuine Parts, Chevrolet USA 1, Chevy Parts Vintage, Chevy Parts with Numbers, Chevrolet Performance, Cities Services, Flathead V8, Fram Filters, Holman Moody, Hudson Sales and Service, OK Used Cars, Oldsmobile, Stromberg Carburetor, Stromberg Service, Studebaker, Willys Sales and Service, Arctic Cat Snowmobiles, Rupp Snowmobile
Specifications
Vintage Parts & Service Lighted Wall Clock Feature Specifications:
14 inch diameter
Quality printing and artwork
Bright circular LED light source
Quartz clock uses one AA battery
110 AC cord to turn on/off the backlit LED lights
Scratch resistant clear lexan outer lens material - won't yellow
Durable ABS plastic material for back of clock
One year warranty
Made in the USA