Chevy Monte Carlo Wall Clocks, LED Lighted - 1970, 1971, 1972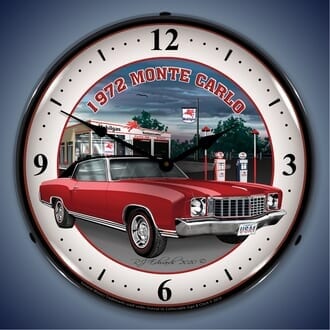 Why Buy From Us?
Free Shipping
Veteran Owned
Secure Shopping
Satisfaction Guaranteed
Item Description
Chevy Monte Carlo LED Clocks
We pay homage to the first generation of this legendary car model with our Chevy Monte Carlo clocks. The Monte Carlo went on to be a substantial success in NASCAR racing all the way until its end of production, and with our clocks we honor the earliest of this series. These time pieces would easily add a pop of color and vintage appeal to a special room in the house, and also make great gifts for car lovers (or just people with great taste).
Two of our Chevy Monte Carlo clocks feature the first model from 1970, and it is available in both tan and green with different iconic gas stations of the era featured in the background. Additionally, we have a clock that features the 1971 Monte Carlo in a vivid blue color, as well as the 1972 Monte Carlo in an eye-catching red.
Every image used was meticulously reproduced by using a CNC router in order to preserve every detail. The manufacturer takes great care to avoid distorting the image as they use a special UV-dried, computer-controlled printer, thus ensuring a high quality product as detailed as the original that will hold up for years. These make a great investment!
The clocks measure 14 inches across with an outer lens engineered from a high end Lexan optical lens. It wonít yellow and is guaranteed scratch resistant, held in place with three easily removable rivets that will make cleaning the lens a simple task.
Whether you pick an original model of the Monte Carlo or choose to spice up a living area with a brighter car in blue or red, any of our Chevy Monte Carlo clocks would be perfect in a car loverís garage, man cave, or elsewhere in a house that embodies timeless American vibes.
No Expedited Shipping option for these Products! Free shipping in US48.
Clocks will be shipped via UPS directly to you by the manufacturer within 1-3 business days
Subject:
Chevrolet Monte Carlo LED Wall Clocks by Rudy Edwards: 1970 Monte Carlo Gold, 1970 Monte Carlo Texaco, 1971 Monte Carlo Esso, 1972 Monte Carlo Mobilgas
Specifications
14 inch diameter
Bright circular LED light source
Quartz clock uses one AA battery
Quality printing and artwork
Scratch resistant clear lexan outer lens material - won't yellow
Durable ABS plastic material for back of clock
110 AC cord to turn on/off the backlit LED lights
One year warranty
Made in the USA