Vintage Farm Tractor Wall Clocks, LED Lighted: Oliver, Farmall, International Harvester, Massey Harris, MM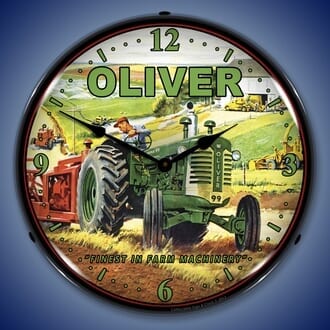 Why Buy From Us?
Free Shipping
Veteran Owned
Secure Shopping
Satisfaction Guaranteed
Item Description
Vintage Farm Tractor LED Wall Clocks
Farming is hard work. Getting out there every day and shoving your hands in the dirt? We wouldn't last a week (Okay, we probably wouldn't last a day. You happy now?). But we can appreciate how hard it all must be. That's why we've put together this little collection of LED backlit farm tractor wall clocks. We think they beautifully exemplify an aspect of our culture that's often overlooked. That sector of our community makes sure we have our produce, flowers needed components for medicines to keep us healthy and much more.
Among our farm tractor wall clocks is the classic Oliver Tractor clock. Designed with an array of green shades and emblazoned with 'Finest in Farm Machinery,' this time piece concisely depicts what the farmer does best: work hard. A prominent mid-20th century manufacturer, the Oliver Farm Equipment Company produced some of the highest quality crawlers and tractors, and this wall clock shows how practical they were.
Our farm wall clocks wouldn't be complete without a tribute to International Harvester. This is a company whose roots in agriculture can be traced back to the 1830s with a horse-drawn reaper. Though it changed its name to Navistar in the mid-1980s, the name International Harvester, or IH, is still looked upon with respect. The IH logo time piece is simple enough, but it will stand out much like the company did for over a century.
Like all our time pieces, these farm tractor wall clocks were designed using the finest technology available, even as the designers pushed for an old fashioned, 1950s feel. They were engineered using a modern printing technique that ensures the colors are as vibrant and crisp as the original source material. From the wiring to its Lexan lens, these backlit clocks promise to be of the highest quality with the most affordable prices.
No Expedited Shipping option for these Products! Free shipping in US48.
Clocks will be shipped via UPS directly to you by the manufacturer within 1-3 business days
Subject: LED Lighted Vintage Farm Tractor Wall Clocks: Oliver Tractor Clock, Oliver Farm Machinery Tractor Clock, Massey Harris Farm Tractor Clock, Minneapolis Moline Farm Tractor Clock
Specifications
Vintage Farm Tractor Wall Clock Feature Specifications:
14 inch diameter
Quality printing and artwork
Bright circular LED light source
Quartz clock uses one AA battery
Scratch resistant clear lexan outer lens material - won't yellow
Durable ABS plastic material for back of clock
110 AC cord to turn on/off the backlit LED lights
One year warranty
Made in the USA