Classic V8 Engine Wall Clocks (LED Backlit) - 283 Fuelie, 327 V8 Fuelie, 426 Engine, Flathead V8, LS6 454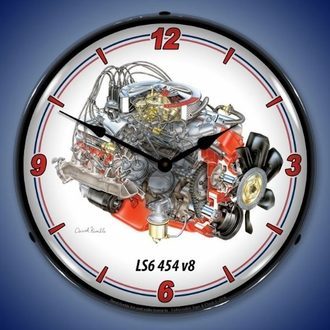 Why Buy From Us?
Free Shipping
Veteran Owned
Secure Shopping
Satisfaction Guaranteed
Item Description
Classic V8 Engine LED Wall Clocks - including 426 Hemi, 327 cid, 427 cid, LS6 454 cid, GTO Tri Power, 409 cid and more...
This collection of LED lighted wall clocks are loving tributes to the classic eight cylinder V engine that might be out of production but has still managed to stand the test of time. Each of these V8 engine clocks features a highly detailed cutaway of a beautiful V8, lovingly painted by hand, all classic pieces of original art by David Kimble.
Kimble is no stranger to enthusiasts and readers of mags like Motor Trend and Road & Track. His amazing illustrations are excruciatingly detailed. These LED lighted wall clocks are clear examples of what Kimble was capable of. Included are clocks that celebrate the 427 cid L71, one of Chevyís big blockers, originally designed to power heavier vehicles and medium duty trucks; the LS6 454, phased out of production after the early 70s, but still depended on and maintained by enthusiasts, collectors and body shops; and the 409 with its RPM dual-quad intake manifolds.
These V8 engine clocks are four inches thick and have an 14 inch width. The shell is engineered from ABS plastic with a clear, high end Lexan outer lens. The classic image was developed using an unique computer controlled UV dried printing system, ensuring the classic face painting stays crisp and bright for years. Each clock has a LED light source thatís powered by an on/off switch. The clocks themselves run on a single AA battery while the light functions via a standard outlet connection.
These clocks will make a great gift for anyone that has a man cave or auto shop, that likes to tinker in or hang with their peeps in the garage, or that simply has a genuine fondness for memorabilia that reminds them what amazing machines cars really are. Affordable and bright, the V8 engine clock will make a great addition to any room.
No Expedited Shipping option for these Products! Free shipping in US48.
Clocks will be shipped via UPS directly to you by the manufacturer within 1-3 business days
Subject:
Huge Sale on Classic V8 Engine LED Lighted Wall Clocks
Specifications
Classic V8 Engine Wall Clock Feature Specifications:
14 inch diameter
Quality printing and artwork
Bright circular LED light source
One year warranty
Made in the USA
Quartz clock uses one AA battery
Scratch resistant clear lexan outer lens material - won't yellow
Durable ABS plastic material for back of clock
110 AC cord to turn on/off the backlit LED lights