Americana and Military Wall Clocks, LED Lighted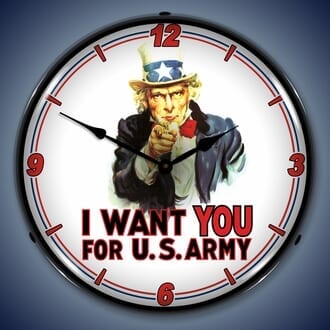 Why Buy From Us?
Free Shipping
Veteran Owned
Secure Shopping
Satisfaction Guaranteed
Item Description
Americana and Military LED Lighted Clocks
We saw a talk show recently with a woman who couldn't help but break down in tears every time she heard the Star Spangled Banner.
While we'll never admit it out loud, we knew how she felt. (And if you repeat that, we'll deny it!)
Our collection of Military LED Lighted Clocks evokes the same kinds of feelings. From celebrating the American bald eagle to highlighting unique moments in Americana, this is a series of time pieces that has something for everyone.
History Uncle Sam Wants YOU is probably one of our most famous images. But there's also a brilliant monochromatic tribute to Iwo Jima, embracing the classic sight of victory in dark times. We also have time pieces for your wall that highlight moments in history: The Right to Bear Arms, the 2nd Amendment and We the People.
We Love the Troops There are Military LED Lighted Clocks that lets everyone know we stand 100 percent behind those who stand up for us. Our military time pieces honor Marines, Coast Guard, the Navy, the Army and Air Force. There's a brilliant model that distinctly reminds the world we will never forget our POWs or MIAs. Ever.
Americana We'd be nothing without our moments. Don't Tread on Me is a distinctive point in our culture. Lady Luck is a throwback to classic pinups that adorned many a wall once upon a time. There's a colorful wall clock that demonstrates why the bulldog is "Semper Fi" personified.
These collectibles run on AA batteries and come in a tough ABS plastic with an optical quality clear Lexan outer lens. All the clocks have a switch-controlled electric LED light source. Made from the best materials, expect our Military LED Lighted Clocks to last for years. And every time you look up at them, maybe you'll get a little teary eyed too!
No Expedited Shipping option for these Products! Free shipping in US48.
Clocks will be shipped via UPS directly to you by the manufacturer within 1-3 business days
Subject:
Americana and Military Wall Clocks: 2nd Amendment Clock, AK47 Clock, American Bald Eagle Clock, American's Heritage Clock, Colt Peacemaker Patent, Colt 1911 Patent, Don't Tread on Me Clock, First and Second Amendment Clock, Gatling Gun Patent, Gun Insurance Clock, Join or Die Clock, Lady Luck Clock, Liberty Bell Clock, Marine Corps Memorial Iwo Jima Clock, Marines Bulldog Clock, Marines Semper Fi Clock, Navy Veteran Clock, POW MIA Clock, US Air Force Clock, US Navy Clock, US Army Seal Clock, US Coast Guard Clock, US Uncle Sam Clock, We the People Clock
Specifications
Americana and Military Clock Feature Specifications:
14 inch diameter
Quality printing and artwork
Bright circular LED light source
Quartz clock uses one AA battery
Scratch resistant clear lexan outer lens material - won't yellow
Durable ABS plastic material for back of clock
110 AC cord to turn on/off the backlit LED lights
One year warranty
Made in the USA