Sports Theme Wall Clocks, LED Lighted: Baseball, Football, Golf, Boxing, Hockey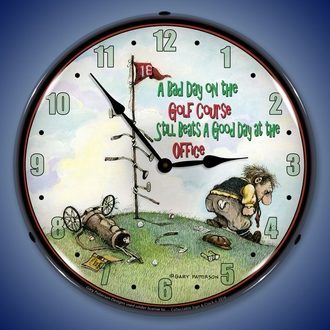 Why Buy From Us?
Free Shipping
Veteran Owned
Secure Shopping
Satisfaction Guaranteed
Item Description
Sports Theme LED Wall Clocks, Golf, Football and more
Chances are we all know a dedicated sports fan—or, better yet, are one ourselves. What better way to fuel your unhealthy obsession with the sport than to celebrate it with our sports theme wall clocks? Yeah, we couldn't think of anything either.
As if your friends and family were completely unaware of how taken you are with a particular sport, you can now wordlessly express your fanaticism by decorating your house with one of our sports theme clocks! Plaster your walls with it. Why not? If you're a golfing fan, you can decorate with our clock that features the witty quip, "A bad day on the golf course still beats a good day at the office." (Or, we might add, anything probably beats another day at the office. But that's just us.) Or if your life entirely revolves around golf, instead of re-evaluating your life choices and prioritizing something more fulfilling (like personal growth), just show the world your love for the great sport with our Eat Sleep Golf clock, which reads, "Life is simple…Eat, Sleep, Golf." (Bet you didn't see that one coming.)
If golf isn't your thing, we cater to other fans as well with our sports theme clocks, such as with our gorgeous Football Early Days piece that features a faded, vintage-looking collage of dated football memorabilia and an old-style football and helmet. We also have beautiful backlit clocks that feature baseball, billiards, boxing, hockey, and even karate! (Our karate clock prominently features a snazzy blue and white yin-yang symbol, no less.)
Every image used was meticulously reproduced by using a CNC router in order to preserve every detail. We then take great care to avoid distorting the image as we use a special UV-dried, computer-controlled printer, thus ensuring a high quality product as detailed as the original that will hold up for years. These make a great investment!
The clocks measure 14 inches across with an outer lens engineered from a high end Lexan optical lens. It won't yellow and is guaranteed scratch resistant, held in place with three easily removable rivets that will make cleaning the lens a simple task.
No matter what sports fan you are, we provide the best way to flaunt your pride in an aesthetically pleasing way. Decorate your house and appreciate the sport—it's basically a hole in one. No pun intended.
No Expedited Shipping option for these Products! Free shipping in US48.
Clocks will be shipped via UPS directly to you by the manufacturer within 1-3 business days
Subject:
Sports Theme Wall Clocks, LED Lighted: 1910 Golf Club Patent, Bad Day on the Golf Course, Baseball Early Days, Billiards, Boxing Early Days, Eat Sleep Golf, Football Early Days, Golf Early Days, Golf is a Sport, Hockey Early Days, Karate, and The Last Shot 19 Hole
Specifications
Sports Theme Clock Feature Specifications:
14 inch diameter
Bright circular LED light source
Quartz clock uses one AA battery
Quality printing and artwork
Scratch resistant clear lexan outer lens material - won't yellow
Durable ABS plastic material for back of clock
110 AC cord to turn on/off the backlit LED lights
One year warranty
Made in the USA