Chevy / GMC Truck Wall Clocks (LED Backlit) - Silverado, El Camino (1940s-2000s)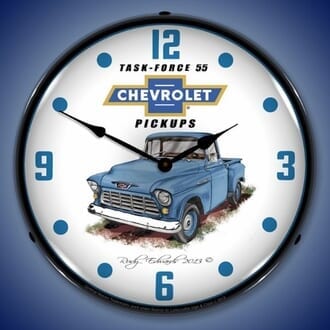 Why Buy From Us?
Free Shipping
Veteran Owned
Secure Shopping
Satisfaction Guaranteed
Item Description
Chevy & GMC Truck LED Clocks
If anyone in your immediate vicinity has ever shown an affection for the Chevy truck, if you have a loved one who gives more attention to their Chevy truck than their kids, if a friend drives around in a Chevy truck thatís bigger than their house, we think you know a perfect candidate for one of these Chevy truck clocks.
Each clock has a 14 inch face with an outer lens manufactured from a high end optical lexan. This is a scratch resistant surface and promises to not yellow over time. The clocks have a back engineered from black ABS plastic. A high quality LED light source operates via an off/on switch while the clock itself is powered by a single double-A battery.
This collection of colorful time pieces was designed by USClock, a leader of innovative signs and clocks for the aficionado of sports, cars, hogs, modern and classic art, and seasonal items. These LED lighted clocks have a vintage feel backed by modern tech, making each piece fun and nostalgic, and a device thatís going to look good on any wall for years to come.
If the person youíre thinking about loves all things GMC, we have the perfect clock for that (GMC Trucks Vintage). But if they have a specific taste, weíve got you covered. Thereís the GMC 1956 and the 1955 Chevy truck clocks featuring vintage artwork and classic lines from the companyís campaigns. We have a piece that celebrates the 1970 El Camino in all its masculine, bright red glory. You can jump ahead to the auto makerís newer beauties, like the Silverado.
All the artwork was created using a CNC route and a UV dried computer controlled printing, ensuring a sharp, detailed and lasting image. Your Chevy fan will love any of these Chevy truck clocks to hang in the office, home or garage, especially if the Chevy lover is you!
No Expedited Shipping option for these Products! Free shipping in US48.
Clocks will be shipped via UPS directly to you by the manufacturer within 1-3 business days
Subject:
Huge Sale on Classic V8 Engine LED Lighted Wall Clocks
Specifications
Chevy / GMC Truck Clock Feature Specifications:
14 inch diameter
Quality printing and artwork
Bright circular LED light source
One year warranty
Made in the USA
Quartz clock uses one AA battery
Scratch resistant clear lexan outer lens material - won't yellow
Durable ABS plastic material for back of clock
110 AC cord to turn on/off the backlit LED lights