Airplane Theme Wall Clocks, LED Lighted: Vintage Gas/Oil, Parts, Race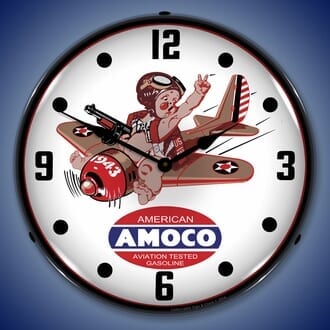 Why Buy From Us?
Free Shipping
Veteran Owned
Secure Shopping
Satisfaction Guaranteed
Item Description
Aviation LED Lighted Clocks
The pilot in you is going to be flying high with these gorgeous airplane theme clocks, available in a variety of different styles and themes. One thing is common among these pieces — they all look fabulous lighted and hold their own in any room or as a gift to your favorite aviator!
One of our classic airplane theme clocks features the artwork of Larry Grossman in a piece he designed honoring the 1933 Thompson Trophy Air Races. The Thompson Trophy race was one of the esteemed National Air Races, popular in the early 1930's (the heyday of airplane racing in its beginning). Larry Grossman captures the essence of this period with his piece, and you can embody this spirited age with your own clock.
Other airplane theme clocks highlight different themes, such as Autolite Aviation, a clock featuring popular airplane spark plug maker Autolite and a beautiful pinup girl highlighting the style of the golden years. If pinup isn't your thing (though why wouldn't it?), jazz up your living quarters with a different style clock altogether, like our airplane theme clocks that feature the logos of famous aircraft parts & gas supplies, like KanOtex Aviation and Sinclair Aircraft.
Every image used was meticulously reproduced by using a CNC router in order to preserve every detail. We then take great care to avoid distorting the image as we use a special UV-dried, computer-controlled printer, thus ensuring a high quality product as detailed as the original that will hold up for years. These make a great investment!
The clocks measure 14 inches across with an outer lens engineered from a high end Lexan optical lens. It won't yellow and is guaranteed scratch resistant, held in place with three easily removable rivets that will make cleaning the lens a simple task.
All of these clocks imbue nostalgia in the early years of aviation and are the perfect way to show your love for the art of flying.
No Expedited Shipping option for these Products! Free shipping in US48.
Clocks will be shipped via UPS directly to you by the manufacturer within 1-3 business days
Subject:
Airplane Theme Wall Clocks, LED Lighted: 1906 Wright Flyer Patent, Aeromotor Windmill, Air Races 1933, Amoco Aviation, Autolite Aviation, KanOtex Aviation, Mobilgas Aviation, Sinclair Aircraft, Veltex Aviation Gas
Specifications
Airplane/Aviation Theme Wall Clock Feature Specifications:
Made in the USA
14 inch diameter
Bright circular LED light source
Quartz clock uses one AA battery
Quality printing and artwork
Scratch resistant clear lexan outer lens material - won't yellow
Durable ABS plastic material for back of clock
110 AC cord to turn on/off the backlit LED lights
One year warranty