Chevy Camaro Wall Clocks, LED Lighted: 1967-2014, including SuperSport (SS)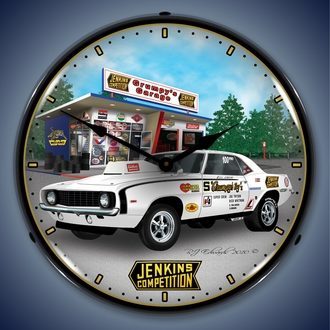 Why Buy From Us?
Free Shipping
Veteran Owned
Secure Shopping
Satisfaction Guaranteed
Item Description
Chevy Camaro LED Wall Clocks
Masculine. Muscular. Beloved. Sought after. Pony car. Classic and irreplaceable.
If you've managed to figure out we're talking about the Camaro, you're as sick as we are.
That also means, like us, you're going to love this collection of quality time pieces that celebrate one of the most famous cars in the world. These scratch resistant, LED lighted/backlit Chevy Camaro wall clocks use vintage and colorful illustrations reminiscent of a bygone era when everyone wanted to be seen behind the wheel of these definitive vehicles.
If you love a specific car from the era, you're going to find it here. If you love them all, may we suggest you get one for every single wall you have access to? The fact is, these time pieces will highlight any auto shop, man cave, diner, garage, or office.
Each of these Chevy Camaro wall clocks measures 14 inches in diameter. All images are cut using a unique CNC router before the image is generated with a dried UV computer controlled printing process. This will ensure the image holds up, maintaining its crisp and colorful appearance for many, many years. The outer lenses are engineered from a high quality Lexan. The bodies are designed from black ABS plastic housing an LED light source that can be shut off and on via a switch on the clock's cord. The LED light source promises no less than 10 years of performance. The LED lights are powered by 110 AC; however, the clocks themselves are battery operated, utilizing a single AA battery.
There's never been another car like the Camaro. The mania for these classic rides started long before the first one ever left the assembly line. And we've been drooling ever since. And five generations later, we still are. These Chevy Camaro wall clocks celebrate the early days of the auto that was designed under the code name Panther. Whether it's the gorgeous '66 Nova, the '57 Corvette or the '65 GTO, we've got you covered.
No Expedited Shipping option for these Products! Free shipping in US48.
Clocks will be shipped via UPS directly to you by the manufacturer within 1-3 business days
Subject:
Chevrolet Camaro LED Wall Clocks: Super Sport (SS), Gulf Gas Station Themes, Exxon Gas Themes, Mobilgas Themes, Sunoco Themes, G5 Camaros, Jenkins and Z28 Options - multiple colors too.
Specifications
Chevy Camaro Wall Clock Feature Specifications:
14 inch diameter
Bright circular LED light source
Quartz clock uses one AA battery
Quality printing and artwork
Scratch resistant clear lexan outer lens material - won't yellow
Durable ABS plastic material for back of clock
110 AC cord to turn on/off the backlit LED lights
One year warranty
Made in the USA