Larry Grossman Art Wall Clocks, LED Lighted: Hot Rods, Route 66, Vintage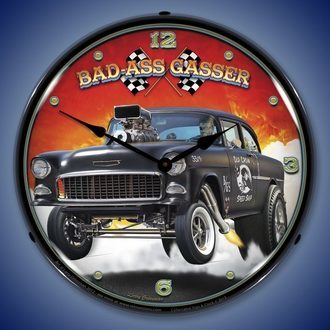 Why Buy From Us?
Free Shipping
Veteran Owned
Secure Shopping
Satisfaction Guaranteed
Item Description
Larry Grossman Art Clocks
If you haven't heard about Larry Grossman, you're in for some schooling, because this artist has been up to quite the career over the span of his lifetime (and is still going strong)! We love Grossman's original artwork for its vintage vibes and lush colors, and we handpicked some of our favorite pieces to offer you in the form of our Larry Grossman art clocks!
First, a little introduction to our friend Larry. This acclaimed artist started his career at just 15, when he bit the bullet, purchased his first airbrush, and began painting designs on T-shirts at car shows; the rest is history. Grossman has studied film and photography, won prizes and awards for his art, and worked for Disney Studios, Warner Brothers, and DreamWorks; most importantly, though, Grossman is a die-hard vintage car and plane lover, which is apparent in the painstaking care he devotes to each of his original pieces.
Our Larry Grossman art clocks feature his best work, from the flaming Bad-Ass Gasser (which is—you guessed it—pretty bad-ass) to the beautiful Cruising the Signal, which portrays a beautiful scene from vintage California. Grossman uses gorgeous coloring, rich tones, and typefaces thick with heritage to truly capture the spirit of the age; you can bring all this home by picking out your favorite clock.
Every image used was meticulously reproduced by using a CNC router in order to preserve every detail. We then take great care to avoid distorting the image as we use a special UV-dried, computer-controlled printer, thus ensuring a high quality product as detailed as the original that will hold up for years. These make a great investment!
The clocks measure 14 inches across with an outer lens engineered from a high end Lexan optical lens. It won't yellow and is guaranteed scratch resistant, held in place with three easily removable rivets that will make cleaning the lens a simple task.
If you feel like your life has been lacking something (and who doesn't?), chances are it's missing one of our Larry Grossman art clocks. A little bird told us.
No Expedited Shipping option for these Products! Free shipping in US48.
Clocks will be shipped via UPS directly to you by the manufacturer within 1-3 business days
Subject:
Larry Grossman Art Wall Clocks, LED Lighted: Air Races 1933, Bad Ass Gasser, Cowabunga, Cruising the Signal, Deuces Wild, Get Your Licks on Route 66, Joy Ride, Lets Filler Up, Rock Around the Clock, Street Coupe, The Good Life, Thunder Road, and Vics Hwy 40
Specifications
Larry Grossman Art Automotive Clock Feature Specifications:
14 inch diameter
Quality printing and artwork
Bright circular LED light source
Quartz clock uses one AA battery
110 AC cord to turn on/off the backlit LED lights
Scratch resistant clear lexan outer lens material - won't yellow
Durable ABS plastic material for back of clock
One year warranty
Made in the USA