How To Restore Classic Car Bodywork: For All Metal-Bodied Cars - New & Updated Edition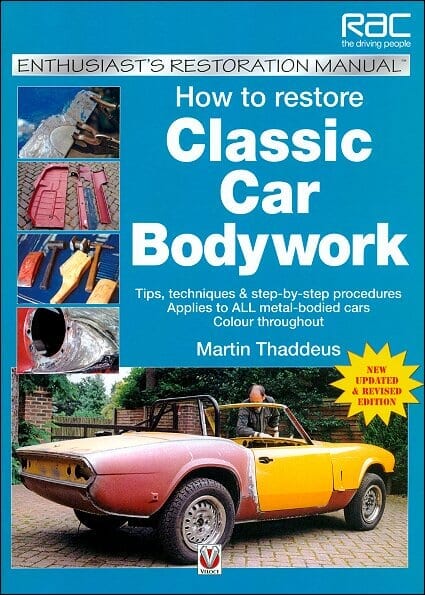 Why Buy From Us?
Free Shipping
Veteran Owned
Secure Shopping
Satisfaction Guaranteed
Item Description
We were quite surprised when back in '08 we heard that How To Restore Classic Car Bodywork was no longer available. This book had been one of the bestsellers here at The Motor Bookstore for quite some time, so we were disappointed to hear the news.
Fortunately, the powers that be at Veloce Publishing decided to not only republish this title but also update it and revise it.
Featuring hundreds of sharp, close-up color photos, this manual is a must-have book for the DIY mechanic wanting to fix or restore metal-bodied vehicles.
By applying the tips and techniques within these pages, shown in a step-by-step manner and complemented by color photos and illustrations, this book is required reading for anyone wanting to restore their car.
Step-by-step instructions cover:
Patching panels
How to fabricate replacement panels
How to cut and weld metal
How to form metal into complex shapes
How to protect metal against rust
And much more!
If you are a serious restorer (or would like to be one), then
How To Restore Classic Car Bodywork
deserves a prime spot in your automotive library.

Book Excerpt: How To Restore Classic Car Bodywork
SILLS, FLOORS AND OUTRIGGERS
The heart of a good restoration, or a bad one for that matter, is the sill job. Regardless of whether your car has a separate chassis or is of unitary construction, the members that constitute the lower part of the door apertures are prone to rusting.

If they're not dealt with properly, they will compromise the integrity of your vehicle's structure, and might leave you will ill fitting doors.

Sills vary hugely form vehicle to vehicle, so the exact method of replacement will have to be tailored to the model, as well as the degree of rot.

In its simplest form, the sill can be thought of as a box that runs between the A and B-posts. The sill members will communicate with the rest of the vehicle's structure via the A and B-posts and, in most cases, through outriggers that connect directly to the chassis rails.

The other important piece to consider when looking at sills is the roof, which can be thought of as a compression member. If you have a soft top, then your sills have to work even harder in resisting the pressures to beam, bow or twist.

A more detailed look at any sill will probably reveal it to be made up of a collection of curves, steps and tapered facets. Typically, you'll have an inner and an outer section, and very often a blade or membrane sill running through the middle. It's not uncommon for part of the inner sill to be a continuation of the floor.

The boxy nature of sills makes them ready water traps, and their proximity to the floor compounds this problem.

Replacing a sill, therefore, is not a job that can be considered in isolation. Removing a sill, or any part of it, requires that you brace the door aperture and support any connecting structures.

The rust trap aspect often demands the replacement of floor and other sections at the same time.
Subject: Tips, techniques and detailed step-by-step procedures you can apply to any metal-bodied vehicle. ISBN-10: 1845844114 | ISBN-13: 9781845844110 | Motorbooks 196694
Specifications
Publisher: Veloce Publishing
Author: Martin Thaddeus
Pages: 128 - Hundreds of color photos and illustrations
Binding: Paperback - 8.5 x 11 inches
ISBN: 978-1-84584-411-0
Table of Contents
TABLE of CONTENTS:
Rust: Know Your Enemy
Tools, Equipment and Workspace
Workshop Safety
Basic Panel Removal
Basic Panel Fitment
Sectional Repairs to Basic Panels
Doors
Sills, Floors and Outriggers
Chassis Members: Repair and Renewal
More About Floors
Multiple Panel Assemblies
Wheelarches
Metal Forming Techniques and Panel Beating
Basic Hammer Exercises
MGB Face-Lift
Panel Repair Techniques
Bracing and Structural Support
Guide to Welding
Glossary of Terms
Questions & Answers about How To Restore Classic Car Bodywork
Questions & Answers about How To Restore Classic Car Bodywork
Ask a question about How To Restore Classic Car Bodywork.
How To Restore Classic Car Bodywork: For All Metal-Bodied Cars - New & Updated Edition
Description

Specifications

Table of Contents

Questions & Answers

Customer Reviews