Automotive Bodywork and Rust Repair: Step-by-Step, Tools, Welding, Filling, Shaping, etc.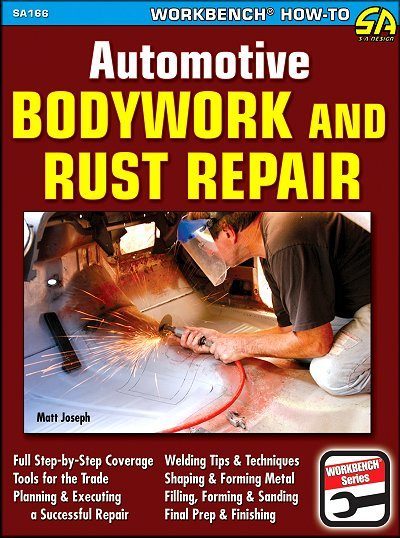 Why Buy From Us?
Free Shipping
Veteran Owned
Secure Shopping
Satisfaction Guaranteed
Item Description
At some point, every vehicle owner has to deal with some form of rust or body repair, especially when it comes to daily drivers.
But body damage and/or rust are especially a concern where collector cars are involved, since bodywork usually is the costliest part of any restoration project.
In Automotive Bodywork and Rust Repair, author Matt Joseph, teaches and shows you, with the help of more than 400 color photos, how to address rust and other bodywork projects.
You get clear tips on:
How to select the right tools for the job,
How to prep and clean sheet metal
How to fabricate panel patches
Welding options
How to form metal
Final metal finishing
Plastic and lead fillers
Sanding
And much more!
Whether you want to do a full, ground-up restoration project, or just want to save some money by doing minor bodywork and repairs yourself,
Automotive Bodywork and Rust Repair
is the book you need!

Book Excerpt: Automotive Bodywork and Rust Repair
WHAT YOU SHOULD KNOW BEFORE YOU START
AT THE FACTORY AND AFTERWARD

Autobody panels begin their lives in near-ideal conditions. Clean, uniform sheet stock was stamped or rolled into shape. Huge machines accomplished this work by exerting many tons of pressure on flat sheet stock that was inserted between the drawing and rolling dies of stamping devices.

In such operations, flat metal is deformed by enormous force that stretches and shapes it. The metal is clamped at its edges by "binder rings," and then acted on by dies that force it into desired shapes. Later, it is trimmed and pierced at attachment points.

For the metal work, the important thing about these processes is that the stretching and forming of sheetmetal between dies work hardens it. That is one of the reasons for stamping it; to make it stronger.

The other reason, of course, is styling. If cars were fabricated from unstamped sheetmetal, their panels would literally flutter in the wind, and from road vibrations. Stamping imparts strength, and helps to eliminate most flutter. Besides, no one would want to drive a car that looked like a steel box.

When you repair damaged sheetmetal, you must deal with the work hardening that occurred in the original stamping or rolling process that turned flat stock into finished panels, and with the additional deformations that occurred when it was damaged.

There is also the factor of road vibration, which, over long periods, hardens panels as they travel down the road. It is important to keep all of this in mind when you find a panel resisting your best efforts to change it shape and restore it to its original configuration.

One of the worst forms of damage that you will ever encounter is bad repair work. A range of people, from the truly clueless to the dedicatedly inept, may have tried to repair the damage before you.

Their misguided efforts, often with very large hammers and other destructive devices, may have made things worse or much worse than they were.
Subject: DIY automotive bodywork and repairs. ISBN-10: 1932494979 | ISBN-13: 9781932494976 | CarTech SA166
Specifications
Publisher: CarTech Books
Author: Matt Joseph
Pages: 160 - Over 400 color photos and illustrations
Binding: Paperback - 8.5 x 11 inches
ISBN: 978-1-932494-97-6
Table of Contents
TABLE of CONTENTS: WHAT YOU SHOULD KNOW
Before You Start | Panel Types, Configurations and Reinforcements | Autobody Steel | Plasticity and Elasticity | Work Hardening: The Metal Remembers | At the Factory and Afterward | Necessary Tools and Equipment | General Considerations LIMITS OF MATERIALS, EQUIPMENT AND SKILLS
Inherent Advantages | Divide and Conquer TYPES OF JOBS
Damage Repair | Small Rust Repairs | Small Patch Piece Welding Methods CLEANING, MODELING AND CUTTING
Preparing and Cleaning Sheetmetal | Cutting Panel Materials | Getting Shapes and Contours Right FORMING, FITTING AND SMOOTHING
Simple Tools and Equipment | Applying Plasticity/Elasticity, Work Hardening and Annealing | Hammering Techniques that Work | Bending, Beading and Prying | Power Forming | Pulling Approaches to Moving Metal | Smoothing, Stretching, Shrinking and Forming Operations BUMPING TO MOVE THE METAL THE RIGHT WAY METAL FINISHING
Indicating, Feeling and Other Human Tools to Determine Panel Surfaces | Filing Done Right | The Art of Pick Hammering | The Disc Sanding Alternative WELDING BODY METAL
Types of Joints | Welding Smaller Pieces into Large Constructions | Fixturing | Electric Welding FILLING
The Secrets of Lead Work | The Project | Applying Lead Filler Material | Applying Plastic Fillers SPECIAL PROJECTS AND PROCEDURES
Fabricating a Splash Shield for a Ford Amphibian | Making Panels and Trim Fit | Quarter-Panel Replacement | Door Re-Skinning | Hanging Doors | Mounting and Adjusting Trim BEFORE YOU PAINT
The Danger from Behind MINOR RUST REPAIR TO A FENDER EDGE
The Approach | The First Step: Evaluation | Removing the Bad Metal | Planning and Modeling the Repair | Cutting and Forming the Metal Patches | Final Fitting | Welding Considerations | Cleaning, Positioning, Fixturing and Welding | Grinding the Weld Beads and Shrinking the Bulged Area | Final Steps before Filling | Tinning | Applying the Lead Filler | Shaping the Lead and Finishing the Job REPAIRING COLLISION DAMAGE IN A DECKLID
The Approach | The Early Steps | Metal Finishing | Filling SOURCES AND RESOURCES
Local Sources | Non-Local Sources | Knowledge and Problem-Solving Resources Appendix | Soldering Data | Colors of Steel at Different Temperatures
Questions & Answers about Automotive Bodywork and Rust Repair
Questions & Answers about Automotive Bodywork and Rust Repair
Ask a question about Automotive Bodywork and Rust Repair.
Customer Reviews
REVIEWS
Randy
verified customer
September 8, 2020
Automotive Bodywork and Rust Repair: Step-by-Step, Tools, Welding, Filling, Shaping, etc.
Description

Specifications

Table of Contents

Questions & Answers

Customer Reviews