Fiberglass and Other Composite Materials: A Guide to High-Performance Non-Metallic Materials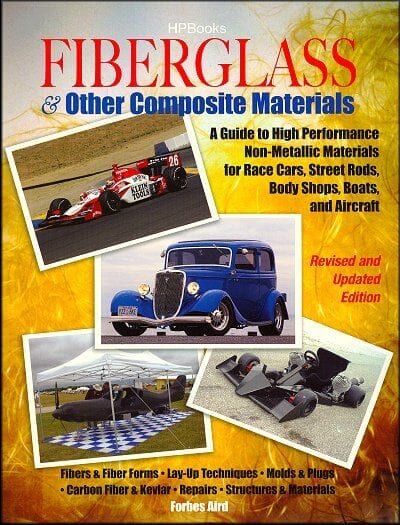 Why Buy From Us?
Free Shipping
Veteran Owned
Secure Shopping
Satisfaction Guaranteed
Item Description
The Fiberglass & Other Composite Materials is a how-to guide to build high performance non-metallic materials for race cars, street rods, boats, aircraft and body shops.
Composite materials, in addition to aluminum and steel, have been used for many years in racing vehicles for their durability and lightness.
And now these space-age materials are being used on street cars, hot rods, muscle cars, boats, light aircraft and more.
Composites covered by this book include:
Fiberglass
Kevlar
Carbon Fiber
Carbon fiber, for example, is used in everything, from sports equipment to home goods, even medical instruments.
If you want to stay on top of this technology, Fiberglass and Other Composite Materials is required reading and one of the best books on the subject. With the information in this DIY book, you will be able to make or repair your own composite body panels and parts.
A must-have guide for racers, automotive enthusiasts and do-it-yourselfers, engineering students, body-shop techs and anyone interested in modern composite materials.
Subject:
Learn how to make or repair composite material parts for general purpose use or racing applications.
ISBN-10: 1557884986 | ISBN-13: 9781557884985 | HPBooks 1498
Specifications
Publisher: HP Books
Author: Forbes Aird
Pages: 154 - Black & white photos and illustrations
Binding: Paperback - 8.5 x 11 inches
ISBN: 978-1-55788-498-5
Table of Contents
TABLE of CONTENTS:
A Word About the Second Edition
The What and Why of Composites
Fibers and Fiber Forms
Resins
Gel Coats
The FRP Shop
Health and Safety
Wet Lay-Up Technique
Advanced FRP Techniques
Mass Production Techniques
Molds
Plugs
Materials and Structures
FRP as Structural Material
FRP Sandwich Construction
FRP Repairs
Bibliography
Questions & Answers about Fiberglass and Other Composite Materials
Questions & Answers about Fiberglass and Other Composite Materials
Ask a question about Fiberglass and Other Composite Materials.
Fiberglass and Other Composite Materials: A Guide to High-Performance Non-Metallic Materials
Description

Specifications

Table of Contents

Questions & Answers

Customer Reviews