Pro Paint and Body - 2nd Edition: Professional Techniques, Tips and Tricks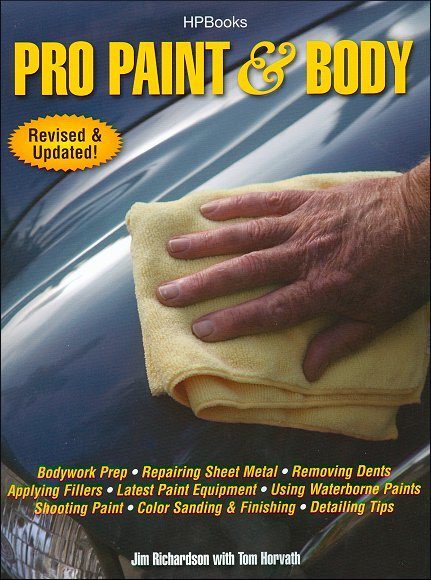 Why Buy From Us?
Free Shipping
Veteran Owned
Secure Shopping
Satisfaction Guaranteed
Item Description
In this revised and updated edition of Pro Paint and Body, author Jim Richardson offers the reader a chance to acquire the techniques, tips and tricks that professional painters and artists have developed over many years.
The techniques discussed and detailed in this how-to book, can make the difference between creating a car that looks good, versus one that looks fantastic.
This guide will also be beneficial to those who want to learn about the latest automotive paint technology, as things have changed dramatically in the last 20 years as a result of environmental laws as well as newer materials that are now available.
This book covers everything you need to know, from basic bodywork to repair a fender-bender to a show-car finish.
Find out what master craftsmen do in order to create a show-winning vehicle. Whether by welding, panel beating, or applying the paint, the second edition Pro Paint and Body how-to guide provides the answers you seek.
If you can follow instructions and are willing to practice the techniques explained in this book, then you can paint. And if you're also willing to add some elbow grease to sand and polish, you also can achieve results worthy of car shows. This book has all the info you'll need.
Subject: Hobbyist:
DIY: how-to: automotive painting techniques, tips, tricks.
ISBN-10: 155788563X | ISBN-13: 9781557885630 | HPBooks 1563
Specifications
Publisher: HP Books
Author: Jim Richardson, Tom Horvath
Pages: 154 - Hundreds of b&w photos
Binding: Paperback - 8.5 x 11 inches
ISBN: 978-1-55788-563-0
Table of Contents
TABLE of CONTENTS:
Safety First!
Evaluating a Project Car
Frame Alignment
Paint Stripping
Degreasing, Derusting and Prepping
Pro Hammer-and-Dolly Techniques
Limited Access and Paintless Dent Removal
Metal Shrinking
Basic Bodywork Welding
Patching Panels
Door Skinning
Adhesive Panel Repair
Metal Fabricating Tools
Working with Plastic Filler
Working with Lead
Fiberglass Repair
Spray Guns, Compressors and Spray Booths
Paint Tech
Waterborne Paint Tech
Block Sanding
Masking and Final Prep
Shooting Paint
Blending Two-Stage Urethanes
Color Sanding for a Show-Winning Finish
Plastic Bumper Repair
Fixing Paint Cracks
Body Panel Assembly Tips
Kustom Paint Tips and Tricks
Powder-Coating at Home
Color Matching
Rust Protection
Detailing and Maintenance Tips
The Future of Paint
Questions & Answers about Pro Paint & Body 2nd Edition
Questions & Answers about Pro Paint & Body 2nd Edition
Ask a question about Pro Paint & Body 2nd Edition.
Pro Paint and Body - 2nd Edition: Professional Techniques, Tips and Tricks
Description

Specifications

Table of Contents

Questions & Answers

Customer Reviews