How to Paint Your Show Car: Prep & Body Work, Match Factory Colors, Refurbish Original Paint, more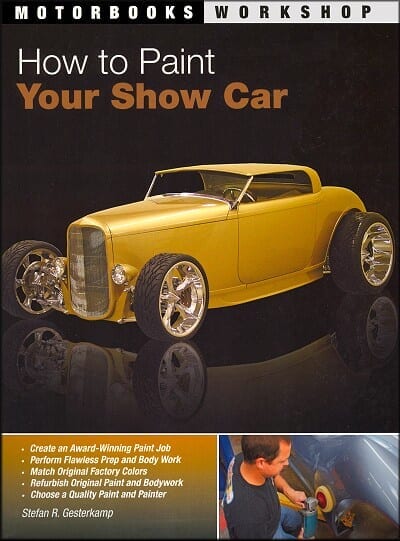 Why Buy From Us?
Free Shipping
Veteran Owned
Secure Shopping
Satisfaction Guaranteed
Item Description
One of the biggest challenges of collecting, restoring, and showing classic cars is creating a blue-ribbon paint job and keeping it that way, or preserving your car's original paint.
If your restoration involves stripping and repainting the entire car, you'll want to match the original color precisely or create a new paint job that blows away the competition.
If your project involves restoring the car's factory paint, then you'll need to do so in a way that preserves the overall look of the car and the vision of the project.
How to Paint Your Show Car covers these topics and more. High-end automotive paint expert Stefan Gesterkamp leads the reader through the concours painting process, from body filler and prep to detailing and preservation.
Gesterkamp shares his 25 years of experience and also passes along the knowledge of fellow painters and collectors like Chip Foose and Jay Leno.
Whether you do your own painting or hire a professional, How to Paint Your Show Car will guide you through the process of creating an award-winning paint job.
Specifications
Publisher: Motorbooks
Author: Stefan R. Gesterkamp
Pages: 192 - Hundreds of color photos
Binding: Paperback - 8.5 x 11 inches
ISBN: 978-0-76033-275-7
Table of Contents
TABLE of CONTENTS:
Before You Start Your Project
Finding and Picking the Right Shop
Bodywork
Painting Prep and More Bodywork
Preparing, Masking and Cleaning
Choosing Your Paint
Priming
Painting
Carbon Fiber
Shooting for the Stars
Detailing Your Paintwork
Questions & Answers about How to Paint Your Show Car
Questions & Answers about How to Paint Your Show Car
Ask a question about How to Paint Your Show Car.
How to Paint Your Show Car: Prep & Body Work, Match Factory Colors, Refurbish Original Paint, more
Description

Specifications

Table of Contents

Questions & Answers

Customer Reviews