1972 Chevy Car & Truck Chassis Overhaul Manual - Licensed OEM Reproduction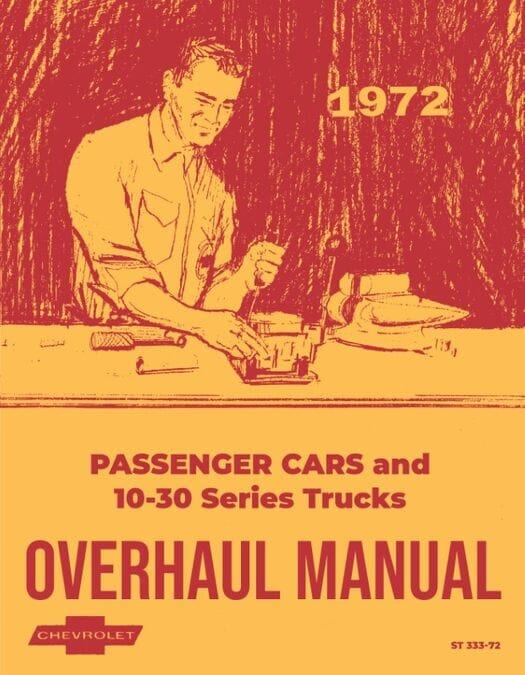 Why Buy From Us?
Free Shipping
Veteran Owned
Secure Shopping
Satisfaction Guaranteed
Item Description
This 1972 Chevy Car / Truck Chassis Overhaul Manual is a high-quality, PRINT reproduction of the shop manual which was written and first published by the experts at the original equipment manufacturer (OEM), Chevrolet Motor Division, for use by their dealership mechanics. This professional manual can now be yours! Use it to rebuild major components on your classic Chevy car or truck.
This superior resource is a great complement to your chassis service manual. This overhaul manual contains almost 500 pages of procedures involving the disassembly and assembly of major components. In other words, it's a manual specifically designed to walk you through rebuilding the big parts.
MODELS COVERED:

1972 Chevrolet Bel Air
1972 Chevrolet Biscayne
1972 Chevrolet Blazer Truck
1972 Chevrolet Brookwood
1972 Chevrolet C10 Pickup Truck
1972 Chevrolet C10 Suburban
1972 Chevrolet C20 Pickup Truck
1972 Chevrolet C20 Suburban
1972 Chevrolet C30 Pickup Truck
1972 Chevrolet Camaro
1972 Chevrolet Camaro RS
1972 Chevrolet Camaro SS
1972 Chevrolet Camaro Z28
1972 Chevrolet Caprice
1972 Chevrolet Chevelle
1972 Chevrolet Chevelle Concours
1972 Chevrolet Chevelle Concours Estate
1972 Chevrolet Chevelle Greenbrier
1972 Chevrolet Chevelle Malibu
1972 Chevrolet Chevelle Nomad
1972 Chevrolet Chevelle SS
1972 Chevrolet Corvette
1972 Chevrolet El Camino
1972 Chevrolet El Camino Custom
1972 Chevrolet El Camino SS
1972 Chevrolet Impala
1972 Chevrolet K10 Pickup Truck
1972 Chevrolet K10 Suburban
1972 Chevrolet K20 Pickup Truck
1972 Chevrolet K20 Suburban
1972 Chevrolet K30 Pickup Truck
1972 Chevrolet Kingswood
1972 Chevrolet Kingswood Estate
1972 Chevrolet Monte Carlo
1972 Chevrolet Nova
1972 Chevrolet P10 Van
1972 Chevrolet P20 Van
1972 Chevrolet P30 Van
1972 Chevrolet Townsman
Inside these freshly printed pages, you'll find the step-by-step instructions for rebuilding: air conditioning compressor, 4-wheel drive front axle differential, rear axle differential carrier, power brake cylinder, engine, carburetors, starting motor solenoid and Delcotron, transmission and clutch, 4-wheel drive transfer case, steering gear, power steering pump and control valve. It also contains a section on specifications. This is a beautiful reproduction manual, which retains all of the content from the original source.
You'll find that the well-written text has been extensively paired with a variety of excellent visual aids to assist you all along the way. There are black and white photographs, cut-away views, exploded-views, illustrations, tables and charts. You'll find the detailed instructions necessary to give you the knowledge and confidence to get the jobs done completely, accurately and efficiently.
Did you know that the with regards to the low band, the brake band used in the aluminum Powerglide transmission has bonded linings which, due to the transmission characteristics and band usage, should require very little attention? You would if you owned this handy shop manual and flipped over to section 7-78. You'd also know that despite that fact, whenever a transmission is disassembled, the band should be cleaned of metal particles and inspected. It also explains what should be inspected. Check the lining for evidence of scoring or burning. Check the band and lining for cracks. Check all band linkage for excessive wear. That's just a sample of the level of detail you'll find. Speaking of samples, please take a moment to scroll down and see the sample page below in order to get a glimpse at just how well the visual aids and comprehensive text work together.
NOTE: This is the chassis OVERHAUL manual. For the chassis SERVICE manual regarding cars, please see our: 1972 Chevrolet Service Manual (Full-size, Chevelle, Camaro, Monte Carlo, Nova and Corvette), which can be found by clicking here…1972 Chevrolet Service Manual. For the chassis SERVICE manual related to trucks, please see our: 1972 Chevrolet 10-30 Series Truck Service Manual, which can be found by clicking here…1972 Chevrolet 10-30 Series Truck Service Manual. For Body information related to Chevrolet cars, please see our: 1972 Fisher Body Service Manual, which can be found by clicking here…1972 Fisher Body Service Manual - For All Body Styles (Except "H" Body).
This factory-written shop manual is perfect for service, repairs, restoration and rebuild projects. Clear illustrations and photos show exploded views, as well as component details, plus specifications on engine data, engine torque, carburetion and more.
Subject:
1972 Chevy Chassis Overhaul Manual - Includes Detailed Procedures and Instructions.
| OEM Part Number: ST 333-72
Specifications
Publisher: Chevrolet Motor Division
Pages: 496 - Hundreds of b&w illustrations
Binding: Paperback - 8.5 x 11 inches
Years: 1972
Table of Contents
TABLE OF CONTENTS
Air Conditioning Compressor
4-Wheel Drive Front Axle Differential
Rear Axle Differential Carrier
Power Brake Cylinder
Engine
Carburetors
Starting Motor, Solenoid and Delcotron
Transmission and Clutch, 4-Wheel Drive Transfer Case
Steering Gear, Power Steering Pump and Control Valve
Specifications
Sample Page:
Below:1972 Chevy Car / Truck Chassis Overhaul Manual Sample Page - Clutch Repairs
Questions & Answers about 1972 Chevy Car / Truck Chassis Overhaul Manual
Questions & Answers about 1972 Chevy Car / Truck Chassis Overhaul Manual
Ask a question about 1972 Chevy Car / Truck Chassis Overhaul Manual.
1972 Chevy Car & Truck Chassis Overhaul Manual - Licensed OEM Reproduction
Description

Specifications

Table of Contents

Questions & Answers

Customer Reviews