1972 Chevrolet 10-30 Series Truck Service Manual - Licensed OEM Reproduction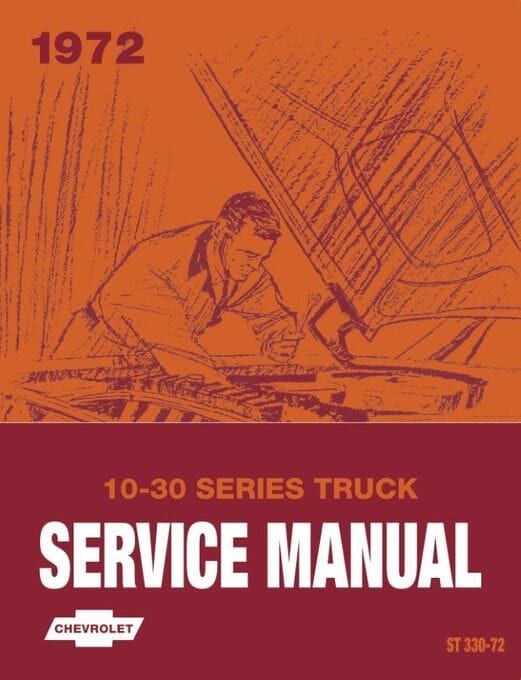 Why Buy From Us?
Free Shipping
Veteran Owned
Secure Shopping
Satisfaction Guaranteed
Item Description
This 1972 Chevrolet 10-30 Series Truck Chassis Service Manual is a licensed reproduction of the OEM part number: ST 330-72 service / shop manual, which was originally published by Chevrolet Motor Division for use by their dealership mechanics. Now, you too can have the most thorough and complete manual for your C10-30, K10-30, and P10-30 Series trucks right at your finger tips. The content of an OEM manual covers all engines, transmissions and other components on the 10-30 series trucks such as: HVAC, Body, Frame, Suspension, 4-wheel drive / 2-wheel drive, driveline, brakes, cooling system, fuel system, emissions, electrical, clutch, fuel tank, exhaust system, steering, wheels / tires, chassis sheet metal, bumpers, radiator and grille, accessories and most importantly accurate specifications.
This high-quality '72 Chevy Truck service manual reproduction is printed on durable, quality paper, so you can be sure it will hold up well in your shop environment. That's not something many of our competitors can rightfully claim. You'll be pleased to know that it includes all of the original content, which was written by the manufacturer back when these vintage beauties were brand new.
In addition to the comprehensive text available in this 500 plus page guide, you'll find a huge number and variety of helpful, visual aids, such as: tables, black and white photos, illustrations, charts, cutaway views, exploded views and more. Together, they provide the information to give you the confidence to take on service and maintenance jobs from small to large on your classic hauler. These popular, stylish trucks had power to go along with their good looks. When you're ready to get (and keep) yours running in top shape, be sure to turn to this definitive guide.
This factory service manual reprint covers the following 1972 Chevy 10-30 Series Trucks:
1972 Chevrolet C10 Pickup Truck
1972 Chevrolet C10 Suburban
1972 Chevrolet C20 Pickup Truck
1972 Chevrolet C20 Suburban
1972 Chevrolet C30 Pickup Truck
1972 Chevrolet K10 Pickup Truck
1972 Chevrolet K10 Suburban
1972 Chevrolet K20 Pickup Truck
1972 Chevrolet K20 Suburban
1972 Chevrolet K30 Pickup Truck
1972 Chevrolet P10 Van
1972 Chevrolet P20 Van
1972 Chevrolet P30 Van
ENGINES COVERED:
250 cubic inch - 6-cylinder
292 cubic inch - 6-cylinder
307 cubic inch - V-8-cylinder
350 cubic inch - V-8-cylinder
402 cubic inch - V-8-cylinder
TRANSMISSIONS COVERED:
3-Speed Column Shift Manual Transmission
4-Speed Manual Transmission
Turbo Hydro-Matic 350 Automatic Transmission
Turbo Hydro-Matic 400 Automatic Transmission
This manual is perfect for the restorer, or anyone working on one of these vehicles. Clear illustrations show exploded views, as well as component details, plus specs on engine data, engine torque, carburetion and more.
Subject: OEM repair, maintenance, and service procedures for 1972 Chevy C10, C20, C30, K10, K20, K30, P10, P20, P30 Trucks. Chassis. | Licensed Reproduction | OEM Part No. ST 330-72
Specifications
Publisher: Chevrolet Motor Division
Pages: 502 - Hundreds of b&w illustrations
Binding: Paperback - 8.5 x 11 inches
Years: 1972
Table of Contents
Table of Contents
General information
Lubrication
Heater and air conditioning
Body
Frame
Front suspension
4-wheel drive
Rear suspension and driveline
Brakes
Engine
Engine cooling
Engine fuel
Emissions control systems
Engine electrical
Clutch and manual transmission
Fuel tank and exhaust system
Steering
Wheels and tires
Chassis sheet metal
Electrical — Body and chassis
Radiator, Grille
Bumpers
Accessories
Specifications
Sample Page:
Below: 1972 Chevrolet Truck Shop Manual Sample Page - Free-Wheeling Hub
Questions & Answers about 1972 Chevrolet 10-30 Series Truck Service Manual
Questions & Answers about 1972 Chevrolet 10-30 Series Truck Service Manual
Ask a question about 1972 Chevrolet 10-30 Series Truck Service Manual.
1972 Chevrolet 10-30 Series Truck Service Manual - Licensed OEM Reproduction
Description

Specifications

Table of Contents

Questions & Answers

Customer Reviews