1972 Chevrolet Service Manual (OEM) - Full-size Chevrolet, Chevelle, Camaro, Monte Carlo, Nova, Corvette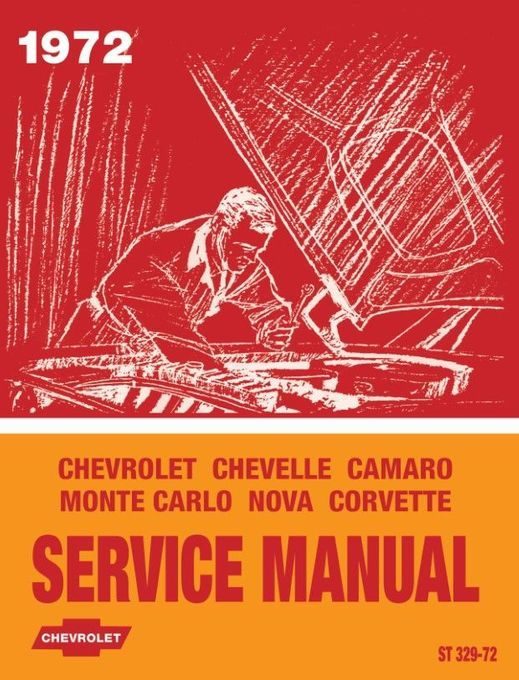 Why Buy From Us?
Free Shipping
Veteran Owned
Secure Shopping
Satisfaction Guaranteed
Item Description
For a restorer, or owner of a vintage 1972 Chevrolet, this factory service manual reprint is invaluable. It covers 1972 Chevy models such as the Monte Carlo, Corvette, Nova, Chevelle and Camaro, and includes detailed how-to maintenance instructions, photographs, illustrations and specifications. All of the systems and components are covered, such as engine data, engine torque and carburetion. There are repair and service procedures for the suspension, transmission, engine, brakes, electrical and more. If you're doing a restoration project, and you're looking for information about the 1972 Chevy Nova chassis, or hunting for 1972 Chevelle emission control system information, you'll find what you need in this service manual. The OEM part number is: ST 329-72.
This 1972 Chevy Car Service Manual is a high-quality reproduction of the original equipment manufacturer service manual published by Chevrolet Motor Division specifically for their dealership mechanics back when these classic beauties were brand new. It is the most thorough and precise piece of literature dedicated to these 1972 Chevy models with respect to service and repair.
NOTE: This 1972 Chevrolet chassis service manual covers the servicing of mechanical operations. It covers the body of the Corvette only. For body information regarding other models, please see the 1972 Fisher Body Service Manual, which can be found by clicking here...1972 Fisher Body Service Manual.
MODELS COVERED:

1972 Chevrolet Bel Air
1972 Chevrolet Biscayne
1972 Chevrolet Brookwood
1972 Chevrolet Camaro
1972 Chevrolet Camaro RS
1972 Chevrolet Camaro SS
1972 Chevrolet Camaro Z28
1972 Chevrolet Caprice
1972 Chevrolet Chevelle
1972 Chevrolet Chevelle Concours
1972 Chevrolet Chevelle Concours Estate
1972 Chevrolet Chevelle Greenbrier
1972 Chevrolet Chevelle Malibu
1972 Chevrolet Chevelle Nomad
1972 Chevrolet Chevelle SS
1972 Chevrolet Corvette
1972 Chevrolet El Camino Truck
1972 Chevrolet El Camino Custom Truck
1972 Chevrolet El Camino SS Truck
1972 Chevrolet Impala
1972 Chevrolet Kingswood
1972 Chevrolet Kingswood Estate
1972 Chevrolet Monte Carlo
1972 Chevrolet Nova
1972 Chevrolet Townsman
ENGINES COVERED:

4.1L 250 CID - 6 Cylinder
5.0L 307 CID - V8
5.7L 350 CID - V8
6.6L 400 CID - V8
7.4L 454 CID - V8
TRANSMISSIONS COVERED:

3-Speed Manual - SM326
3-Speed Manual - SM327
3-Speed Manual - SM330
4-Speed Manual - Muncie
4-Speed Manual - Saginaw
2-Speed Automatic -Powerglide
3-Speed Automatic - THM350
3-Speed Automatic - THM400
The Motor Bookstore is your premiere source for DIY repair manuals, restoration how-to guides, factory-issued service manuals, owner manuals and other publications for owners of vintage vehicles and mechanics who regularly work on them. We specialize in low prices, fast shipping and expert customer service.
Subject: 1972 Chevrolet Passenger Car - OEM repair, service, and maintenance instructions. | Chevrolet Motor Division | OEM Part Number: ST 329-72
Specifications
Publisher: Chevrolet Motor Division
Pages: 790 - Hundreds of b&w illustrations
Binding: Paperback - 8.5 x 11 inches
Years: 1972
Table of Contents
Table of Contents
General information
Lubrication
Heater and air conditioning
Body
Frame
Front suspension
Rear suspension
Brakes
Engine
Engine cooling
Engine fuel
Emissions control systems
Clutch and manual transmission
Automatic transmission
Transmission
Fuel tank and exhaust system
Steering
Wheels and tires
Chassis sheet metal
Electrical — Body and chassis
Radiator, Grille
Bumpers
Accessories
Specifications
Sample Page:
Below: 1972 Chevrolet Car Shop Manual Sample Page - Emission Control System
Questions & Answers about 1972 Chevrolet Service Manual
Questions & Answers about 1972 Chevrolet Service Manual
Ask a question about 1972 Chevrolet Service Manual.
1972 Chevrolet Service Manual (OEM) - Full-size Chevrolet, Chevelle, Camaro, Monte Carlo, Nova, Corvette
Description

Specifications

Table of Contents

Questions & Answers

Customer Reviews