1969 Buick Chassis Service Manual (All Models - Includes 11 x 17 inch Color Wiring Diagrams) - Licensed OEM Reproduction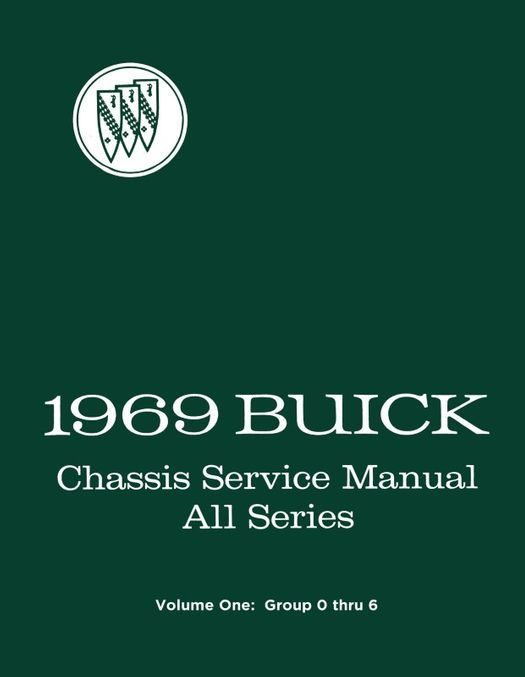 Why Buy From Us?
Free Shipping
Veteran Owned
Secure Shopping
Satisfaction Guaranteed
Item Description
This 1969 Buick Chassis Service Manual - All Series is a high quality, PRINT, reproduction of the shop manual which was written and first published by the original equipment manufacturer (OEM), Buick Motors Division, for use by their dealership mechanics.
NOTE: This is a CHASSIS service manual which is very comprehensive for chassis related components but it only lightly covers body components. For detailed information related to the body, please consider purchasing our 1969 Fisher Body Service Manual - For All Body Styles in addition to this 69 Buick Service Manual.
There's no doubt that majorly exciting things were happening in 1969 in terms of both style and technology. For example, the Woodstock music festival became a concert for the ages. It was also the year that the world stopped and marveled as the first man walked on the moon. When it came to automobile choices, there was plenty of excitement to be had as well. Buick was right there on the front lines offering a beautiful balance of power and luxury. The traditional swooping body lines maintained the heritage Buick flair, while the engine choices backed-up those good looks.
Advertisements for Buick in 1969 said, "No wonder Buick owners keep selling Buicks for us." They also asked their classic question, "Wouldn't you really rather have a Buick?". For many, the answer back then was yes…and it still is! When you're ready to get to work on the service and repairs for your beloved Buick, this is definitely the guide you'll need in hand. It was written by the experts at the manufacturer, and this freshly-printed reproduction contains all of the content of the original. Because this shop manual weighs in with a hefty almost 1,500 pages, it has been conveniently divided into two volumes.
Inside this comprehensive 1969 Buick service guide, you'll find a tremendous amount of well-written text, which has been thoughtfully paired with a huge number and variety of visual aids. There are tables, charts, black and white photographs, illustrations, wiring diagrams, cutaway views, exploded views and more. There's even a wonderfully helpful fold-out COLOR wiring diagram!
Whether you're tackling a project on the Cruise Master, the Super Turbine 300 Trans, the brakes, steering, windshield wiper and washer system or any of the major components and systems of these fine cars, you'll find the factory specifications as well as detailed procedures from small adjustments to full rebuilds.
MODELS COVERED:

1969 Buick Electra 225
1969 Buick Electra 225 Custom
1969 Buick GS 350
1969 Buick GS 400
1969 Buick LeSabre
1969 Buick LeSabre Custom
1969 Buick Riviera
1969 Buick Skylark
1969 Buick Skylark Custom
1969 Buick Special
1969 Buick Sportwagon
1969 Buick Sportwagon Custom
1969 Buick Wildcat
1969 Buick Wildcat Custom
This factory written shop manual is perfect for service, repairs, restoration, and rebuild projects. Clear illustrations and photos show exploded views, as well as component details, plus specifications one engine, data, engine torque, carburetion and more.
Subject:
1969 Buick Chassis Service Manual - Includes Detailed Procedures and Instructions.
| OEM Part Number: 69BUICKSM
Specifications
Publisher: Buick Motors Division
Pages: 1472 - Hundreds of b&w illustrations
Binding: Paperback - 8.5 x 11 inches
Years: 1969
Table of Contents
TABLE OF CONTENTS
General Information, Maintenance, and Lubrication
Windshield Wiper and Washer System
Heater System
Heater - Air Conditioner System
Frame and Body Mountings
Front Suspension and Front End Alignment
Rear Suspension, Automatic Level Control, Propeller Shaft and Differential
Brakes
Engine Mechanical
Engine Fuel System, Fuel Pumps and Carburetors
Cruise Master
Controlled Combustion System
Engine Electrical - Generating, Starting and Ignition Systems
Engine Tune-Up
Clutch
Manual Transmission
Shift Linkage
Super Turbine 300 Trans.
Turbo Hydra-matic 350 Trans.
Turbo Hydra-matic 400 Trans.
Fuel Tank and Exhaust Systems
Steering
Wheels and Tires
Chassis Sheet Metal
Chassis Electrical and Instrument Panel
Radio
Radiator and Grille
Bumpers
Accessories
Alphabetical Index
Sample Page:
Below:1969 Buick Chassis Service Manual (All Series) Sample Page 1 -Differential Service Procedures
Sample Page:
Below:1969 Buick Chassis Service Manual (All Series) Sample Page 2 - Turbo Hydra-Matic 400 Service Procedures
Questions & Answers about 1969 Buick Chassis Service Manual - All Series
Questions & Answers about 1969 Buick Chassis Service Manual - All Series
Ask a question about 1969 Buick Chassis Service Manual - All Series.
Customer Reviews
REVIEWS
Glen A Carroll
verified customer
June 24, 2021
1969 Buick Chassis Service Manual (All Models - Includes 11 x 17 inch Color Wiring Diagrams) - Licensed OEM Reproduction
Description

Specifications

Table of Contents

Questions & Answers

Customer Reviews