Buick Used Parts Buyers Guide: Skylark, LeSabre, Wildcat, Riviera, Electra 1964-1970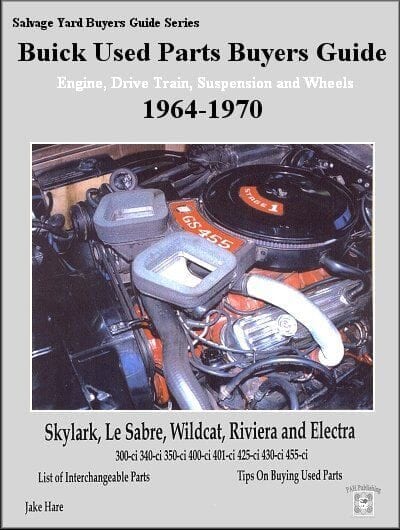 Why Buy From Us?
Free Shipping
Veteran Owned
Secure Shopping
Satisfaction Guaranteed
Item Description
If you're looking for parts for your classic Buick, do yourself a favor and check out this handy guide.
Buick is the middle sister of the GM clan, and it is often overshadowed by its flashier siblings; Pontiac and Oldsmobile.
Conceived in the mind of the public as a "sensible schoolteacher's car," Buick suffered from an identity crisis. However, in the fall of 1962 things began to change with the introduction of the T-Bird-fighting machine: the Riviera. Dripping with class and performance, the Riviera was built for Buick's most affluent customers. Nevertheless, a year later, the average Buick customer would find pizzazz in the all-new Skylark, which would become the base for one of the all-time fastest muscle cars...the GS.
With these two new models, as well as the powerhouse Wildcat, Buick was no longer overshadowed by its siblings. Today these Buicks hold a special place in the hearts of collectors, or maybe it's just a case of a middle child coming out ahead.
Buick Used Parts Buyers Guide is the ultimate resource in selecting and buying used parts for your classic 1964-1970 Buick. Not only is this guide a how-to on identifying and inspecting mechanical parts, it is also an interchange guide filled with thousands of interchanges for your Skylark, Riviera, Wildcat, LeSabre, or Electra. This is a must-have book for your next trip to the salvage yard or swap meet. With engines ranging in cubic inches of 300, 340, 350, 400, 401, 425, 430 and 455, Buick had you covered. Now, this guide will have you covered as well. Make your parts search much easier, by using this guide and finding out which other models may have the parts your car needs.

Subject: Salvage Yard Buyers Guide Series: Buick Used Parts Buyers Guide. Engine, Drive Train, Suspension and Wheels. 1964-1970. Skylark, Le Sabre, Wildcat, Riviera and Electra 1964, 1965, 1966, 1967, 1968, 1969, 1970. ISBN 10: 0974773018 | ISBN 13: 9780974773018
Specifications
Publisher: PAH Publishing
Author: Jake Hare
Pages: 170 - B&W photos and illustrations
Binding: Paperback - 8.5 x 11 inches
ISBN: 978-0-9747730-1-8
Years: 1964 - 1970
Table of Contents
TABLE of CONTENTS:
Engines
Fuel Systems
Exhaust Systems
Cooling Systems
Transmissions
Suspension Systems
Steering Systems
Rear Axle and Drive Shafts
Brakes
Electrical Components
Wheels and Wheel Covers
Questions & Answers about Buick Used Parts Buyers Guide 1964-1970
Questions & Answers about Buick Used Parts Buyers Guide 1964-1970
Ask a question about Buick Used Parts Buyers Guide 1964-1970.
Buick Used Parts Buyers Guide: Skylark, LeSabre, Wildcat, Riviera, Electra 1964-1970
Description

Specifications

Table of Contents

Questions & Answers

Customer Reviews