1968 Chevy Chassis Overhaul Manual - Licensed OEM Reproduction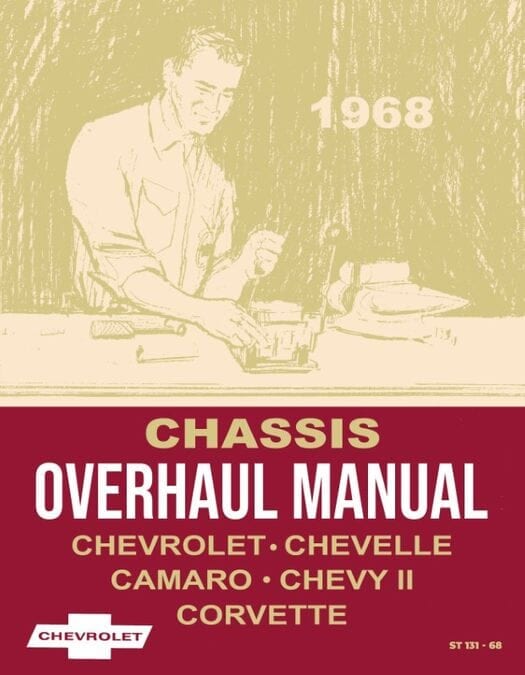 Why Buy From Us?
Free Shipping
Veteran Owned
Secure Shopping
Satisfaction Guaranteed
Item Description
This 1968 Chevy Car Chassis Overhaul Manual is a high-quality, PRINT reproduction of the shop manual which was written and first published by the experts at the original equipment manufacturer (OEM), Chevrolet Motor Division, for use by their dealership mechanics.
It's important to understand that this is an OVERHAUL manual. Links for the SERVICE manual can be found below the models covered section. This manual provides the procedures involved for disassembly, rebuild and assembly of major components (except the body) on the models listed below. Which components are addressed in this handy resource? You'll find information regarding: air conditioning compressor, rear axle differential carrier, power brake cylinder, engine, water pump, carburetors, starting motor solenoid and Delcotron, transmission and clutch, steering gear, power steering pump and control valve.
MODELS COVERED:

1968 Chevrolet Bel Air
1968 Chevrolet Biscayne
1968 Chevrolet Camaro
1968 Chevrolet Camaro RS
1968 Chevrolet Camaro SS
1968 Chevrolet Camaro Z28
1968 Chevrolet Caprice
1968 Chevrolet Chevelle 300
1968 Chevrolet Chevelle 300 Deluxe
1968 Chevrolet Chevelle
1968 Chevrolet Chevelle Concours
1968 Chevrolet Chevelle Malibu
1968 Chevrolet Chevelle Nomad
1968 Chevrolet Chevelle SS
1968 Chevrolet Chevy II Nova
1968 Chevrolet Corvette
1968 Chevrolet El Camino
1968 Chevrolet El Camino Custom
1968 Chevrolet El Camino SS
1968 Chevrolet Impala
NOTE: This is the OVERHAUL manual. For SERVICE information, please see our: 1968 Chevrolet Chassis Service Manual, which can be found by clicking here…1968 Chevrolet Chassis Service Manual. For BODY information, please see our: 1968 Fisher Body Service Manual, which can be found by clicking here…1968 Fisher Body Service Manual - For All Body Styles.
In this book, you'll find 378 pages which have been loaded with overhaul instructions. In addition to the well-written text, they have included a huge number and variety of visual aids to assist you all along the way. Please take a moment to scroll down to the sample page for a first-hand look at just how well the beautiful illustrations and exploded view complements the detailed text.
There's no doubt that '68 was a great time for cars. Fuel was cheap, horsepower was plentiful and cars were stylish. Chevrolet led the charge in all areas. You could order big motors in most any car in the line-up. The full-size cars had good looks and were functional, the Chevelle models were sporty and roomy. It was the second year for the super popular Camaro models, and they made some tweaks to keep things fresh, but didn't mess with a good thing. The Corvette models kicked-off an exciting, curvy new body which would evolve and stay in production until the 80's! El Camino models gave you the best of both worlds…car and truck.
The roar of a four-barrel carburetor snapping open and unleashing melodious burbling sounds out of true dual exhaust pipes is definitely the hit soundtrack to a wonderful time period. Chevrolet was there in 1968 with an array of beautiful and sporty vehicles to fill a variety of needs. When it's time for you to get to work on the overhaul projects for your classic Chevy, this is the ultimate source to have. Order yours today and it will help you to keep feeling great about your '68.
Did you know the Holley 4150 center inlet carburetor is used on 302, 396 and 427 cubic inch engines? You'd know that if you owned this book. You'd also know this particular carburetor is used in conjunction with a temperature sensing choke coil mounted on the intake manifold over the exhaust crossover passage. You'd quickly discover that this four-barrel, two stage carburetor consists of seven sub-assemblies; the throttle body, the main body, primary and secondary fuel bowls, primary and secondary metering bodies and the secondary throttle opening assembly. The secondary metering body on the Model 4150 carburetor is similar to the primary metering body. The secondary throttle operating assembly is vacuum operated. Yes. You'd know all of this, plus information on all the other Chevy carbs used on the vehicle models in this book. It covers: general description, repair procedures, disassembly, cleaning and inspection, assembly and adjustments and more. The best news is, that all of the items covered in this great guide are equipped with the same high-level of detail. You'll find all of the factory specifications and instructions necessary to do the rebuild jobs correctly, completely and efficiently in this handy guide.
This factory-written shop manual is perfect for service, repairs, restoration and rebuild projects. Clear illustrations and photos show exploded views, as well as component details, plus specifications on engine data, engine torque, carburetion and more.
Subject:
1968 Chevy Chassis Overhaul Manual - Includes Detailed Procedures and Instructions.
| OEM Part Number: ST 131-68
Specifications
Publisher: Chevrolet Motor Division
Pages: 378 - Hundreds of b&w illustrations
Binding: Paperback - 8.5 x 11 inches
Years: 1968
Sample Page:
Below:1968 Chevy Car Chassis Overhaul Manual Sample Page - Steering Spool Valve Removal
Questions & Answers about 1968 Chevy Car Chassis Overhaul Manual
Questions & Answers about 1968 Chevy Car Chassis Overhaul Manual
Ask a question about 1968 Chevy Car Chassis Overhaul Manual.
1968 Chevy Chassis Overhaul Manual - Licensed OEM Reproduction
Description

Specifications

Table of Contents

Questions & Answers

Customer Reviews