1968 Chevrolet Chassis Service Manual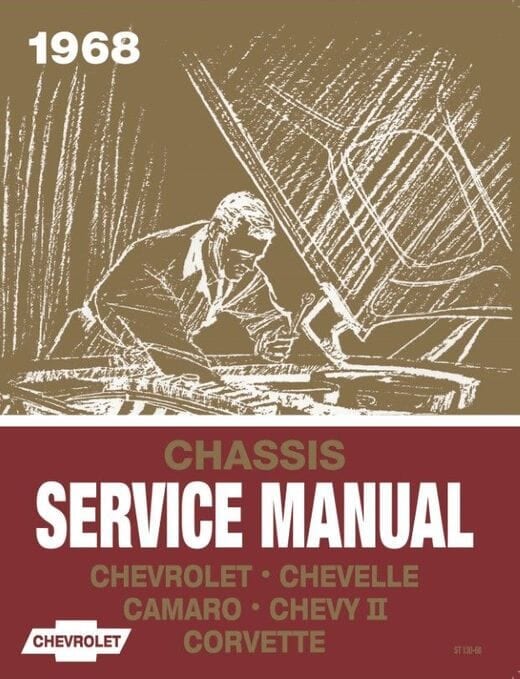 Why Buy From Us?
Free Shipping
Veteran Owned
Secure Shopping
Satisfaction Guaranteed
Item Description
You'll be ready to embark confidently on any service procedure with this 1968 Chevrolet Chassis Service Manual reprint. Our Chevy factory-written service manual reproductions are exact replicas of the original manuals, which were issued by the manufacturer for use by their dealership mechanics back when these cars were new. Included in this over 600 page guide are a huge number of black and white photographs, wiring diagrams and illustrations to further clarify the detailed text instructions provided. With this manual, you'll be able to breeze through work on the heating and air conditioning, front and rear suspension, engine, brakes, fuel tank and exhaust, clutch and transmission, steering, electrical system and much more.
In 1968, Chevrolet rolled-out an exciting line-up of vehicles. The popular Camaro was entering its second year of production and offered good looks backed with a variety of performance. The legendary Corvette took on a new body, which really looked like Stingray. It had some engine options that provide the sting. Whichever classic 1968 Chevy model you're looking to service, this shop manual is the definitive source.
MODELS COVERED:

1968 Chevrolet Bel Air
1968 Chevrolet Biscayne
1968 Chevrolet Camaro
1968 Chevrolet Camaro RS
1968 Chevrolet Camaro SS
1968 Chevrolet Camaro Z28
1968 Chevrolet Caprice
1968 Chevrolet Chevelle 300
1968 Chevrolet Chevelle 300 Deluxe
1968 Chevrolet Chevelle
1968 Chevrolet Chevelle Concours
1968 Chevrolet Chevelle Malibu
1968 Chevrolet Chevelle Nomad
1968 Chevrolet Chevelle SS
1968 Chevrolet Chevy II Nova
1968 Chevrolet Corvette
1968 Chevrolet El Camino Truck
1968 Chevrolet El Camino Custom Truck
1968 Chevrolet El Camino SS Truck
1968 Chevrolet Impala
NOTE: This manual contains body service information for the Corvette only.
NOTE: For body information for models other than the Corvette, please see the 1968 Fisher Body Service Manual which can be found by clicking here...1968 Fisher Body Service Manual.
This Chevrolet service manual reproduction covers routine repair and maintenance for the engine, transmission and rear end, but doesn't include instructions for a complete overhaul.
Subject: 1968 Chevrolet Chassis Service Manual. Chevy. OEM Part Number: ST 130-68
Specifications
Publisher: Chevrolet Motor Division
Pages: 616 - Hundreds of b&w illustrations
Binding: Paperback - 8.5 x 11 inches
Years: 1968
Table of Contents
Table of Contents
General information
Lubrication
Heater and air conditioning
Corvette body
Frame
Front suspension
Rear suspension
Brakes
Engine
Engine cooling
Fuel system
Air injection reactor system
Clutch and transmission
Fuel tank and exhaust system
Steering
Wheels and tires
Chassis sheet metal
Electrical — Body and chassis
Radiator, Grille
Bumpers
Accessories
Specifications
Sample Page:
Below: 1968 Chevrolet Car Shop Manual Sample Page - Brakes
Questions & Answers about 1968 Chevrolet Chassis Service Manual
Questions & Answers about 1968 Chevrolet Chassis Service Manual
Ask a question about 1968 Chevrolet Chassis Service Manual.
1968 Chevrolet Chassis Service Manual
Description

Specifications

Table of Contents

Questions & Answers

Customer Reviews