Honda TRX400EX Fourtrax (1999-2000), Sportrax (2001-2008) and TRX400X (2009-2014) ATV Repair Manual by Clymer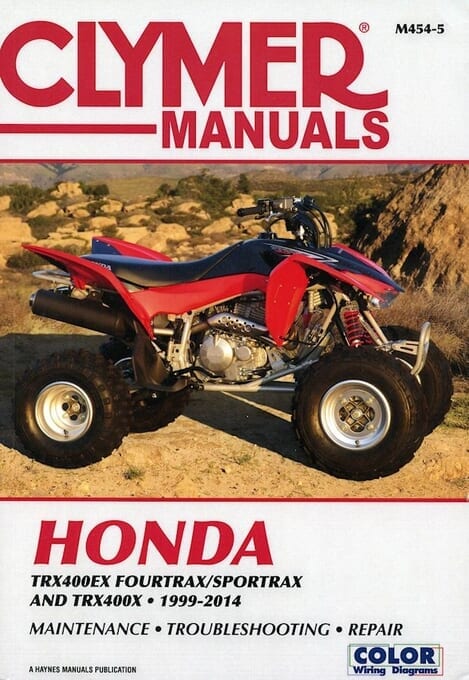 Why Buy From Us?
Free Shipping
Veteran Owned
Secure Shopping
Satisfaction Guaranteed
Item Description
The Honda TRX400EX Fourtrax/Sporttrax and TRX400X Clymer repair manual covers the following specific Honda ATV models:
Honda TRX400EX Fourtrax - 1999-2000
Honda TRX400EX Sportrax - 2001-2008
Honda TRX400X - 2009-2014
The Clymer M454-5 Honda TRX400 ATV service and repair manual contains thorough DIY step by step procedures for service and repair tasks on all components of your Honda ATV. The expert repair and service instruction is accompanied by photos and diagrams to enhance your understanding. The manual content is based on a complete teardown and rebuild of the Honda TRX400 ATV.
This service manual will help you troubleshoot and repair problems with your engine, clutch, transmission, fuel and exhaust system, suspension, brakes and body. This service manual also includes color wiring diagrams which is very, very helpful.
Book Excerpt: 1999-2014 Honda TRX400EX Fourtrax, Sportrax and TRX400X ATV Repair Manual
ELECTRICAL SYSTEM
This chapter describes service procedures for the following components and electrical systems:

Left crankcase cover.
Stator.
Flywheel.
Starter clutch.
Starter motor.
Starting system switches.
Handlebar switch unit.
Ignition system.
Charging system.
Lights.

Refer to Chapter Three for spark plug service and gapping, and battery replacement and charging. Refer to Chapter Two for performance problems and possible causes related to the electrical system.


BASIC ELECTRICAL SYSTEM OPERATION

A permanent magnet alternator is located on the left end of the crankshaft, and is the source of power for the ignition system and for recharging the battery.

When testing the electrical system, first identify whether the problem is related to the ignition system or the charging system.

Then refer to the appropriate section in this chapter to methodically test the components of that system.
DRIVE CHAIN
Engine power is transferred to the driven sprocket by an endless, O-ring chain. This type of chain is internally lubricated and sealed by O-rings (Figure 53).

The chain requires regular cleaning, lubrication and adjustment for long life, as described in Chapter Three. Measurement of the chain, to determine its wear, is also performed in Chapter Three.

If the chain needs to be replaced, remove the chain by one of the methods described in this section. Refer to Table 1 for chain specifications.
Subject: 1999, 2000, 2001, 2002, 2003, 2004, 2005, 2006, 2007, 2008, 2009, 2010, 2011, 2012, 2013, 2014 Honda TRX400, TRX400EX Fourtrax, Sportrax service, maintenance, repair. ISBN-10: 1620922355 | ISBN-13: 9781620922354 | Clymer M454-5
Specifications
Publisher: Clymer Series / Haynes Manuals
Pages: 335 - Hundreds of b&w photos and illustrations
Binding: Paperback - 7 x 10 x 1.25 inches
ISBN: 978-1-62092-235-4
Years: 1999 - 2014
Table of Contents
TABLE of CONTENTS:
General Information
Troubleshooting
Lubrication, Maintenance and Tune-Up
Engine Top End
Engine Lower End
Clutch, Gearshift Linkage and Lubrication System
Transmission and Internal Shift Mechanism
Fuel and Exhaust Systems
Electrical System
Front Suspension and Steering
Rear Suspension
Brakes
Body
Supplement: 2005-2014 Model Service Information
Color Wiring Diagrams
Questions & Answers about Honda TRX400EX Fourtrax / Sportrax, TRX400X Repair Manual 1999-2014
Questions & Answers about Honda TRX400EX Fourtrax / Sportrax, TRX400X Repair Manual 1999-2014
Ask a question about Honda TRX400EX Fourtrax / Sportrax, TRX400X Repair Manual 1999-2014.
Customer Reviews
REVIEWS
Steven Jerome
verified customer
February 10, 2019
Honda TRX400EX Fourtrax (1999-2000), Sportrax (2001-2008) and TRX400X (2009-2014) ATV Repair Manual by Clymer
Description

Specifications

Table of Contents

Questions & Answers

Customer Reviews