Honda Fourtrax 90 ATV Repair Manual 1993-2000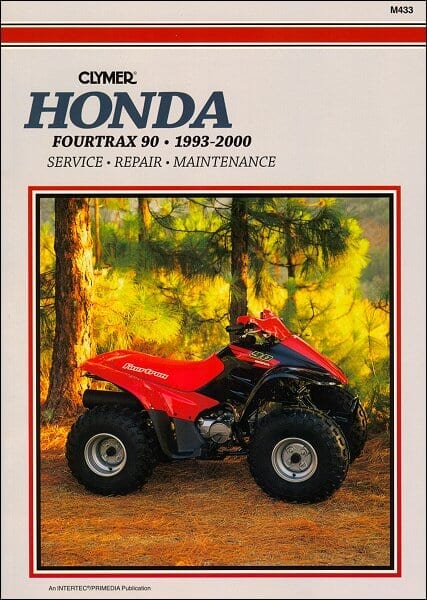 Why Buy From Us?
Free Shipping
Veteran Owned
Secure Shopping
Satisfaction Guaranteed
Item Description
This DIY repair manual by Clymer covers 1993-2000 Honda Fourtrax 90 ATVs.

Book Excerpt: 1993-2000 Honda Fourtrax 90 ATV Repair Manual
ENGINE TOP END
This chapter provides information for the removal, inspection and replacement of the major assemblies that make up the engine top end.

This includes the cylinder head, camshaft, valve, cylinder and piston. The parts can be removed with the engine mounted in the frame.

This chapter shows the engine removed for clarity. Refer to the tables at the end of this chapter for specifications.

Read this chapter before attempting any repair to the engine top end. Become familiar with the procedures, photos and illustrations to understand the skill and equipment required.

Refer to Chapter One for tool usage and techniques. When special tools are required or recommended, the part number is provided. The special tools can be ordered from a Honda dealership.

Procedures, photos and illustrations are representative of the model years covered in this manual. When necessary, information that is specific to a model year(s) is provided.
SERVICE NOTES
Separate the engine crankcase to remove the transmission (Figure 1) and shift drum (Figure 2). Remove and install the transmission assembly as described in Chapter Five, Crankcase Disassembly and Assembly.

Once the transmission is removed from the crankcase, disassembly, inspection and assembly can be performed. Carefully measure the parts and keep them oriented. The gears, washers and circlips must be installed in the same direction.

Since some of these parts are identical on both faces, remove and store the parts on each shaft in the order they are disassembled and in their direction prior to disassembly.

Use a piece of wire threaded through the parts or an identification mark on each part.

Always install new circlips. The circlips will fatigue and distort when they are removed. Do not reuse them, even if they appear to be in good condition.
Subject: 1993, 1994, 1995, 1996, 1997, 1998, 1999, 2000 Honda Fourtrax 90 service, maintenance, repair information. ISBN-10: 0892877499 | ISBN-13: 9780892877492 | Clymer M433
Specifications
Publisher: Clymer Series / Haynes Manuals
Pages: 246 - Hundreds of b&w photos and illustrations
Binding: Paperback - 7 x 10 inches
ISBN: 978-0-89287-749-2
Years: 1993 - 2000
Table of Contents
TABLE of CONTENTS:
General Information
Troubleshooting
Lubrication, Maintenance and Tune-up
Engine
Clutch and External Gearshift Linkage
Transmission and Internal Shift Mechanism
Fuel and Emission Systems
Exhaust System
Electrical System
Wheels, Tires and Drive Chain
Front Suspension and Steering
Rear Suspension
Brakes
Body and Frame
Wiring Diagram
Questions & Answers about Honda Fourtrax 90 ATV Repair Manual 1993-2000
Questions & Answers about Honda Fourtrax 90 ATV Repair Manual 1993-2000
Ask a question about Honda Fourtrax 90 ATV Repair Manual 1993-2000.
Customer Reviews
REVIEWS
Dan
verified customer
January 22, 2015
Honda Fourtrax 90 ATV Repair Manual 1993-2000
Description

Specifications

Table of Contents

Questions & Answers

Customer Reviews