1972 Jeep Shop Manual - Licensed OEM Reproduction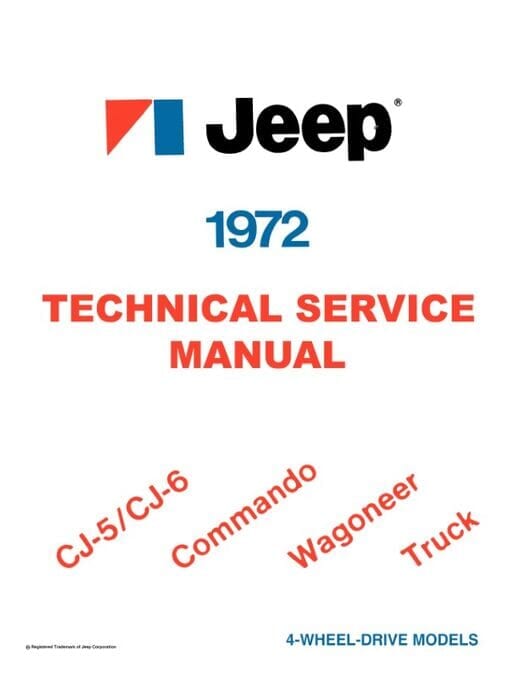 Why Buy From Us?
Free Shipping
Veteran Owned
Secure Shopping
Satisfaction Guaranteed
Item Description
This 1972 Jeep Shop Manual is a high quality, PRINT, reproduction of the shop manual written and first published by the original equipment manufacturer (OEM), Jeep Corporation, for use by their dealership mechanics. Now, this excellent resource can be yours!
When it comes time for you to perform the service and repair tasks on your 4-wheel drive í72 Jeep, this repair manual is the definitive guide to follow. It contains 400 pages of detailed instructions and factory specifications to walk you through projects from small to large and from start to finish. By using the instructions from the factory experts, you can be sure you have the information to do the jobs accurately, completely and efficiently. Please take a moment and scroll to the Table of Contents tab below and open it to see just how thoroughly these rugged vehicles have been covered.
MODELS COVERED:

1972 Jeep CJ5
1972 Jeep CJ6
1972 Jeep Commando
1972 Jeep DJ5
1972 Jeep J-100 Truck
1972 Jeep J-2500 Truck
1972 Jeep J-2600 Truck
1972 Jeep J-4500 Truck
1972 Jeep J-4600 Truck
1972 Jeep J-4700 Truck
1972 Jeep J-4800 Truck
1972 Jeep Wagoneer
In addition to the well-crafted text, youíll be pleased to find a wide variety and great number of visual aids have been employed throughout this 1972 Jeep Technical Service Manual. There are black and white photographs, tables, charts, illustrations, cut-away views, exploded-views, circuit diagrams and more. Youíll find that these provide you with an outstanding look at the various required tasks. In order to see a demonstration, please scroll down on this webpage to view a sample page form the book.
Did you know that the engine code for the 304-360 V-8 is located on a tag which is attached to the head cover on the right bank of cylinders? You would if you had this book. The information is right there on page 1-B-1. It even has an excellent black and white photograph example. The letter contained in the code identifies the engine. It can be decoded in order to tell you such things as the cubic inches of displacement, carburetor type and compression ratio. The book goes on to allow you to quickly decode the various letters using a table. It then explains further identification techniques. Did you know that engines built for sale in California were painted red, but all others were painted blue? Again, with this comprehensive guide you would.
Donít waste your time searching for some expensive, ragged, oil-stained, hand-me-down shop manual. Thereís no need. Not when you can order this freshly-printed version which retains all of the content of the original source, and is readily available at a great price.
This factory written shop manual is perfect for service, repairs, restoration, and rebuild projects. Clear illustrations and photos show exploded views, as well as component details, plus specifications one engine, data, engine torque, carburetion and more.
Subject:
1972 Jeep Shop Manual - Includes Detailed Procedures and Instructions.
| OEM Part Number: J-72-1001
Specifications
Publisher: Detroit Iron Publishing
Author: Jeep Corporation
Pages: 400 - Hundreds of b&w illustrations
Binding: Paperback - 8.5 x 11 inches
Years: 1972
Table of Contents
Table of Contents
Vehicle Identification-General Information
Maintenance
Six-Cylinder Engine 232-258 Cubic Inch Displacement
V-8 Engine 304-360 Cubic Inch Displacement
Cooling
Electrical
Fuel-Carburetion
Emission Control
Clutch
Manual Transmission
Automatic Transmission
Transfer Case
Brakes and Wheels
Axles-Propeller Shafts
Steering
Suspension
Heater and Defroster
Air Conditioning
Bodies-Panels-Subassemblies-Frame
Doors and Rear Quarter Trim, Hardware and Glass
Tailgate-Electrically Operated Windows-Travel Rack
Windshield-Rear Window-Windshield Wiper
Instrument Panel and Mounted Assemblies
Seat Assemblies and Adjusters
Dome Light-Headlining-Exterior Decals
Special Equipment
Harness Routing
Sample Page:
Below:1972 Jeep Shop Manual Sample Page - V8 Engine
Questions & Answers about 1972 Jeep Shop Manual
Questions & Answers about 1972 Jeep Shop Manual
Ask a question about 1972 Jeep Shop Manual.
Customer Reviews
REVIEWS
Bill Dion
verified customer
February 15, 2021
1972 Jeep Shop Manual - Licensed OEM Reproduction
Description

Specifications

Table of Contents

Questions & Answers

Customer Reviews