1971 Chevy Car & Truck Chassis Overhaul Manual - Licensed OEM Reproduction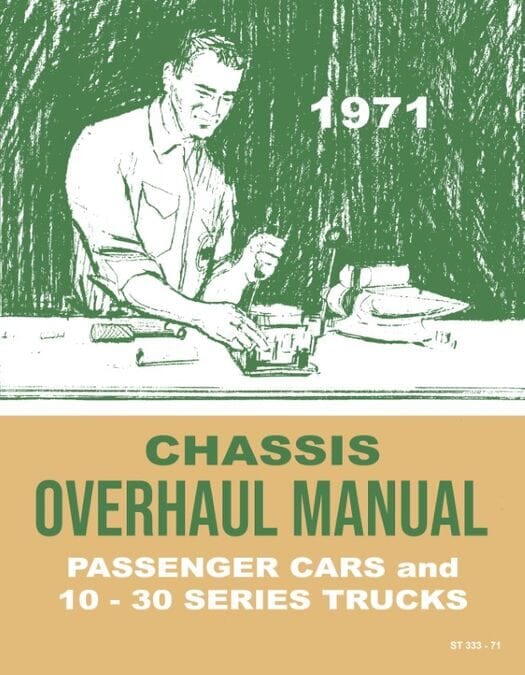 Why Buy From Us?
Free Shipping
Veteran Owned
Secure Shopping
Satisfaction Guaranteed
Item Description
This 1971 Chevy Car / Truck Chassis Overhaul Manual is a high-quality, PRINT reproduction of the shop manual which was written and first published by the experts at the original equipment manufacturer (OEM), Chevrolet Motor Division, for use by their dealership mechanics.
The first thing you should know is that this is an OVERHAUL manual. It includes the procedures necessary for disassembly and assembly of major components. It is NOT a service manual. Please see the "NOTE" below for directions to the various other associated manuals.
Exactly which rebuildable items are included in this excellent resource? It contains the overhaul instructions for: air conditioning compressor, four-wheel drive front axle differential, rear axle differential carrier, power brake cylinder, engine, carburetors, starting motor solenoid and Delcotron, transmission and clutch, four-wheel drive transfer case, steering gear, power steering pump and control valve.
MODELS COVERED:

1971 Chevrolet Bel Air
1971 Chevrolet Biscayne
1971 Chevrolet Blazer Truck
1971 Chevrolet Brookwood
1971 Chevrolet C10 Pickup Truck
1971 Chevrolet C10 Suburban
1971 Chevrolet C20 Pickup Truck
1971 Chevrolet C20 Suburban
1971 Chevrolet C30 Pickup Truck
1971 Chevrolet Camaro
1971 Chevrolet Camaro RS
1971 Chevrolet Camaro SS
1971 Chevrolet Camaro Z28
1971 Chevrolet Caprice
1971 Chevrolet Chevelle
1971 Chevrolet Chevelle Concours
1971 Chevrolet Chevelle Concours Estate
1971 Chevrolet Chevelle Greenbrier
1971 Chevrolet Chevelle Malibu
1971 Chevrolet Chevelle Nomad
1971 Chevrolet Chevelle SS
1971 Chevrolet Corvette
1971 Chevrolet El Camino
1971 Chevrolet El Camino Custom
1971 Chevrolet El Camino SS
1971 Chevrolet Impala
1971 Chevrolet K10 Pickup Truck
1971 Chevrolet K10 Suburban
1971 Chevrolet K20 Pickup Truck
1971 Chevrolet K20 Suburban
1971 Chevrolet K30 Pickup Truck
1971 Chevrolet Kingswood
1971 Chevrolet Kingswood Estate
1971 Chevrolet Monte Carlo
1971 Chevrolet Nova
1971 Chevrolet P10 Van
1971 Chevrolet P20 Van
1971 Chevrolet P30 Van
1971 Chevrolet Townsman
NOTE: This is the OVERHAUL manual. For the CAR SERVICE manual, please see our: 1971 Chevrolet Chassis Service Manual (Chevrolet / Chevelle / Monte Carlo / Nova / Camaro/ Corvette), which can be found by clicking here…1971 Chevrolet Chassis Service Manual. For the TRUCK SERVICE manual, please see our: 1971 Chevrolet Truck Chassis Service Manual, which can be found by clicking here…1971 Chevrolet Truck Chassis Service Manual. For CAR BODY information, please see our: 1971 Fisher Body Service Manual, which can be found by clicking here…1971 Fisher Body Service Manual - For All Body Styles (Except "H" Bodies).
Inside this helpful guide, you'll find 510 pages which have been packed with step-by-step text instructions. Those instructions have been conveniently paired with a huge number and variety of visual aids to assist you with the overhaul projects from start to finish. Please take a moment to scroll down and view a sample page in order to see the clarity provided by the stunning black and white photographs and comprehensive text.
This is not some greasy, hand-me-down guide. It is a freshly-printed and packaged version which retains all of the material from the factory original. You can be the first to break it in with your very own greasy fingerprints!
You'll soon discover that this book is a life-saver when it comes to teaching you things…without having to learn them "the hard way". Did you know that the No-Spin differential is assembled under spring tension? You would if you owned this manual, and flipped to Rear Axle Differential Carrier 4-49. There, you are cautioned that it is originally supplied with a retaining bolt, nut and washers used to compress the unit until the differential case bolts are installed and tightened. If the retainer bolt is not available, use a ½-13x6 bolt with nut and washers to compress the unit until the differential case halves are opened. If a retainer bolt is not used, hold differential case halves firmly to prevent sudden spring release. Fortunately, they have included important information and tips like that throughout this useful book.
Chevrolet offered a tremendous array of great cars and trucks in 1971. If you want to get and keep yours running at its best, this 1971 Chevrolet overhaul manual is the ultimate source of information.
Hitting the radio air-waves in 1971, John Denver urged the country roads to take him home. It's easy to picture him doing just that in a stylish '71 Chevy truck. Others may have tuned their radios to a different spot and found Led Zeppelin telling a tale of a stairway that you might take, when your days of enjoying your classic Chevy are over. Perhaps you'll crank up some of the old tunes, when it comes time to hit the garage to rebuild the major components on your heavy Chevy. Music or not, with this handy guide, you won't be left to figure it out alone. As James Taylor crooned in '71…"You've Got a Friend". Order your "friend" today and get ready to spin some wrenches!
This factory-written shop manual is perfect for service, repairs, restoration, and rebuild projects. Clear illustrations and photos show exploded views, as well as component details, plus specifications on engine data, engine torque, carburetion and more.
Subject:
1971 Chevy Chassis Overhaul Manual - Includes Detailed Procedures and Instructions.
| OEM Part Number: ST 333-71
Specifications
Publisher: Chevrolet Motor Division
Pages: 510 - Hundreds of b&w illustrations
Binding: Paperback - 8.5 x 11 inches
Years: 1971
Table of Contents
TABLE OF CONTENTS
Air Conditioning Compressor
4-Wheel Drive Front Axle Differential
Rear Axle Differential Carrier
Power Brake Cylinder
Engine
Carburetors
Starting Motor, Solenoid and Delcotron
Transmission and Clutch, 4-Wheel Drive Transfer Case
Steering Gear, Power Steering Pump and Control Valve
Specifications
Sample Page:
Below:1971 Chevy Car / Truck Chassis Overhaul Manual Sample Page - Clutch Disassembly
Questions & Answers about 1971 Chevy Car / Truck Chassis Overhaul Manual
Questions & Answers about 1971 Chevy Car / Truck Chassis Overhaul Manual
Ask a question about 1971 Chevy Car / Truck Chassis Overhaul Manual.
1971 Chevy Car & Truck Chassis Overhaul Manual - Licensed OEM Reproduction
Description

Specifications

Table of Contents

Questions & Answers

Customer Reviews