1971 Chevrolet Truck Chassis Service Manual - OEM Licensed Reproduction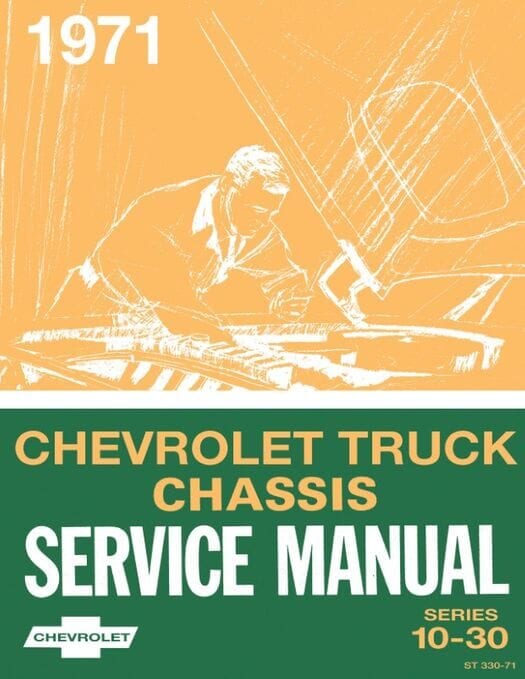 Why Buy From Us?
Free Shipping
Veteran Owned
Secure Shopping
Satisfaction Guaranteed
Item Description
This 1971 Chevrolet Truck Chassis Service Manual is a high-quality, factory chassis service manual reprint covering 1971 Chevy Light Duty 10-30 Series Trucks. Coming in at over 450 pages, you'll find this guide is loaded with detailed information to help you tackle the service and maintenance jobs on you classic hauler from small to large. The comprehensive text has been paired with a large number and variety of visual aids so that you'll have all of the information organized in a complete, accurate and efficient manner.
All of the content in this reproduction manual is straight from the manufacturer. Originally written for use by their dealership mechanics, you'll find that this is the definitive source for these stylish, popular classics. The 1971 Chevy truck models had plenty of power to go along with their beauty. When it comes time to get to work on yours, be sure to this manual is the first tool you put into your hands
CHEVY MODELS COVERED:

1971 Chevrolet Blazer Truck
1971 Chevrolet C10 Pickup Truck
1971 Chevrolet C10 Suburban Truck
1971 Chevrolet C20 Pickup Truck
1971 Chevrolet C20 Suburban Truck
1971 Chevrolet C30 Pickup Truck
1971 Chevrolet G10 Van
1971 Chevrolet G10SportVan
1971 Chevrolet G20 Van
1971 Chevrolet G20SportVan
1971 Chevrolet G30 Van
1971 Chevrolet G30SportVan
1971 Chevrolet K10 Pickup Truck
1971 Chevrolet K10 Suburban Truck
1971 Chevrolet K20 Pickup Truck
1971 Chevrolet K20 Suburban Truck
1971 Chevrolet K30 Pickup Truck
1971 Chevrolet P10 Van
1971 Chevrolet P20 Van
1971 Chevrolet P30 Van
This reproduction 1971 Chevrolet truck shop manual is perfect for the restorer, or anyone working on one of these vehicles. Clear illustrations show exploded views, as well as component details, plus specs on engine data, engine torque, carburetion and more.
Subject:
OEM repair, service and rebuild procedures - 1971 Chevy Truck Shop Manual.
| OEM Part Number: ST 330-71
Specifications
Publisher: Chevrolet Motor Division
Pages: 462 - Hundreds of b&w illustrations
Binding: Paperback - 8.5 x 11 inches
Years: 1971
Table of Contents
Table of Contents
General information
Lubrication
Heater and air conditioning
Body
Frame
Front suspension
4-wheel drive
Rear suspension and driveline
Brakes
Engine
Engine cooling
Engine fuel
Emissions control systems
Engine electrical
Clutch and manual transmission
Fuel tank and exhaust system
Steering
Wheels and tires
Chassis sheet metal
Electrical — Body and chassis
Radiator, Grille
Bumpers
Accessories
Specifications
Sample Pages:
Below: 1971 Chevrolet Truck Shop Manual Sample Page - Oil Pressure Check
Questions & Answers about 1971 Chevrolet Truck Chassis Service Manual
Questions & Answers about 1971 Chevrolet Truck Chassis Service Manual
Ask a question about 1971 Chevrolet Truck Chassis Service Manual.
Customer Reviews
REVIEWS
Edi
verified customer
August 27, 2020
Bry
verified customer
May 21, 2018
1971 Chevrolet Truck Chassis Service Manual - OEM Licensed Reproduction
Description

Specifications

Table of Contents

Questions & Answers

Customer Reviews