1971 Chevrolet Chassis Service Manual - Licensed OEM Reproduction (Printed)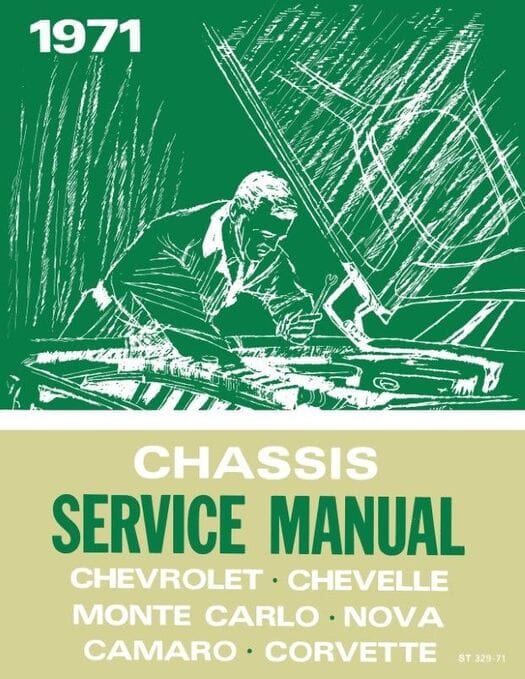 Why Buy From Us?
Free Shipping
Veteran Owned
Secure Shopping
Satisfaction Guaranteed
Item Description
Anyone who works on their own vintage Chevy needs a comprehensive guide to know how to maintain that classic vehicle so it performs at its optimal level. That's why, at The Motor Bookstore, we carry a full range of service and repair manuals, how-to guides and quality reprints of original factory manuals. This 1971 chassis service manual covers the Chevrolet 1971 Nova, Monte Carlo, Chevelle, Camaro, Corvette and other models. At almost 700 pages, it's a complete guide to servicing these vehicles and includes step-by-step instructions, wiring diagrams, specifications and illustrations with exploded views and other helpful visual aids.
Key systems are addressed, such as the electrical system, frame, chassis, suspension, brakes, clutch, driveline, fuel tank and exhaust, wheels and tires, radiator and grill, air conditioning and heating. For the engine, transmission and rear end, it focuses on routine repair and maintenance but not complete overhaul.
NOTE: This 1971 Chevrolet chassis service manual covers the servicing of mechanical operations and includes the Corvette body. It does NOT cover the body information for the other models. For body information on models other than the Corvette, please refer to the 1971 Fisher Body Service Manual, which can be found by clicking here...1971 Fisher Body Service Manual.
CHEVY MODELS COVERED:

1971 Chevrolet Bel Air
1971 Chevrolet Biscayne
1971 Chevrolet Brookwood
1971 Chevrolet Camaro
1971 Chevrolet Camaro RS
1971 Chevrolet Camaro SS
1971 Chevrolet Camaro Z28
1971 Chevrolet Caprice
1971 Chevrolet Chevelle
1971 Chevrolet Chevelle Concours
1971 Chevrolet Chevelle Concours Estate
1971 Chevrolet Chevelle Greenbrier
1971 Chevrolet Chevelle Malibu
1971 Chevrolet Chevelle Nomad
1971 Chevrolet Chevelle SS
1971 Chevrolet Corvette
1971 Chevrolet El Camino Truck
1971 Chevrolet El Camino Custom Truck
1971 Chevrolet El Camino SS Truck
1971 Chevrolet Impala
1971 Chevrolet Kingswood
1971 Chevrolet Kingswood Estate
1971 Chevrolet Monte Carlo
1971 Chevrolet Nova
1971 Chevrolet Townsman
This is an essential manual for owners of a 1971 Chevy or for those who regularly maintain them. Originally intended for mechanics at dealerships, it includes many disassembly and reassembly instructions, with charts, diagrams, specifications and photos. Other models covered include the Malibu, Impala, Caprice, Bel Air and El Camino.
Subject:
1971 Chevrolet passenger car OEM repair, service and rebuild procedures
. | OEM Part Number: ST 329-71
Specifications
Publisher: Chevrolet Motor Division
Pages: 690 - Hundreds of b&w illustrations
Binding: Paperback - 8.5 x 11 inches
Years: 1971
Table of Contents
Table of Contents
General Information and Lubrication
Heater and Astro-Ventilation
Corvette Body
Frame
Front Suspension
Rear Suspension and Driveline
Brakes
Engine
Engine Cooling
Fuel System
Emission Control Systems
Clutch and Transmission
Fuel Tank and Exhaust System
Steering
Wheels and Tires
Chassis Sheet Metal
Electrical--Body and Chassis
Radiator and Grille
Bumpers
Accessories and Air Conditioning
Specifications
Sample Page:
Below: 1971 Chevrolet Chassis Shop Manual Sample Page - Engine Fuel
Above: Mike Sell's 1971 Baldwin Motion Chevy Nova. The car is powered by a 350 LT1 engine hooked to a 4-speed Borg Warner T10 transmission. The Nova has a 12-bolt Positraction rear end. Urbana, OH.
Questions & Answers about 1971 Chevrolet Chassis Service Manual
Questions & Answers about 1971 Chevrolet Chassis Service Manual
Ask a question about 1971 Chevrolet Chassis Service Manual.
1971 Chevrolet Chassis Service Manual - Licensed OEM Reproduction (Printed)
Description

Specifications

Table of Contents

Questions & Answers

Customer Reviews