1968 Buick Chassis Service Manual (All Models) - Licensed OEM Reproduction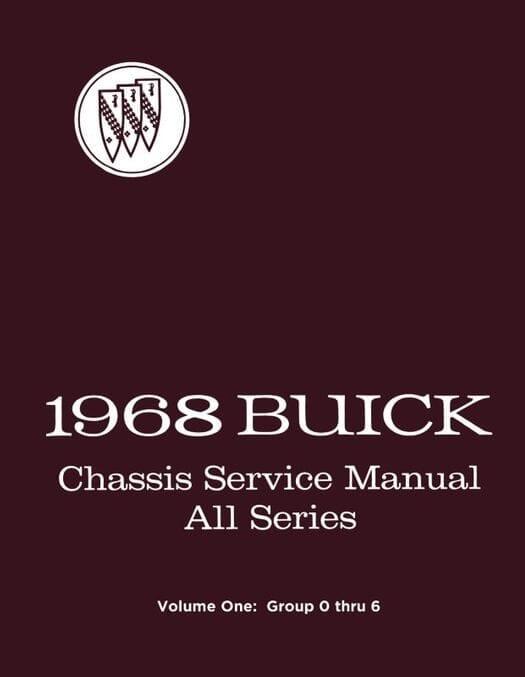 Why Buy From Us?
Free Shipping
Veteran Owned
Secure Shopping
Satisfaction Guaranteed
Item Description
This 1968 Buick Chassis Service Manual - All Series is a high quality, PRINT, reproduction of the shop manual which was written and first published by the original equipment manufacturer (OEM), Buick Motors Division, for use by their dealership mechanics.
MODELS COVERED:

1968 Buick Electra 225
1968 Buick Electra 225 Custom
1968 Buick GS 350
1968 Buick GS 400
1968 Buick LeSabre
1968 Buick LeSabre Custom
1968 Buick Riviera
1968 Buick Skylark
1968 Buick Skylark Custom
1968 Buick Special
1968 Buick Sportwagon
1968 Buick Sportwagon Custom
1968 Buick Wildcat
1968 Buick Wildcat Custom
In 1968, Buick models featured stylish, sweeping body lines, which gave them strong character and showed-off their beautiful balance between luxury and sportiness. The Odd Couple may have been a new and popular film at the box office that year, but there was nothing odd about the combination of handsome looks and power available in these new Buick models.
Another great pairing is YOU and this detailed 1968 Buick chassis Service Manual. It contains almost 1,400 pages of instructions and a wide variety of visual aids to assist you in all of the service and repair tasks for these great automobiles. Due to its comprehensive size, you'll find that all of the wonderful original content has been retained, but it has been conveniently divided into two volumes.
Please check-out the table of contents tab found on this page. By clicking on the "+" sign in that section below, you'll see that this guide covers all of the major areas of these treasured classics. Because the procedures were written by the experts at the manufacturer, you can be sure that they are accurate, complete and efficient. From tune-up specs and minor adjustments, to full scale rebuilding projects, and everything in-between, you'll find, in these freshly-printed pages, all of the information that you'll need to get (and keep) your beloved Buick running at its best.
NOTE: This is a CHASSIS service manual, you can find information regarding service and repair of the BODY in our reproduction 1968 Fisher Body Service Manual, which can be found by clicking here… 1968 Fisher Body Service Manual.
This factory written shop manual is perfect for service, repairs, restoration, and rebuild projects. Clear illustrations and photos show exploded views, as well as component details, plus specifications one engine, data, engine torque, carburetion and more.
Subject:
1968 Buick Chassis Service Manual - Includes Detailed Procedures and Instructions.
| OEM Part Number: 68BUICKSM
Specifications
Publisher: Buick Motors Division
Pages: 1380 - Hundreds of b&w illustrations
Binding: Paperback - 8.5 x 11 inches
Years: 1968
Table of Contents
TABLE OF CONTENTS
General Information, Maintenance, and Lubrication
Windshield Wipers, Heating, and Air Conditioning
Frame and Body Mountings
Front Suspension and Front End Alignment
Rear Suspension, Automatic Level Control, Propeller Shaft and Differential
Brakes
Engine - Mechanical, Fuel, Electrical Crusie Control and A.I.R.
Transmissions, Clutch, and Shift Linkages
Fuel Tank and Ehaust Systems
Steering
Wheels and Tires
Chassis Sheet Metal
Chassis Electrical, Instrument Panel and Radio
Radiator and Grille
Bumpers
Accessories
Alphabetical Index
Sample Page:
Below:1968 Buick Chassis Service Manual (All Series) Sample Page 1 -Differential Service Procedures
Sample Page:
Below:1968 Buick Chassis Service Manual (All Series) Sample Page 2 - Super Turbine 400 Service Procedures
Questions & Answers about 1968 Buick Chassis Service Manual - All Series
Questions & Answers about 1968 Buick Chassis Service Manual - All Series
Ask a question about 1968 Buick Chassis Service Manual - All Series.
1968 Buick Chassis Service Manual (All Models) - Licensed OEM Reproduction
Description

Specifications

Table of Contents

Questions & Answers

Customer Reviews