Which Oil? Choosing the Right Oils and Greases for Your Antique, Vintage, Classic or Collector Car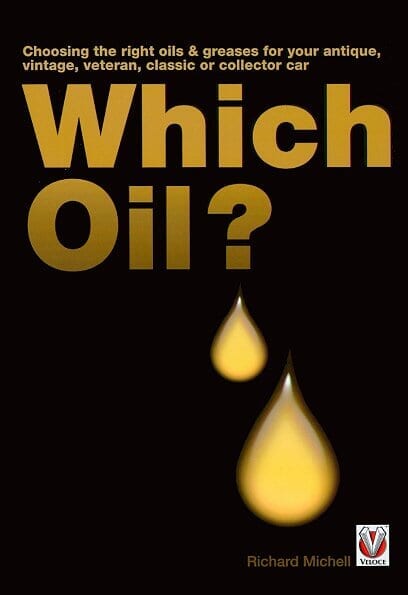 Why Buy From Us?
Free Shipping
Veteran Owned
Secure Shopping
Satisfaction Guaranteed
Item Description
Owners of antique, vintage, classic and collector cars, face a big issue when it comes to choosing the right lubricant for their vehicle's engine, tranmission, differential and chassis.
And having the name of the original product that was used is of little or no help as it may be no longer available.
So what can you do?
In Which Oil?, author Richard Michell, gives you the information you need to understand the lubrication needs of your car, and translate those needs to their modern equivalent.
With the info presented in this book, you will be able to make the right choices, or at minimum, be able to search specialized lubes if necessary, by using step-by-step instructions.
Which Oil? is essential reading for the classic car owner.

Book Excerpt: Which Oil? Antique and Classic Car Lubricants
BASICS OF LUBRICATION
When one metal surface moves over another, friction occurs and energy is needed to overcome it. The amount of friction depends on how hard or forcefully the two surfaces are pushed or pressed together. The friction generates heat and, if the load pushing the two surfaces may momentarily weld together, only for the welds to be immediately broken as the surfaces continue to move relative to each other.

Such movement and friction leads to very high rates of wear of the two surfaces. Also, significant energy is needed to overcome it. However, if the two moving surfaces could be kept separated by a film of liquid (or gas), wear would be eliminated and the only friction involved would be that needed to move the fluid film. This is the simple concept behind lubrication.

If the two surfaces involved can be kept separate by the fluid film under all operating conditions, this is known as full-film lubrication. The conditions that will help to maintain full-film lubrication are a high viscosity (thickness) of the fluid being used as the lubricant, a low force or load pushing the two surfaces together and, perhaps counter-intuitively, a high relative speed between the two surfaces.

This latter can be understood if you envisage the situation where the two surfaces are at rest. The fluid will tend to drain away. When the surfaces are moving relative to each other they will entrain or drag the fluid into the area between them.

Given that you cannot readily influence the loads that the moving mechanical components of your vehicle are subject to - they are set by the design - you may think that the obvious thing to do is to use the highest viscosity of lubricating fluid available.

However, this ignores the fact that a fluid does have internal friction in its own right. In fact, its viscosity is a direct measure of this friction. Thus, the more viscous the lubricating fluid the greater the frictional losses within it.

Also, it is necessary to deliver the lubricant to the critical potential wear areas, and this will be more difficult and energy-consuming if its viscosity is high. In practice, there is an optimum viscosity for every situation.

In summary, for a fluid to act successfully as a lubricant in a given situation it must:

Have the appropriate viscosity under the operating conditions.
Be physically and chemically stable under the operating conditions.
No react negatively with the surfaces that it is separating.
Not react negatively with any of the components of the lubricant delivery system.
Subject: Transportation: Automobiles: Collector Cars: Maintenance: Lubricants: Choosing the right oil and grease for your classic or collecto car. ISBN-10: 1845843657 | ISBN-13: 9781845843656 | Veloce Publishing 43656
Specifications
Publisher: Veloce Publishing
Author: Richard Michell
Pages: 128 - B&W illustrations
Binding: Paperback - 5.5 x 7.75 inches
ISBN: 978-1-845843-65-6
Table of Contents
TABLE of CONTENTS:
Historical Eras: Pre 1915; 1915-1929; 1930-1944; 1945-1959; 1960-1972; 1973-1979; 1980-1999; Post 1999.
Basics of Lubrication.
The Roles of Lubricant Components.
Engine Lubrication.
Transmission Lubrication (Incl. Final Drive).
Chassis, Steering and Wheel Bearing Lubrication.
Choosing Appropriate Lubricants for Your Car.
Answers to Common Questions.
Glossary.
Questions & Answers about Which Oil? Antique and Classic Car Lubricants
Questions & Answers about Which Oil? Antique and Classic Car Lubricants
Ask a question about Which Oil? Antique and Classic Car Lubricants.
Which Oil? Choosing the Right Oils and Greases for Your Antique, Vintage, Classic or Collector Car
Description

Specifications

Table of Contents

Questions & Answers

Customer Reviews