AMC Javelin, AMX & Muscle Car Restoration 1968-1974 by Scott Campbell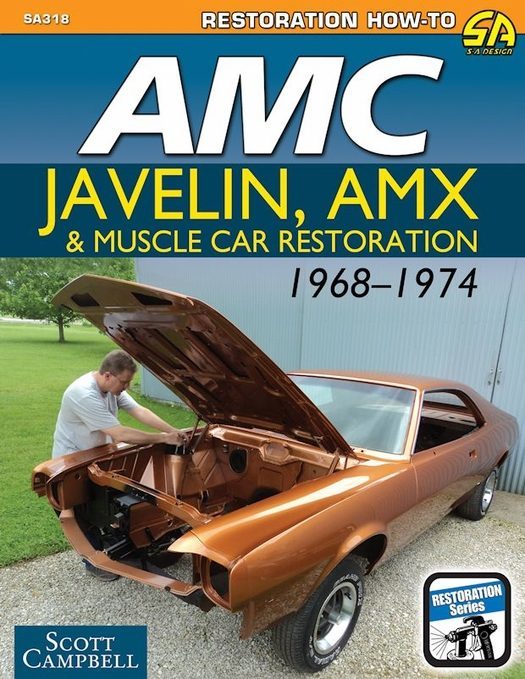 Why Buy From Us?
Free Shipping
Veteran Owned
Secure Shopping
Satisfaction Guaranteed
Item Description
AMC Javelin, AMX & Muscle Car Restoration: 1968-1974
Scott Campbell's newest offering to readers is a detailed guidebook which promises to assist restoration mechanics through all projects associated with restoring one of the most beloved muscle cars to fighting form! AMC Javelin, AMX & Muscle Car Restoration: 1968-1974 is a must have addition for any personal or professional shop devoted to the AMC Javelin & AMX muscle cars.
Campbell grew up in the era when the Gremlin and Hornet Sportabout's were hot ticket items. His first vehicle was an AMX model from 1969 which gave rise to his love of loud motors and fast cars. With his own hands he has gone through the detailed process of restoring bodywork to multiple vehicle types. Campbell is also adept at the specialized repair and vehicular maintenance of AMC Javelins, AMX models and various other muscle cars.
If you know someone who loves to hear the rumble of an AMC motor revved up to roar down a main drag then you know someone like Campbell, an enthusiastic muscle car hobbyist. This book is a wonderful addition to any car enthusiast's library for personal or professional garages.
Campbell's knowledge is showcased in the best manner to assist mechanics with multiple tasks associated with do it yourself projects involving Javelins and AMX automobiles. Many Javelin / AMX restoration tips are ensconced in the following chapter subjects such as:
AMC Project car identification
Red flag markers prior to taking on the task of vehicle restoration
Game plans for both show or street car modifications
Budget and timeline considerations for project planning
Tools and equipment needs
VIN and sequence number decoding
Body Repair how-to instructions
Dis-assembly and re-assembly instructions
Car assessment tutorials from collision considerations to door hinges, fasteners and much more
Paint jobs both interior and exterior
Engine inspection, installation and tweaking from the transmission to small parts
Safety checklists such as firewalls and seatbelts
Suspension, steering, drive shaft and undercarriage projects
Interior components including glass installation, detailing and door panels
Exterior project guides for detailing, molding and trim
Performance upgrade suggestions and presentation tips
and car storage needs as well as driving and parking advice for muscle cars
Campbell's guide is a great find for new and experienced mechanics looking for Javelin / AMX restoration tips. This book is a great gift for anyone who loves muscle cars!
Refer to the Specifications Tab for a sample page from this book which discusses AMC Engine and Transmissions.
Note: This manual is a print on demand by the publisher and thus has black and white photos and diagrams. It's harder to get; however, we keep this manual in stock and offer Free and Fast Shipping to our continental US48 customers.
Subject:
1968, 1969, 1970, 1971, 1972, 1973, 1974 AMC Javelin, AMX Muscle Car Restoration How-to Guide.
ISBN-10: 1613254539 | ISBN-13: 9781613254530 | CarTech Books SA318P
Specifications
Publisher: CarTech Books
Author: Scott Campbell
Pages: 176 - 443 B&W photos and charts
Binding: Paperback - 8.5 x 11 inches
ISBN: 978-1-61325-453-0
Questions & Answers about AMC Javelin, AMX & Muscle Car Restoration 1968-1974
Questions & Answers about AMC Javelin, AMX & Muscle Car Restoration 1968-1974
Ask a question about AMC Javelin, AMX & Muscle Car Restoration 1968-1974.
Customer Reviews
REVIEWS
Jerry Tucker
verified customer
January 7, 2021
AMC Javelin, AMX & Muscle Car Restoration 1968-1974 by Scott Campbell
Description

Specifications

Table of Contents

Questions & Answers

Customer Reviews