How To Streamline Aluminum Trailers Restoration & Modification By CarTech Books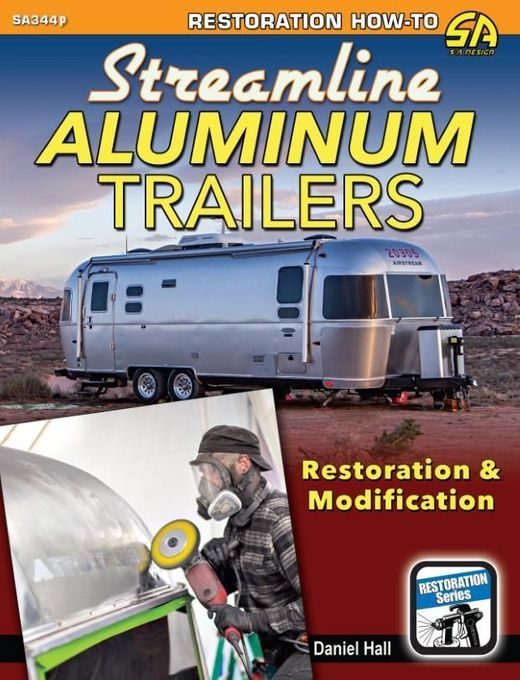 Why Buy From Us?
Free Shipping
Veteran Owned
Secure Shopping
Satisfaction Guaranteed
Item Description
Streamline Aluminum Trailers: Restoration & Modification does what has never been done extensively before. It puts the streamline aluminum trailer restoration process in the hands of the owner. We're talking about repair and management of trailing bumpers and tongues. We're putting on the table a go-to-school read for flooring, chassis, exterior and interior skin, insulation, doorjamb refabrication, electrical elements, plumbing and polishing. And every project, broken down in simple English for the layman, is a comprehensive A-to-B workshop with visual guides that will keep you on track.
Expect this streamline aluminum trailer restoration guide to make what might seem a difficult consignment a possibility even in the most inexperienced hands. The flooring chapter alone covers material choices, plywood templating, subfloor installation and how to salvage existing wood. You'll learn exactly why templating is so important, how to compress plywood sufficiently, and replace subfloors without shifting support and stressing the trailer body, There are details on the Marmoleum floor, unique to the Nissan camper van, and the minor project adjustments that separate it from other vehicles.
NOTE: Click on the Table of Contents tab below to view table of content details.
Trailer owners take as much pride in the beauty of their vehicles as the guy behind the wheel of a Lambo. Trailer aficionados love the iconic appearance and shape of their trailer bodies and have done so for the almost 100 years these getaway vacation cribs have been on the road. A well-designed set of streamline aluminum trailer restoration procedures will be of great use to every owner that wants to shine on campgrounds or know that their trailer is both beautifully and structurally sound for all their adventures.
Trust that Streamline Aluminum Trailers: Restoration & Modification more than fits the bill here.
About the Author
An outdoor enthusiast in every sense of the word, author Daniel Hall easily became enamored of vintage campers in all shapes, sizes and appearances. Despite traversing deserts and mountains and exploring forests, his restoration career actually began with boats before moving into the realm of Alaskan Campers. His first camper restoration took place in 2011. This book encompasses his history with aluminum trailers, much of it culled from experiences at a restoration specialty shop in Salt Lake City where he was involved in over 50 camper restorations.
Subject:
Streamline Aluminum Trailers: Restoration & Modification - How-To Guide
. ISBN-10: 1613257163 | ISBN-13: 9781613257166 | CarTech Books SA344P
Specifications
Publisher: CarTech Books
Author: Daniel Hall
Pages: 176 - Over 500 b&w photos and illustratons
Binding: Paperback - 8.5 x 11 inches
ISBN: 978-1-61325-716-6
Table of Contents
Acknowledgments
Introduction

Chapter 1: Getting Started
Models to Consider
Where to Find a Project
DIY or Outsourcing
Tools and Equipment
Fasteners
Design Modifications
Planning Your Work Space

Chapter 2: Disassembly
Safety First!
Animal Contamination
Tanks, Stove and Fridge
Galley, Bed and Cabinets
Interior Skin
Insulation
Lift the Shell

Chapter 3: Chassis
Frame Members
Coupler
Stabilizer Jacks and Bumper Mod
Propane Tank and Spare Tire Mount
Finish Application

Chapter 4: Flooring
Material Choices
Plywood Template
How to Salvage Damaged Wood
Subfloor Install
Marmoleum Floor

Chapter 5: Body
Belly Pan
Aluminum Bodywork
Hidden Components
Vents
Body Reinstallation
Panel Patching
Panel Replacement
Locker Restoration

Chapter 6: Doors and Windows
Main Door Disassembly
Main Door Reassembly
Baggage Door Restoration
Window Restoration
Rubber Gasket Replacement
Screen Replacement
Chapter 7: Electrical Systems
Volts and Circuits
Battery Choices
Distribution Block
Solar Panels
Chassis Wiring
Trailer Taillights

Chapter 8: Insulation
Fiberglass
Foil-Backed Bubble Pack
Spray Foam

Chapter 9: Interior Skin
Panel Sanding
Endcaps
Panel Painting
Interior Panel Repair

Chapter 10: Interior Cabinets
Wood Finishes
Woodworking Procedures
Aluminum Trim
Tables and Bed Lifts
Overhead Lights and Lockers
Metal Plating
Upholstery

Chapter 11: Appliances
Heater
Stove
Ice Chest
Gas Lamp

Chapter 12: Plumbing and Liquid Propane
Plumbing
Propane

Chapter 13: Polishing and Brightwork
Polishing Tools
Small-Scale Polishing
Large-Scale Polishing
Preserving Your Work

Chapter 14: Traveling with Your Trailer
Empty the Tanks
Towing Preparation
Hitching Up
Choose a Destination
Accessorizing

Epilogue
Questions & Answers about Streamline Aluminum Trailers Restoration & Modification
Questions & Answers about Streamline Aluminum Trailers Restoration & Modification
Ask a question about Streamline Aluminum Trailers Restoration & Modification.
You May Also Like

How To Streamline Aluminum Trailers Restoration & Modification By CarTech Books
Description

Specifications

Table of Contents

Questions & Answers

Customer Reviews