Camaro Restoration Handbook: Tips and Techniques for 1967-1981 Camaro Restoration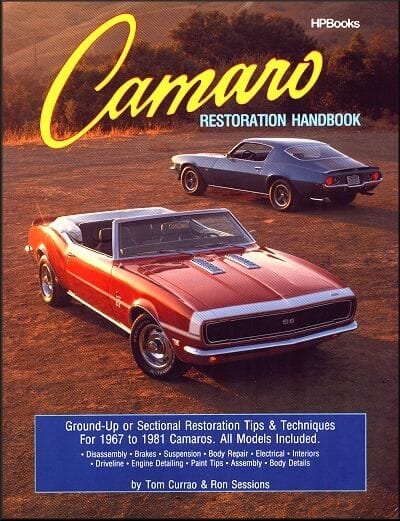 Why Buy From Us?
Free Shipping
Veteran Owned
Secure Shopping
Satisfaction Guaranteed
Item Description
First and second generation Chevy Camaros, are some of the most popular F-body candidates for complete restorations, and Camaro Restoration Handbook provides you a clear and easy-to-follow roadmap to building a show-winning car.
It really doesn't matter if you're just doing one section of the car, or your plans call for a "rotisserie" restoration. This book will greatly assist you, regardless of the level you choose for your classic project.
With the help of authors Tom Currao and Ron Sessions and this HP758 Camaro Restoration Handbook, you will have the information on how to turn your daily driver into a true car show winner.
With more than 500 detailed photos, augmenting the text instructions, this guide proves to be one of the most comprehensive Camaro restoration books available.
Additional chapters in this helpful guide cover important topics such as:
Year-by-year identification
Model changes
Electrical wiring
Interior and door reconditioning
Convertible and vinyl top repair
Body repair, prep and repainting
Frame repair
And much more!
If you're a serious Camaro lover and enthusiast, this book deserves a prime spot in your library!
Subject:
A comprehensive DIY restoration guide for First and Second Generation Chevrolet Camaros. 1967, 1968, 1969, 1970, 1971, 1972, 1973, 1974, 1975, 1976, 1977, 1978, 1979, 1980, 1981
ISBN-10: 0895863758 | ISBN-13: 9780895863751 | HPBooks 758
Specifications
Publisher: HP Books
Author: Tom Currao, Ron Sessions
Pages: 200 - Over 500 b&w photos and illustrations
Binding: Paperback - 8.5 x 11 inches
ISBN: 978-0-89586-375-1
Table of Contents
TABLE of CONTENTS:
A brief history
Selecting a project car
Getting started
Disassembly
Brakes
Suspension and steering
Front end sheet metal and subframe
Body repair
Electrical systems and wiring
Door reconditioning
Driveline reconditioning
Interior reconditioning
Body prep and paint
Convertible and vinyl tops
Hideaway headlamp systems
Assembly
After the restoration
Questions & Answers about Camaro Restoration Handbook: 1967-1981
Questions & Answers about Camaro Restoration Handbook: 1967-1981
Ask a question about Camaro Restoration Handbook: 1967-1981.
Customer Reviews
REVIEWS
Patricia Lewis
verified customer
January 5, 2021
Carol
verified customer
October 3, 2014
Camaro Restoration Handbook: Tips and Techniques for 1967-1981 Camaro Restoration
Description

Specifications

Table of Contents

Questions & Answers

Customer Reviews