Practical Auto and Truck Restoration: How to Plan and Organize Your Project to Save Time & Money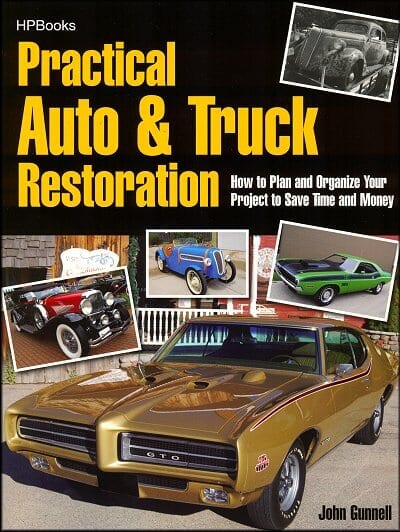 Why Buy From Us?
Free Shipping
Veteran Owned
Secure Shopping
Satisfaction Guaranteed
Item Description
- Out of Print -
If you've ever restored a car, truck or any vehicle, for that matter, you know that these projects can take twice as long and cost twice as much.
With the information in Practical Auto and Truck Restoration, you will be able to properly plan your work so you can then work your plan.
Some of the work may be better left to others, while you concentrate on those things you can do yourself. Having the right approach will save you time and money while helping you finish the vehicle of your dreams faster and cheaper!
This book, which sadly is scheduled to go out of print, is a great resource for the serious restorer and hobbyist. You will learn different approaches to car restoration, the elements of a successful restoration, guidelines for body and interior, as well as mechanical resto, outsourcing, and much more.
Don't get trapped into the "I can do it all" web. Start laying a solid foundation for your restoration work properly, and you will get to the desired destination quicker and without breaking the bank.
Note: Since we only have a few books left, these are available on a first come, first served basis, and they are non-returnable.

Subject: All about restoring a vehicle and making it easy on yourself. ISBN-10: 1557885478 | ISBN-13: 9781557885470 | HPBooks 1547
Above: Bob Swenson's 1934 Ford 1/2-ton pickup truck, Fairlee, VT.
Specifications
Publisher: HP Books
Author: John Gunnell
Pages: 122 - Over 150 b&w photos
Binding: Paperback - 8.5 x 11 inches
ISBN: 978-1-55788-547-0
Table of Contents
TABLE of CONTENTS:
Approaches to Classic Vehicle Restoration
The Elements of a Successful Restoration
Outsourcing: The Modern Restoration Method
Planning, Preparation and Training
Mechanical Restoration Tips
Exterior Restoration Tips
Interior Restoration Tips
Purchasing Parts and Service
Sources
Questions & Answers about Practical Auto and Truck Restoration
Questions & Answers about Practical Auto and Truck Restoration
Ask a question about Practical Auto and Truck Restoration.
Practical Auto and Truck Restoration: How to Plan and Organize Your Project to Save Time & Money
Description

Specifications

Table of Contents

Questions & Answers

Customer Reviews