KYMCO Super 8 50R, 50X, 150R, 150X Service Manual (2015-2017) by Cyclepedia Press LLC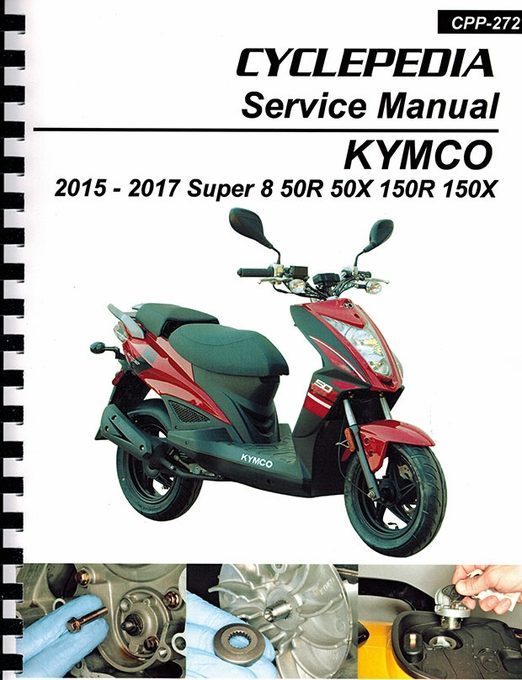 Why Buy From Us?
Free Shipping
Veteran Owned
Secure Shopping
Satisfaction Guaranteed
Item Description
Buy this Service Manual - Kymco Super 8 50R / 50X / 150R / 150X (2015-2017) by Cyclepedia so you can be armed with the best tool available to save money and do your own repairs. The Cyclepedia service manual for the Kymco scooter models referenced was written by an expert Kymco mechanic. This Kymco Super 8, 50, 150 X/R repair manual absolutely provides the most thorough and easy to understand DIY steps to help your service project succeed.
The Kymco scooter service manual by Cyclepedia provides detailed instructions for troubleshooting. The Cyclepedia 2015-2017 Kymco Super 8 50 150 R X Repair Manual includes color electric diagrams and covers the following specific models:
Kymco Super 8 50X
Kymco Super 8 50R
Kymco Super 8 150X
Kymco Super 8 150R
With helpful and plentiful diagrams to aid all repair steps, the Kymco Super 8 service manual is designed to provide DIY mechanics insight into all service, repair and maintenance for the very popular Taiwanese built Kymco Super 8 scooters. You will feel confident having this authoritive 884 page resource in your toolbox.
The Kymco Super 8 50X/R, 150X/R repair manual covers the full gammit of repair and service tasks that you will be able to do yourself such as: brakes, engine, CVT transmission, final drive, suspension, electrical, troubleshooting and periodic maintenance.
We stand behind the quality of a Cyclepedia DIY service manual for your Kymco Super 8 scooter based on these facts:
Written by a Kymco service specialist.
The organizational structure of the manual is logical and straight forward. It does not jump around like other manuals.
Printed Book Purchase -

Includes 1 Year Subscription to Color Online Manual Free - Call us after purchase to set up Online account.

.
Quality Paper.
Comb Spiral Binding so the manual lays open nicely on your work bench.
Color Wiring Diagrams Included.
Specifications section with detailed specs that include torque specifications.
336 pages of detailed rebuild / repair information.
Subject:
Kymco Super 8 50, 150 X/R scooter repair, maintenance and service procedures - 2015, 2016, 2017
| Cyclepedia Press LLC CPP-272
Specifications
Publisher: Cyclepedia Press LLC
Pages: 336 - Hundreds of b&w photos and illustrations
Binding: Comb Binding - 11 x 8.5 x 2 inches
Years: 2015 - 2017
Table of Contents
TABLE OF CONTENTS
Periodic Maintenance
Maintenance Schedule
Air Filter Servicing
Brake Fluid
Brake Inspection
Engine Compression Test
Engine Idle Speed
Engine Oil
Final Drive Oil
General Lubrication
Hose Inspection
Spark Plug
Suspension and Steering
Throttle Free Play
Tires
Valve Clearance
Brakes
Brake Disc
Front Caliper
Master Cylinder
Rear Drum Brake
Electrical System
Battery
Charging System
Fuel Unit
Fuses
Horn
Ignition System
Instrument Panel
Lights
Starter Motor
Starting System
Switches
Wiring Diagrams
Engine
Cylinder Head Cover
Camshaft
Cylinder Head
Valves
Cylinder and Piston
Fan Cover and Fan
Generator
Starter Clutch 150
Starter Pinion 50
Oil Pump 50
Oil Pump 150
Engine Removal 50
Engine Installation 50
Engine Removal 150
Engine Installation 150
Crankshaft
External Components
Side Stand / Center Stand
Seat
Handlebar Covers
Handlebar
Front Cover
Luggage Box
Center Cover
Frame Body Cover
Foot Skirt
Floor Cover
Front Fender
Exhaust System
CVT Transmission
Belt Case
CVT Removal 50
CVT Installation 50
CVT Removal 150
CVT Installation 150
CVT Inspection
KYMCO Super 8 Final Drive
Final Reduction 50
Final Reduction 150
KYMCO Super 8 Fuel System
Airbox
Carburetor Removal
Carburetor Installation
Carburetor Disassembly 50
Carburetor Assembly 50
Carburetor Disassembly 150
Carburetor Assembly 150
Emissions
Fuel Tank
KYMCO Super 8 Steering
Handlebar, Removal, Installation
KYMCO Super 8 Suspension
Front Fork Removal and Installation
Fork Disassembly
Fork Assembly
Rear Suspension
Shock Absorber
KYMCO Super 8 Wheels
Front Wheel
Rear Wheel
Wheel Bearing Replacement
Wheel Inspection
KYMCO Super 8 Quick Reference
Component Location
General Information
Special Tools
Specifications
Torque Specifications
Troubleshooting
VIN and Engine Number Location
Questions & Answers about 2015-2017 KYMCO Super 8 50R, 50X, 150R, 150X Service Manual
Questions & Answers about 2015-2017 KYMCO Super 8 50R, 50X, 150R, 150X Service Manual
Ask a question about 2015-2017 KYMCO Super 8 50R, 50X, 150R, 150X Service Manual.
Customer Reviews
REVIEWS
Armand Gilbert
verified customer
April 9, 2019
KYMCO Super 8 50R, 50X, 150R, 150X Service Manual (2015-2017) by Cyclepedia Press LLC
Description

Specifications

Table of Contents

Questions & Answers

Customer Reviews