2005 - 2017 KYMCO MXU 150 ATV Service Manual By Cyclepedia - PRINTED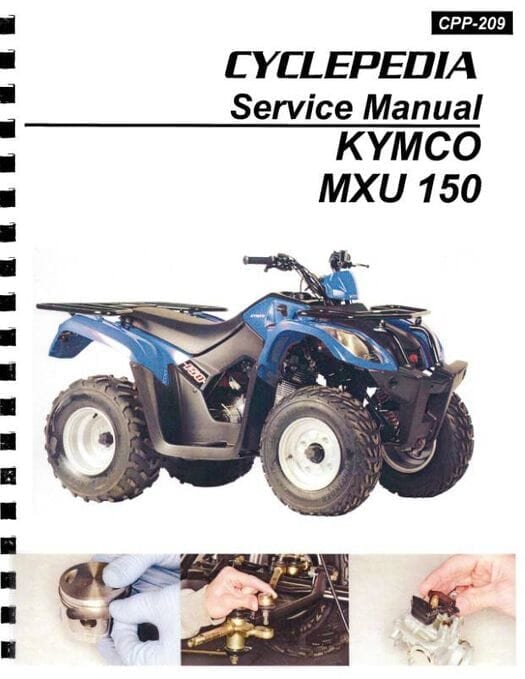 Why Buy From Us?
Free Shipping
Veteran Owned
Secure Shopping
Satisfaction Guaranteed
Item Description
This KYMCO MXU 150 ATV Service Manual 2005-2017 is a high-quality service and repair manual published by Cyclepedia Press LLC. This handy, printed all-terrain vehicle (ATV) shop manual contains step-by-step procedures which were performed and written by a veteran ATV technician. It also includes many detailed black and white photographs, wiring diagrams and complete and accurate specifications to ensure you have the information necessary to do the jobs right. If you're looking for all of the correct instructions for performing periodic maintenance, carburetor cleaning, a total engine rebuild and much, much more, you'll find it all in this great guide.
MODELS COVERED:
2017 KYMCO MXU 150X
2016 KYMCO MXU 150X
2015 KYMCO MXU 150
2014 KYMCO MXU 150
2013 KYMCO MXU 150
2012 KYMCO MXU 150
2011 KYMCO MXU 150
2010 KYMCO MXU 150
2009 KYMCO MXU 150
2008 KYMCO MXU 150
2007 KYMCO MXU 150
2006 KYMCO MXU 150
2005 KYMCO MXU 150
KYMCO MXU 150, four-stroke models are lightweight, compact ATVs powered by a 149 cc, carbureted, four-stroke engine mated to an automatic continuously-variable transmission (CVT). Well-built and with good ground clearance, these rugged off-road machines are ready to take on all kinds of chores and adventures. They're small, but versatile...and mighty! Be sure to keep yours at its best by using the details found in this superior resource.
Why is it so important to keep up with the maintenance and repair needs of your ATV? Safety is reason number one, but beyond that, regular service helps to ensure a longer life, proper operation and it maintains the value of your investment.
The Motor Bookstore believes this KYMCO MXU 150 Cyclepedia DIY ATV manual is a great resource because of the following characteristics:

Printed Book Purchase -

Includes 1 Year Subscription to Color Online Manual Free - Contact us after purchase to setup the online account

.
Was written by a KYMCO trained mechanic.
Focuses on the MXU 150 models only.
Logical and straight forward organization - doesn't jump around.
Comb Spiral Binding so the manual lays open nicely on your bench.
Color Wiring Diagrams Included.
Specifications section with detailed specs that include torque specifications.
257 pages of detailed rebuild / repair information.
Quality Paper - not cheap newspaper quality like so many other books.
This professionally written Cyclepedia service manual is perfect for service, repairs, maintenance, and rebuild projects for your KYMCO MXU 150. Clear illustrations and photos show exploded views as well as component details to enhance the step-by-step service and repair procedures.
Subject:
KYMCO MXU 150 ATV Service Manual 2005, 2006, 2007, 2008, 2009, 2010, 2011, 2012, 2013, 2014, 2015, 2016, 2017 - Includes Detailed Service, Repair & Maintenance Instructions / Procedures.
| Cyclepedia CPP-209
Specifications
Publisher: Cyclepedia Press LLC
Pages: 257 - Hundreds of b&w photos and illustratons
Binding: Comb Binding - 11 x 8.5 inches
Years: 2005 - 2017
Table of Contents
KYMCO MXU 150 ATV Service Manual 2005-2017 - Table of Contents 1
KYMCO MXU 150 ATV Service Manual 2005-2017 - Table of Contents 2
Questions & Answers about KYMCO MXU 150 ATV Service Manual 2005-2017
Questions & Answers about KYMCO MXU 150 ATV Service Manual 2005-2017
Ask a question about KYMCO MXU 150 ATV Service Manual 2005-2017.
2005 - 2017 KYMCO MXU 150 ATV Service Manual By Cyclepedia - PRINTED
Description

Specifications

Table of Contents

Questions & Answers

Customer Reviews