Holley Carburetors: How To Rebuild by Mike Mavrigian (CarTech Books)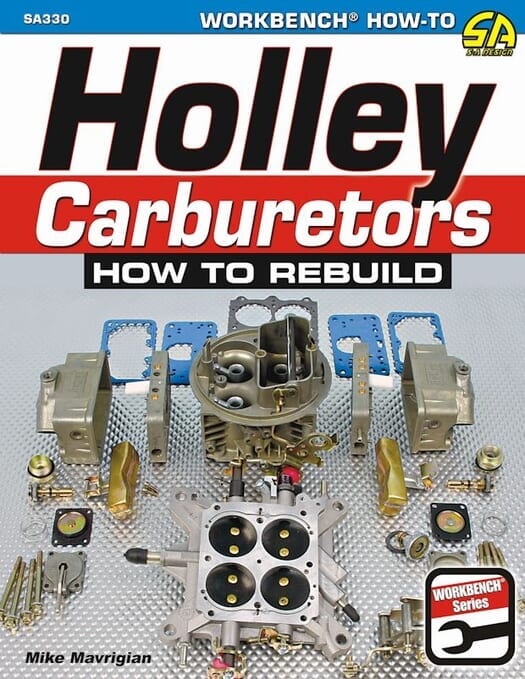 Why Buy From Us?
Free Shipping
Veteran Owned
Secure Shopping
Satisfaction Guaranteed
Item Description
For exceptional instruction on how-to rebuild a Holley carburetor, you need a copy of this book. Holly Carburetors: How to Rebuild was written to provide all the information any novice or seasoned mechanic needs. We're talking about planning and implementing projects, identifying mid-range and high-speed circuit operations, and how to find parts and specialty tools.
The Holly carburetor was born when muscle cars ruled in the 1960s. With its abundance of parts, easy-to-customize design and wide range of sizes, it quickly became the carb everyone wanted for everything from the Barracuda to the Trans-Am. There was the Double Pumper with a separate pump for primary and secondary circuitry, controlling how fast the throttle opens. The Dominator, which had to be chosen carefully for whether you prefer max airflow or throttle response and off-idle driveability. For these models, as well as the 1850, the Avenger and more, this is the how-to rebuild a Holley carburetor guide for walking through the proper setup and application for any specific engine package.
With Holly Carburetors: How to Rebuild, you're going to get all the information you need about:
History, models and serial numbers
Overflow whistle removal
Engine bogs
Accelerator pump installations
Vacuum fittings
Cleaning Chemicals
Tools and Equipment
Linkage setup
Tuning Vacuum secondary operations
Flush with detailed diagrams and dialogue boxes filled with tips, Holly Carburetors: How to Rebuild is the how-to rebuild a Holley carburetor guide for developing your expertise in replacing gaskets, recognizing worn parts and selecting jets for weather and altitude conditions via the teachings of an expert. Mike Mavrigian is an automotive and engine rebuilding author. He details preparation, disassembly, reassembly and calibration of every major Holley carburetor to date. Get the scoop on selecting the correct CFM and the hazards of not doing such. Get a handle on how the 4160 series can be converted for a 4150 by installing a new metering block. Learn about the unique tools (jet driver, dye pentrant, float level gauge) and their function (jet removal and installation, crack checking, determining float height position, respectively). Become an expert yourself.
Subject:
Rebuild / Performance procedures for a Holley Carburetor
. ISBN-10: 161325198X | ISBN-13: 9781613251980 | CarTech Books SA330
Specifications
Publisher: CarTech Books
Author: Mike Mavrigian
Pages: 144 - 451 color photos & charts
Binding: Paperback - 8.5 x 11 inches
ISBN: 978-1-61325-198-0
Questions & Answers about Holley Carburetors How To Rebuild
Questions & Answers about Holley Carburetors How To Rebuild
Ask a question about Holley Carburetors How To Rebuild.
Customer Reviews
REVIEWS
Guy
verified customer
December 24, 2016
Holley Carburetors: How To Rebuild by Mike Mavrigian (CarTech Books)
Description

Specifications

Table of Contents

Questions & Answers

Customer Reviews