How to Rebuild and Modify Carter/Edelbrock Carburetors: For Thermo-Quad, AFB, AVS, WCFB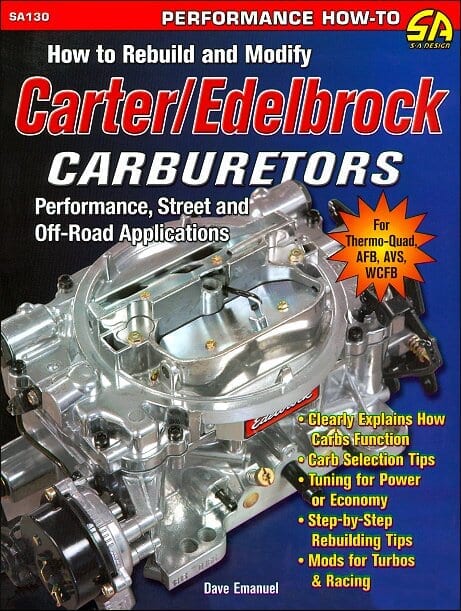 Why Buy From Us?
Free Shipping
Veteran Owned
Secure Shopping
Satisfaction Guaranteed
Item Description
Holley and Edelbrock are the two major players when it comes to carburetor selection, and while Holley and Holley-style carbs have been popular for years and plenty has been written about them, there has never before been a how-to book dedicated to the ins and outs of Edelbrock carburetors. Until now!
How to Rebuild and Modify Carter/Edelbrock Carburetors features updates reflecting the emergence of Edelbrock carburetors as the predominant Carter-style carburetors in the market today.
With more than 300 close-up b&w photos, illustrations and diagrams, this guide will become your go-to reference for rebuilding, tuning and modifying Carter and Edelbrock carburetors, including:
Carter WFCB
The original Carter AFB
Late-model Carter AFB
Carter AVS
Carter Thermo-Quad
Carter BBD Two-Barrel
Edelbrock Performer (AFB) Series
Edelbrock Thunder AVS Series
If you plan on rebuilding, tuning or modifying your Edelbrock or Carter carburetor, or if you just want to understand how it works, this book is essential reading!
Book Excerpt
CARBURETOR MODIFICATIONS
WHY MODIFY?

There appears to be a great disparity in the type of carburetor modifications performed by racers and performance enthusiasts; there is also an equal disparity in the degree of success achieved through those modifications.

It would seem than Murphy's Laws (anything that can go wrong will go wrong, just because you're paranoid doesn't mean they aren't after you and countless others) are invoked whenever a carburetor is disassembled. And more often than not, simple misunderstanding is the culprit.

You must comprehend the "whys" of a modification along with the "hows" if you are to experience the thrill of victory, rather than the agony of defeat.

For openers, the original carburetor application dictates that calibrations fall within certain pre-determined parameters. And since each carburetor circuit interacts with others, a simple modification can cause untoward ramifications, with the end result being a carburetor that suffers from "terminal dysfunction."

Whether you're attempting to modify a carburetor to achieve improved performance, better drivability, or greater fuel economy, it is essential that you understand original design philosophies if you expect to achieve the desired results.

Also note that radical alternations should never be necessary for anything other than highly specialized racing applications. The need for extensive rework is usually indicative of a damaged carburetor or misapplication.


PRIMARY IDLE SYSTEM

Most carburetors, including the AFB and AVS, meter idle fuel through the same type of circuit - one that incorporates adjusting screws with needles that protrude into the curb idle discharge port. These screws are typically rotated clockwise to lean the idle mixture and counter-clockwise to richen it.

However, some AFB and AVS carbs were produced with a single mixture adjustment screw controlling the flow through both primary barrels.

Under this arrangement, bleed air, rather than air/fuel emulsion, is adjusted when the screw is rotated, but mixture is varied according to the same procedure used with conventional systems.
The book also includes the history of the Carter company, along with the development of the AFB and the AVS since the purchase by Edelbrock.
Author Dave Emanuel outlines carburetor types, gives a thorough look at carb selection and function, and offers detailed how-to info on modifying, tuning, and rebuilding Carter/Edelbrock carbs.

Subject: Transportation: Automotive: Carburetion: Carter, Edelbrock carburetor rebuilding, modifying, tuning. ISBN-10: 1613250673 | ISBN-13: 9781613250679 | CarTech SA130P
Specifications
Publisher: CarTech Books
Author: Dave Emanuel
Pages: 136 - Over 300 b&w photos and illustrations
Binding: Paperback - 8.5 x 11 inches
ISBN: 978-1-61325-067-9
Table of Contents
TABLE of CONTENTS:
In The Beginning
Carburetor Types
Basic Carter Carburetors
Edelbrock Carburetors
Carburetor Selection
Carburetor Function
Carburetor Modifications
Carburetor Tuning
Rebuilding Tips
Thermo-Quad Exploded View
AVS Exploded View
AFB Exploded View
WFCB Exploded View
Questions & Answers about How to Rebuild and Modify Carter/Edelbrock Carburetors: For Thermo-Quad, AFB, AVS, WCFB
Questions & Answers about How to Rebuild and Modify Carter/Edelbrock Carburetors: For Thermo-Quad, AFB, AVS, WCFB
Ask a question about How to Rebuild and Modify Carter/Edelbrock Carburetors: For Thermo-Quad, AFB, AVS, WCFB.
How to Rebuild and Modify Carter/Edelbrock Carburetors: For Thermo-Quad, AFB, AVS, WCFB
Description

Specifications

Table of Contents

Questions & Answers

Customer Reviews