Honda ATC70, ATC90, ATC110, ATC185, ATC200 Repair Manual 1971-1981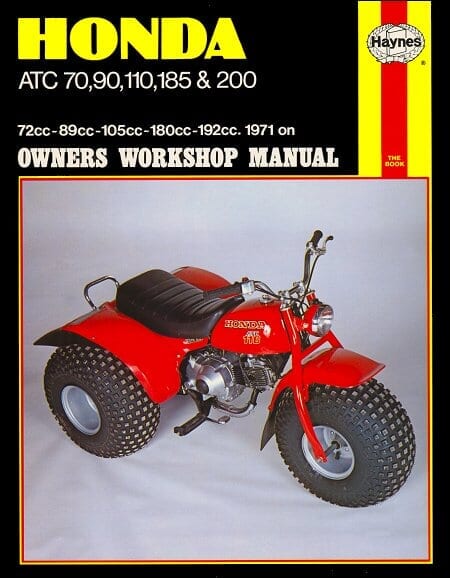 Why Buy From Us?
Free Shipping
Veteran Owned
Secure Shopping
Satisfaction Guaranteed
Item Description
This Haynes repair manual covers 1971-1981 Honda ATC 3-wheeler All Terrain Vehicles (ATVs), including:
Honda ATC70 (72cc), U.S. only 1973
Honda ATC90 (89cc), U.S. only, introduced 1971, discontinued 1978
Honda ATC110 (105cc), U.S. 1979, U.K. 1980
Honda ATC185 (180cc), 1980
Honda ATC200 (192cc), 1981
Book Excerpt: 1971-1981 Honda ATC70, ATC90, ATC110, ATC185, ATC200 Repair Manual
ROUTINE MAINTENANCE
FINAL DRIVE CHAIN ADJUSTMENT AND LUBRICATION

The drive chain fitted to the ATC models will obviously wear with use, and the harder the use the greater rate of wear, and as such will require adjustment at regular intervals.

To facilitate inspection of the chain slack, a cut-out is provided in the full chaincase. This inspection ?window? is in the rear top section of the chaincase on the early ATC 90?s and in the side of the chaincase on the later ATC 90 models, the ATC 70 and 110 models. In each case a rubber plug is fitted to the cut-out to seal out the elements when the machine is in use.

Remove the plug and check the slack. Always check with the chain at the tightest point, because a chain rarely wears evenly during service. The correct up and down movement should be 15 ? 20 mm (0.6 to 0.8 in).

Adjustment should be carried out as follows: On the right-hand side of the machine, loosen the locking nut (ATC 90 and 110 models) or locking bolt (ATC 70 model only) on the chain tensioner arm or plate. Move the tensioner arm/plate upwards until a slight resistance is felt. The chain tension should now be correct. Retighten the locking nut/bolt, and if lubrication is not required, refit the rubber plug.

In order that the final drive chain life can be extended as much as possible, regular lubrication and adjustment is essential. The chain may be lubricated while it is in place on the machine by the application of one of the proprietary chain greases contained in a aerosol can.

Ordinary engine oil can be used, though owing to the speed with which it is flung off the rotating chain, its effective life is limited.

Although the final chain drive is fully enclosed, the oil and grease lubricant on the chain will tend to pick up dust and grit, so every six months it is advisable to remove the chain from the machine for thorough cleaning. To remove the chain see Chapter 5, Section 6.
ENGINE, CLUTCH AND TRANSMISSION
EXAMINATION AND RENOVATION: ENGINE CASINGS AND COVERS

The aluminum alloy casings and covers are unlikely to suffer damage through ordinary use. However, damage can occur if the machine is crashed or if sudden mechanical breakages occur, such as the rear chain breaking.
Small cracks or holes may be repaired with an epoxy resin adhesive, such as Araldite, as a temporary expedient. Permanent repairs can only be effected by argon-arc welding, and a specialist in this process is in a position to advise on the viability of the proposed repair. Often it may be cheaper to buy a new replacement part.
Damaged threads can be economically reclaimed by using a diamond section wire insert, of the Helicoil type, which is easily fitted after drilling and re-tapping the affected thread. The process is quick and inexpensive, and does not require as much preparation and work as the older method of fitting brass, or similar inserts. Most motorcycle dealers and small engineering firms offer a service of this kind.
Sheared studs or screws can usually be removed with screw extractors, which consist of tapered, left-hand thread screws, of very hard steel. These are inserted by screwing anticlockwise into a predrilled hole in the stud, and usually succeed in dislodging the most stubborn stud or screw.

The only alternative to this is spark erosion, but as this is a very limited, specialized procedure, it will probably be unavailable to most owners. It is wise, however, to consult a professional engineering firm before condemning an otherwise sound casing. Many of these firms advertise regularly in the motorcycle papers.
Subject: 1971, 1972, 1973, 1974, 1975, 1976, 1977, 1978, 1979, 1980, 1981 Honda ATC70, ATC90, ATC110, ATC185, ATC200 service, maintenance, repair. ISBN-10: 0856968552 | ISBN-13: 9780856968556 | Haynes 565
Specifications
Publisher: Haynes Manuals
Pages: 170 - Hundreds of b&w photos and illustrations
Binding: Paperback - 8.5 x 11 inches
ISBN: 978-0-85696-855-6
Years: 1970 - 1981
Table of Contents
TABLE of CONTENTS:
Maintenance
Engine, clutch and transmission
Fuel system and lubrication
Ignition system
Frame and forks
Wheels, brakes and tires
Electrical system, including wiring diagrams
ATC185/200 models
Questions & Answers about Honda ATC70, 90, 110, 185, 200 ATV Repair Manual 1971-on
Questions & Answers about Honda ATC70, 90, 110, 185, 200 ATV Repair Manual 1971-on
Ask a question about Honda ATC70, 90, 110, 185, 200 ATV Repair Manual 1971-on.
Honda ATC70, ATC90, ATC110, ATC185, ATC200 Repair Manual 1971-1981
Description

Specifications

Table of Contents

Questions & Answers

Customer Reviews