Ford F-Series Pickup Owner's Bible: F-1, F-100, F-150, F-2, F-250, F3, F-350 1948-1995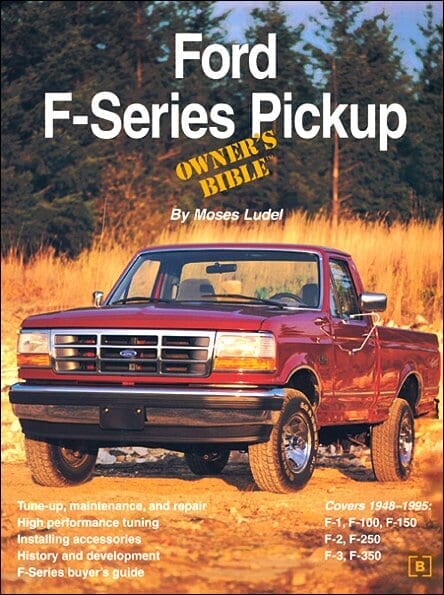 Why Buy From Us?
Free Shipping
Veteran Owned
Secure Shopping
Satisfaction Guaranteed
Item Description
The best-selling pickup truck in America is the Ford F-Series pickup. There are more than half a million units sold each year, and sales are constant.
In the Ford F-Series Pickup Owner's Bible, author Moses Ludel, has written an authoritative companion to your F-Series truck, with tips covering every aspect intended to help you get the most out of your Ford pickup, regardless of how you use it.
The book also covers performance modifications, truck development history and tips for new or used Ford F-Series truck buyers.
But the Ford F-Series Pickup Owner's Bible, a Motor Bookstore bestseller, does not stop there. Understanding that many -- if not most -- Ford truck owners take pride in performing their own maintenance, this comprehensive guide provides step-by-step instructions accompanied by hundreds of photos that cover the whole truck-maintenance spectrum; from oil and filter change to basic tune-ups to more advanced tasks, such as engine, tranny, brake and electrical work, they are also covered.
And as far as performance, Moses went straight to the experts at Ford Motorsport, where he worked with Ford's SVO (Special Vehicle Operations) engineers to give you the best high-performance tips for your Ford pickup; from camshafts to camber adjustments.
Book Excerpt: Ford F-Series Pickup Owner's Bible - 1948-1995
If you want to know how to buy, drive, maintain, or modify your truck, Ford F-Series Pickup Owner's Bible will show you the way.
Comprehensive coverage of 1948-1995 Ford F-Series models through 1995, including F-1, F-100, F-150, F-2, F-250, F-3, and F-350.
Subject: 1948-1995 Ford F-Series pickup truck service, repair and maintenance.1948, 1949, 1950, 1951,, 1952, 1953, 1954, 1955, 1956, 1957, 1958, 1959, 1960, 1961, 1962, 1963, 1964, 1965, 1966, 1967, 1968, 1969, 1970, 1971, 1972, 1973, 1974, 1975, 1976, 1977, 1978, 1979, 1980, 1981, 1982, 1983, 1984, 1985, 1986, 1987, 1988, 1989, 1990, 1991, 1992, 1993, 1994, 1995 | ISBN-10: 0837601525 | ISBN-13: 9780837601526 | Bentley GOWF
Specifications
Publisher: Bentley Publishers
Author: Moses Ludel
Pages: 370 - 763 photographs and illustrations
Binding: Paperback - 8.5 x 11 inches
ISBN: 978-0-8376-0152-6
Years: 1948 - 1995
Table of Contents
TABLE of CONTENTS: EVOLUTION OF THE FORD F-SERIES
V-8 Era: A New Truck Emerges | 1942: Ford Trucks Forge Their Own Way | 1948: A Truck With A Firm Identity | 1953-56: A Marque Emerges | 1957- 64: The Pragmatic Years | 1965: The Advent Of Twin 1-Beam | 1967-79: Years Of Bold Refinement | 1980: An Advanced 4x4 Chassis | Poised for the Future BUYING AN F-SERIES TRUCK
Selecting The Right Truck | Anatomy of a Half-ton | F-250 Virtues | One-ton | Shopping for the Right Components | The Ten Best Picks In Used Ford F-trucks | Inspecting A Used Truck | Buying A New F-Series Truck | 1994 Ford F-Series Specifications OPERATING YOUR F-SERIES
Learning To Drive Your F-Series Truck | Operating A 4x4 F-truck | Off-pavement Four-wheel Drive | Tread Lightly Four Wheeling | Special Uses For Your 4WD Truck | 4WD Clubs WORKING ON YOUR F-SERIES
The F-truck Chassis | Front Axle Types | Steering Gear and Linkage | Drum and Disc Brake Systems | A Glance At F-truck Engines | Transmissions and Transfer Cases | Driveshafts | Repairs On Your F-Series Truck | The F-truck Owner's Toolbox | Sourcing Ford Truck Parts | Assigning Work to a Shop LUBRICATION AND MAINTENANCE
Maintenance Overview | Selecting Lubricants and Fluids | Service Intervals | Building a Maintenance Schedule | Do Your Own Maintenance | Storing Your Truck TROUBLESHOOTING AND MINOR ADJUSTMENTS
Guide To Troubleshooting | Engine and Electrical Problems | Cooling System Troubles | Clutch and Manual Transmission | Driveshaft and Axle Woes | Steering and Tire Troubles | Brake Problems COOLING SYSTEM SERVICE
Safety Precautions | Cooling System Basics | Finding Leaks | Overheating Problems | Water Pump Service ENGINE TUNE-UP AND EMISSION CONTROLS
Emission Controls and Tune-up | Engine Applications | A Closer Look At EFI/MFI Engines | Ignition Tune-up 122 Carburetor Tune-up | Major Engine Diagnosis | Valve Adjustment | Emission Controls CLUTCH AND TRANSMISSION SERVICE
Troubleshooting | Clutch Service | Transmission Adjustments | Rebuilding The Warner T-98/T-18 Ford Truck Transmission TRANSFER CASE, DRIVESHAFTS, AXLES AND HUBS
Transfer Cases | Troubleshooting | Driveshafts 180 U-joint Service and Repair Tips | Driveshaft Lubrication | Driveshaft Angularity | U-joint Installation | Axle Assemblies | Differential Action | Axle Types | Axle Troubleshooting | Axle Seals | Closed-knuckle Steering Rebuild | Locking Hubs | Hub Rebuilding SUSPENSION AND STEERING
Springs | Installing New Springs | Frame Damage | Shock Absorbers | Gas Shocks | Selecting Shocks | 4x4 Steering and Front End | Rebuilding A Ball-joint Steering Knuckle | Steering System | Power Steering | Inspecting the Steering System | Wheel Alignment BRAKES AND WHEEL BEARINGS
Wheel Bearings | Front Wheel Bearing Fundamentals | Wheel Bearing, Service | The Braking System | Pedal Warning Signals | Brake Fluid Precautions | Brake Service Tips BODY AND DETAILING
Battling Rust | Body Detailing | Quick Tips to a Better Detail Job | Pickup Bed and Tub Liners ELECTRICAL SYSTEM BASICS
The Electrical System | Electrical Troubleshooting | Testing Battery and Charging System | Starter Motor | Starter Troubleshooting | Starter Overhaul ACCESSORIES
Winches | Electrical System Upgrades | Roll Bars | Seat Belts and Safety Harnesses | Trailering FORD ENGINE PERFORMANCE: MILD TO WILD!
Engine Performance and Smog Legal Modifications | Ford F-truck Power: An Overview | Valvetrain Modifications | Ignition Modifications | Performance Carburetion | Lubrication and Engine Oil Cooling | Supercharging | Flathead to FE F-truck Power | 460 V-8: The Ultimate Racing and Tow Engine | 351 Windsor V-8 Buildup | 302/5.0L, V-8 Tips | Engine Overhaul DRIVETRAIN UPGRADES
Performance Transmissions | Four-speed Changeover | The Clutch | Clutch Types | Aftermarket Clutches | Traction Differentials | Conversion Axles | Driveshaft Footnotes CHASSIS AND SUSPENSION UPGRADES
Chassis Modifications | State Lift Laws | Off-pavement Suspension Tuning | Upgrading Shocks | Urethane Bushings | Installing An Upgraded Suspension | Steering Gear Conversions | Tires | Tire Glossary | Brake System Upgrades APPENDICES
Sources | Hardware Grading | Toolbox | Engine Break-in | 4x4 Trials Index | Acknowledgments | About the Author
Questions & Answers about Ford F-Series Pickup Owner's Bible 1948-1995
Questions & Answers about Ford F-Series Pickup Owner's Bible 1948-1995
Does this manual contain 1990 f super duty diagram for hvac vacuum?

This manual does not contain information on the HVAC Vacuum diagram.
Ask a question about Ford F-Series Pickup Owner's Bible 1948-1995.
Ford F-Series Pickup Owner's Bible: F-1, F-100, F-150, F-2, F-250, F3, F-350 1948-1995
Description

Specifications

Table of Contents

Questions & Answers

Customer Reviews