Alfa Romeo Owner's Bible: Tune-up, Maintenance, Repair, Buyer's Guide, History and Development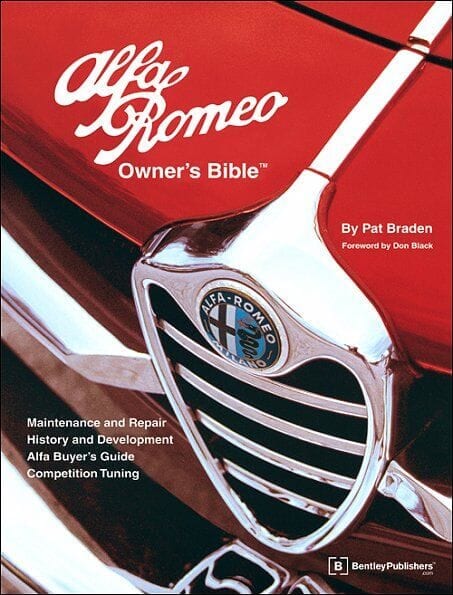 Why Buy From Us?
Free Shipping
Veteran Owned
Secure Shopping
Satisfaction Guaranteed
Item Description
Alfa Romeo owners are passionate about their cars, and with good reason. Alfas have been emulated by many other manufacturers because of their sensuous body styling and artistic engine castings. And Alfa exhaust notes are the equivalent of classic music to true enthusiasts.
But Alfa Romeo ownership can also be demanding, even frustrating. Alfas can be hard to troubleshoot, for example. Not because they are unreliable cars but rather, because they can be difficult to understand. And this is precisely why the Alfa Romeo Owner's Bible is required reading for Alfa owners who want to insure their cars are maintained properly.
The Alfa Romeo bible also provides great insight for those who are considering purchasing an Alfa Romeo, from the 1954 models on up, including:
Alfa Romeo Giulietta
Alfa Romeo Giulia
Alfa Romeo 2600
Alfa Romeo Spider
Alfa Romeo GTV
Alfa Romeo Milano/75
Alfa Romeo Berlina
Alfa Romeo Alfetta
Alfa Romeo GTV-6
Alfa Romeo 164
Book Excerpt: Alfa Romeo Owner's Bible: Tune-up, Maintenance, Repair
ENGINE
HEAD GASKET REPLACEMENT

To the novice, replacing the head gasket may seem more akin to brain surgery, but it is well within the abilities of most owners who have a weekend or two and a basic set of hand tools. As with any first-time procedure, proceed slowly and don't force anything. The most frustration on 4-cylinder engines will come from trying to get the exhaust manifold bolts off cylinder three and four; on V-6 engines, removing the brake booster to get off one of the heads is the biggest pain.

The biggest physical strain will come trying to lift the head once everything is freed. The greatest challenge is to get the mating surfaces of the block and head scrupulously clean so the new gasket will have a chance to seat properly. Don't worry about magical cures for head gasket leaks.

There is a great deal of myth about the six small O-rings that fit inside the 4-cylinder head gasket to seal the oil passages. Many head gasket kits come with roll pins and Viton O-rings. Use them. Tap the roll pins into place in the block, letting them sit just high enough to hold the O-rings. Just before you lower the head onto the gasket, check that the O-rings are properly in place.

Every time you remove the head, have it checked for flatness, and resurface it if necessary.


2.1 IN-LINE (4- AND 6-CYLINDER) ENGINES

It is best to let an Alfa sit overnight before beginning a head gasket replacement. This assures that the engine is cold. Removing the head from a hot Alfa engine will almost certainly warp the head, quite possibly beyond the limits of repair.

Every shop manual gives a step-by-step procedure for removing and replacing the head. The following information supplements the "official" procedure.
TRANSMISSION AND DRIVETRAIN
COMPLETE TRANSAXLE REMOVAL

Begin by following all the steps for clutch removal, above. When you reach the point at which you can tilt the nose of the transmission down, begin following the procedure given here.

As a checklist, you will already have removed the six bolts which hold the de Dion front mount to the body, tilted the nose of the transaxle down and then removed the four bolts that hold the front of the transaxle to the front mount. In point of fact, only one bolt now remains to hold the transaxle in place, not counting the hydraulic lines, wires and axle shafts.

At this stage, the transaxle is fairly secure, but over the next several steps it becomes increasingly able to fall out of the car. Work with care and don't position any part of yourself under the transaxle.

Remove both axle shafts where they attach to the inboard disc brake hubs. The shafts are attached using 7-mm Allen-head screws which may be very difficult to break free. See Fig. 7-29. It's important to use a high quality Allen wrench here, even if you have to go out and buy it: if you round out the hex, you will have to grind the screw head off in order to remove the axle shaft.

If your prized collection of Allen wrenches came off a surplus table you'll probably bend the wrench into a pretzel before getting even one of the screws free. A top quality Allen wrench on the end of a 3/8 in. drive will let you put real muscle behind it.
Subject: Alfa Romeo Owner's Bible, Tune-up, Maintenance, Repair, Buyer's Guide, History and Development. ISBN-10: 0837607078 | ISBN-13: 9780837607078 | Bentley GALF
Specifications
Publisher: Bentley Publishers
Author: Pat Braden with foreword by Don Black
Pages: 288 - 400 b&w photos and illustrations
Binding: Paperback - 8.5 x 11 inches
ISBN: 978-0-8376-0707-8
Table of Contents
TABLE of CONTENTS:
Alfa - A Brief History
Your Alfa - A Guided Tour
Engine
Carburetors
Fuel Injection
Distributor/Coil Ignition
Emission Controls
Transmission and Drivetrain
Body/Interior Electrical System
Buying an Alfa
Maintaining Your Alfa
The Tune-up Myth
Driving Tips
Oil Change
Timing Chain/Belt
Valve Adjustment and Camshaft Timing
Spark Plugs
SPICA Fuel Injection
Bosch Fuel Injection
Tires
Electrical System
Oil Leaks
Oil Burning
Low Performance
Head Gasket Replacement
4- and 6-Cylinder Engines
V-6 Engine
Fuel and Ignition
Chassis, Tires and Brakes
Bodywork and Interior
Wiring Diagrams
Current Flow Diagrams Electrical Grounds
Fuses
Electrical Tests
Performance Modifications
Racing
Questions & Answers about Alfa Romeo Owner's Bible
Questions & Answers about Alfa Romeo Owner's Bible
Ask a question about Alfa Romeo Owner's Bible.
Alfa Romeo Owner's Bible: Tune-up, Maintenance, Repair, Buyer's Guide, History and Development
Description

Specifications

Table of Contents

Questions & Answers

Customer Reviews