The 1960-1969 Corvair: An Authenticity Guide for the Corvair Car Restorer and Enthusiast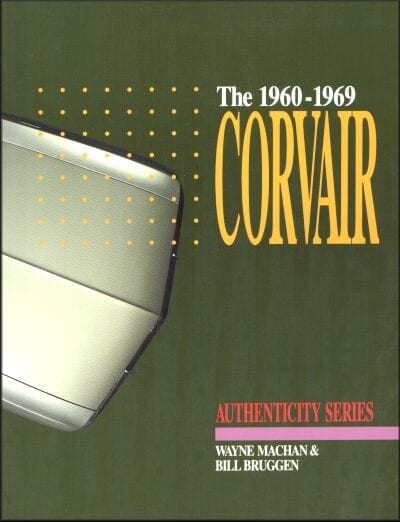 Why Buy From Us?
Free Shipping
Veteran Owned
Secure Shopping
Satisfaction Guaranteed
Item Description
This book is a guide to the non-mechanical aspects of 1960s standard-production Chevrolet Corvair passenger cars, and its purpose is to help Corvair enthusiasts who want to restore one of these cars.
Authors Wayne Machan and Bill Bruggen, managed to put together a complete and accurate description of Corvair automobile models.
The lasting quality of the Corvair attests to its greatness, and based on numbers available back in the mid 1980s, about 18% of all Corvairs ever built were still registered.
This means that approximately 300,000 units were still operating. That is an amazing number for any vehicle that's still on the road after more than four decades.

Subject: Transportation: Automotive: Restoration: 1960-1969 Corvair authenticity guide. ISBN-10: 0929758072 | ISBN-13: 9780929758077 | Beeman Jorgensen 58072
Specifications
Publisher: Motorbooks
Author: Wayne Machan, Bill Bruggen
Pages: 120 - Over 300 b&w photographs
Binding: Paperback - 8.5 x 11 inches
ISBN: 978-0-929758-07-7
Table of Contents
TABLE of CONTENTS:
Acknowledgements
Introduction
The Models
Chassis
Exterior Body Panels
Exterior Trim
Interior
Paint and Trim
Production Options
Index
Questions & Answers about 1960-1969 Corvair Authenticity Guide
Questions & Answers about 1960-1969 Corvair Authenticity Guide
Ask a question about 1960-1969 Corvair Authenticity Guide.
The 1960-1969 Corvair: An Authenticity Guide for the Corvair Car Restorer and Enthusiast
Description

Specifications

Table of Contents

Questions & Answers

Customer Reviews